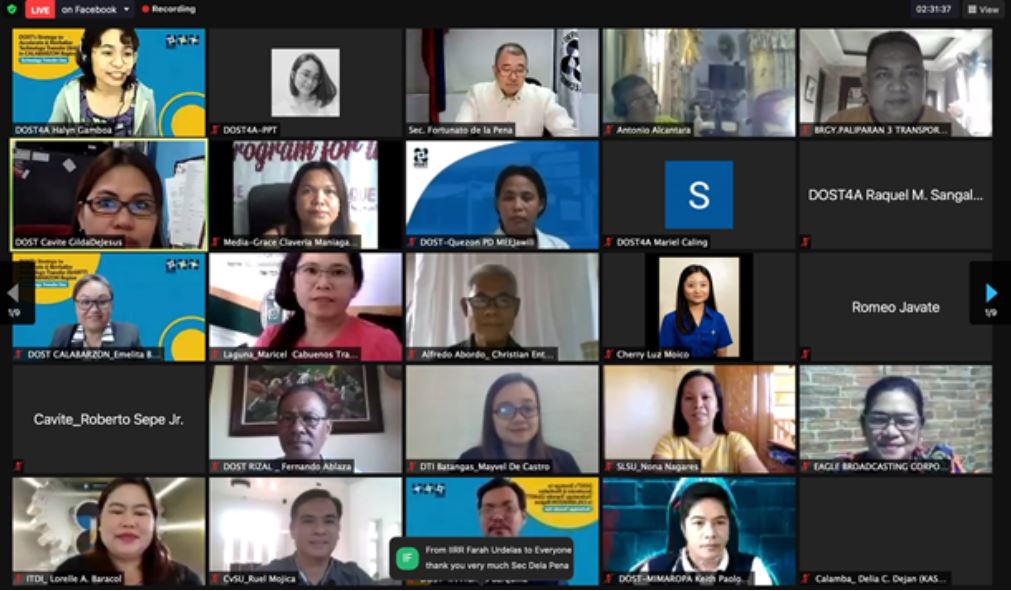 Twelve technologies from the Department of Science and Technology (DOST) CALABARZON and NCR regions are now ready for commercialization after successfully passing the technology transfer assessment.
The 12 technologies from CALABARZON and NCR regions were presented during the Technology Transfer Day that was attended by 224 participants including DOST key officials led by Secretary Fortunato T. de la Peña and Romeo Javate, Chief SRS from DOST-TAPI who represented their director, Engr. Edgar I. Garcia.
The 12 technologies were showcased in a video presentation that belonged to four categories:
1. Health and Wellness Technologies
2. Food Products and Processing
3. Industrial Technologies
4. Disaster Risk Reduction and Management
These technologies came from various Research and Development Institutes (RDIs) and state universities and colleges (SUCs) that included the University of the Philippines Manila, Southern Luzon State University, DOST-ITDI, Cavite State University, and Batangas State University.
After each presentation, an open forum ensued that enabled both the Zoom and Facebook Live attendees and the technology generators to interact with each other and further explain their products.
To support local technology adoption, Secretary de la Peña underscored the importance of establishing strong partnerships with different potential technology adopters including entrepreneurs, manufacturers, investors, local government units (LGUs), non-government organizations (NGOs), and other industry players.
"We are here to establish sustainable partnerships and linkages that would enable us to better showcase the Filipino ingenuity and support their continuous growth and development all for the benefit of our stakeholders and of our country," Sec. de la Peña said.
Meanwhile, Javate relayed Dir. Garcia's message where he emphasized the importance of the previous StARTT activities conducted last February and March, in order to prepare the technology generators in the actual pitching of the fruits of their labor.
"These homegrown technologies are made for the benefit of our local industries and society as a whole," the letter read, "We hope that the participants will use this venue to establish linkages and partnerships with the technology generators."
As host to the event, DOST-CALABARZON OIC-Regional Director Emelita P. Bagsit remarked, "We hope to provide more platforms in showcasing your technologies and connect you to more networks, partners, and linkages for your technologies." She further assured the participants that DOST-CALABARZON will continue to assist them in ensuring the program's sustainability.
With DOST-PCIEERD as one of the partner agencies, Dr. Enrico C. Paringit, executive director, presented the council's innovative programs that support technology transfer such as IP Management Program for Academic Institutions Commercializing Technologies; KTTO-IMPACT Program; Funding Assistance for Spinoff and Translation of Research in Advancing Commercialization; Higher Education Institute Readiness for Innovation and Technopreneurship; Technology Business Incubation 4.0 Program; Startup Research Grant Program; i-NEST Program; and the WHWise Program.
Highlighting the importance of technology transfer in the R&D process, Usec. Guevara also presented DOST's Technology Transfer Programs. In her video message, she advised the participants that they should not consider their research to be finished until the technology is transferred.
Usec. Guevara further remarked, "This is being done because we want to maximize the impact of your research on the Filipino people."
For his part, Usec. Solidum echoed the sentiments of the previous speakers in terms of viewing technology transfer as an integral process aimed at improving the lives of Filipinos. He, likewise, acknowledged the importance of the possible technology adopters' role in technology transfer.
"Without you, we cannot achieve our goal of a progressive S&T country. Let us work hand-in-hand to determine the needs and address them through the development of proper technologies. This is also a way of supporting our own local technologies. Your presence tells us of your support, trust, and confidence in the skills and capabilities of our technology generators."
Thereafter, Gilda S. de Jesus, SRS II of DOST-PSTC Cavite, together with the members of the Fairness Opinion Board, recognized the RDIs and SUCs and their commercialized technologies in the awarding of certificates. The following technologies were recognized: Production of Kaong Brown Sugar, Meat Detection Test Kit, Water Hyacinth Dryer, Cacao Bean Roaster, Cacao Desheller/Winnower, and Cacao Grinder.
After all the technology pitches, Engr. Francisco Barquilla III, OIC-Assistant Regional Director for Technical Operations of DOST-CALABARZON, delivered the closing remarks. He said that the Technology Transfer Day, despite being the last of StARTT's series of activities, is just the beginning of a larger vision in fast-tracking the commercialization of local technologies in CALABARZON. With this, he called for more support for DOST-CALABARZON's initiatives for R&D.
"We hope that with our concerted efforts to enable research and development to generate new and innovative products, we'll eventually make an impact in our economy and to continuously contribute to the increase in the country's innovation index," Engr. Barquilla said.
In case you missed it, you may still watch the Facebook Live Replay of the Technology Transfer Day on our Facebook account: https://tinyurl.com/StARRT-TTD-replay.
Got any questions about one of the technology pitches? Let us know by filling out this form for consultation and/or negotiation: https://tinyurl.com/TTD-negotiationform
Good News Pilipinas is celebrating its 15th Anniversary in 2021 by giving away prizes! Subscribe to our Good News Pilipinas! TV YouTube channel and enter the raffle by sending us an email to editor@goodnewspilipinas.com
Facebook Comments