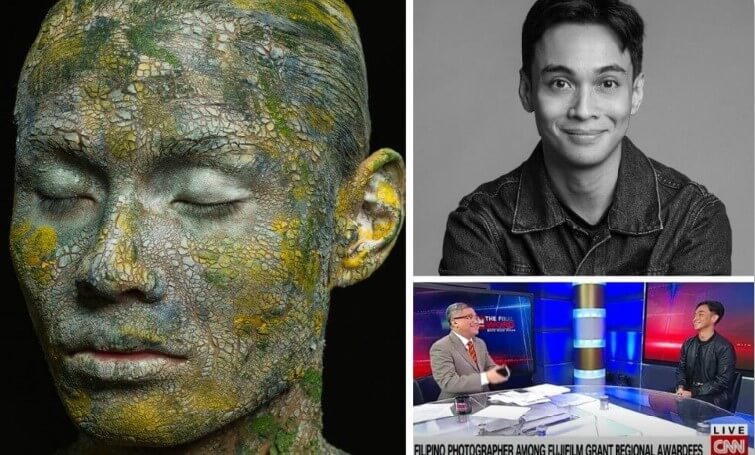 Meet Jan Mayo: a trained dancer, a pilot, and a remarkable Filipino photographer who recently rose to global recognition. Mayo became one of the ten Regional Grant Award recipients of the Fujifilm GFX Challenge Grant Program, a global competition aimed at empowering the next generation of creatives in imaging projects.
The program launched by FUJIFILM in September 2022, saw applications pouring in from every corner of the world and Mayo's project stood out, offering a unique perspective on the beauty of endemic plants in the Philippines.
Rico Hizon of CNN Philippines' The Final Word newscast couldn't hide his excitement while interviewing Mayo, "A Filipino photographer is among 10 Regional awardees in the Fujifilm challenge…John Mayo's project seeks to capture the beauty of endemic plants in the Philippines. Congratulations. The only Filipino to receive this Fujifilm International Grant!"
Jan Mayo, the Filipino photographer who won the Fujifilm GFX Challenge Grant talks to @RicoHizon on @cnnphilippines The Final Word about his unique project @janvmayo pic.twitter.com/GRYpIUTLgA

— GoodNewsPilipinas.com (@GoodNewsPinas_) May 17, 2023
What sets Mayo's project apart? His vision to combine the beauty of endemic plants with the human element, using them as a form of makeup on people's faces. This unique perspective stems from his background as a beauty and fashion photographer, along with his determination to tackle environmental issues and create socially and culturally relevant content.
Mayo explains, "I thought of why not use plants and then use that on people's faces as makeup. Because, you know, people… they won't understand the scale of something unless it's near towards a human person."
Mayo's journey to this prestigious recognition was not without its share of challenges. After a near-miss in the semi-finals of the 2022 competition, he did not lose heart but instead, came back stronger. "I want to quote my friend Artu, he's a photographer who shot the Vogue cover and he said that when a Filipino photographer wins we all win," Mayo shares, reflecting on his resilience and the collective Filipino pride that comes with his win.
Mayo's love for photography started as a hobby in 2006 with a simple digital camera. Today, he experiments with film but is more well-versed in digital photography. His versatility extends from portraiture to fashion and beauty, even capturing models for the sleigh model search in Manila and Bangkok. Mayo emphasizes that a good photograph should evoke a response, whether good or bad.
His advice for aspiring photographers? Start with a camera phone, practice, and let your creativity evolve.
Mayo's win in the Fujifilm GFX Challenge Grant Program 2022 speaks to the unique talents of Filipino photographers on the global stage. As Mayo puts it, "We have that edge that there's East Meets West, so we're Asians that and we understand Western influences. But at the same time, We have these Eastern influences that, you know, reflection our own art maybe in dancing or performance. and images."
With the grant, Mayo receives complimentary use of a GFX System camera body and two GF lenses for the duration of his project, along with mentoring and technical assistance from Fujifilm technicians/product experts, and a US $5,000 Grant. His project, expected to be completed by August 2023, will be showcased at the FUJIFILM Square in Roppongi, Tokyo in November 2023.
The world eagerly awaits the completion of Mayo's project, a testament to the power of resilience, creativity, and a unique vision that marries the beauty of nature with the human experience.
Rico Hizon's good vibes segment in The Final Word has also featured former Philippine Vice President Leni Robredo and the publisher of the Fookien Times Philippine Yearbook.
WATCH the interview here and SEND CONGRATULATIONS in the comments below to Jan Mayo for winning the Fujifilm GFX Challenge Grant!
Good News Pilipinas is a Lasallian Scholarum Awardee. TELL US your good news story tips by messaging GoodNewsPilipinas.com on Facebook, Twitter, Instagram, or e-mail editor@goodnewspilipinas.com and WATCH Good News Pilipinas TV YouTube & Good News Pilipinas TikTok for more Filipino Pride stories!
Facebook Comments