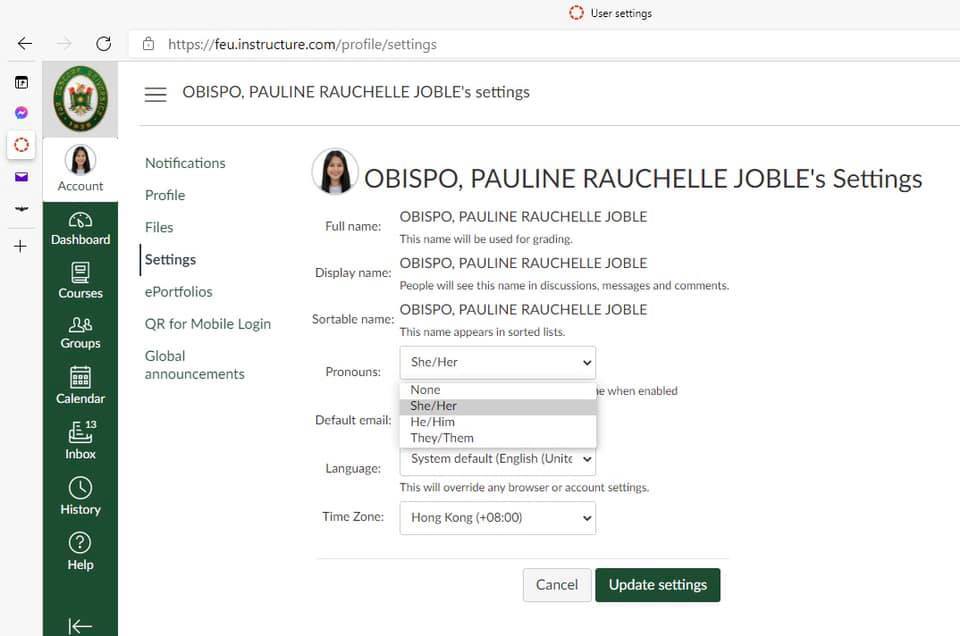 Far Eastern University (FEU) students can now choose to display their preferred gender personal pronouns on their online learning profile for Canvas.
The One FEU Community online group announced on March 11, 2021, that the new feature has been enabled by the institution for all students who use the web-based learning management system.
Canvas is the digital platform used by the university to support online teaching and learning. It allows professors to post grades, information, and assignments online.
"This may seem like a trivial thing, but allowing students to choose their pronouns sends a strong message about our inclusion policy and practice as a University," One FEU wrote on Twitter.
Students can choose from "she/her, he/him, or they/them" as their preferred gender pronouns (PGPs), according to Canvas.
"We most often use external characteristics (like appearance, clothing or hairstyle) to decide which pronouns to use when referring to other people. Accurately gendering people increases acceptance, validation and connection," One FEU explained.
The pronouns chosen by the student will be displayed on the user's Canvas profile, below their user's name.
FEU had earlier entered the Global Top 100 Innovative Universities list of the World's Universities Real Impact (WURI) Rankings, the only Philippine university to make the list.
FEU was also named among the Top Universities in the Philippines in terms of popularity on the social media platforms of Facebook, Twitter, and Instagram, based on the UniRank World University Rankings & Reviews.
SEND CHEERS in the comments below to the Philippines' Far Eastern University for promoting diversity and inclusion among Filipino students with the new Canvas feature that allows users to select their own gender personal pronouns.
Good News Pilipinas is celebrating its 15th Anniversary in 2021 by giving away prizes! Subscribe to our Good News Pilipinas! TV YouTube channel and enter the raffle by sending us an email to editor@goodnewspilipinas.com
Facebook Comments