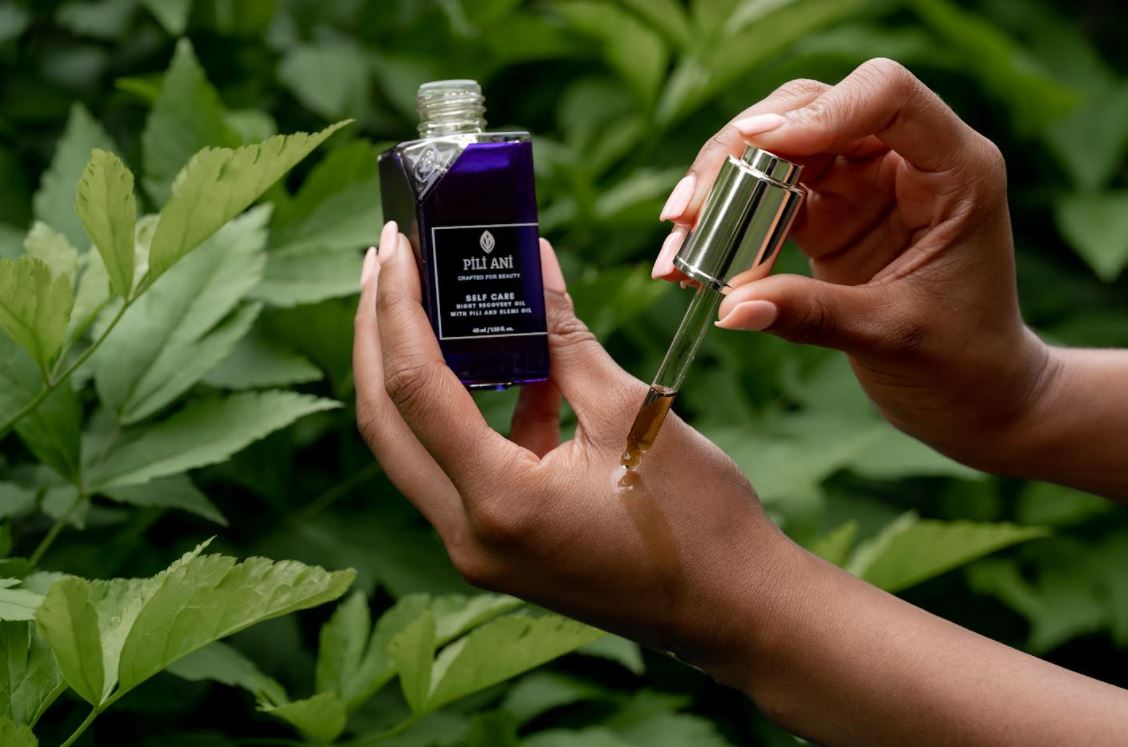 Proudly Filipino beauty brand Pili Ani has introduced another breakthrough local product that makes use of local ingredients obtained from the Pili Tree – the Self-Care Night Recovery Oil.
Testers of the new local nighttime skincare product in the market said its formulation is even better than facial serums of foreign skincare brands.
The result isn't surprising given Pili Ani's commitment to using green, clean, and all-natural local ingredients that the brand has been known for: Pili Oil and Elemi Oil.
Specifically formulated to boost hydration and protection at night, when the skin needs it most, the Pili Ani Self-Care Night Recovery Oil is made of Pili Oil, which is intensely moisturizing, rich in natural antioxidants, and vitamin E.
On the other hand, Elemi Oil has firming properties, is anti-inflammatory, and helps restore skin, balances the production of sebum, and reduces skin problems such as acne and dry or oily skin.
To further aid in the skin rejuvenation process, the Pili Ani Self-Care Night Recovery Oil also contains Squalane, Arnica Montana Flower Extract, Evening Primrose, Calendula, English Lavender, Sampaguita, Rosemary Leaf Oil, Blue Chamomile, which all serve to soothe, moisturize, tighten and address various skin problems such as redness, irritated skin, fine lines, and dryness.
Pili Ani notes that because nighttime is a crucial time to restore and regenerate cells, tissues, and skin, the Pili Ani Self-Care Night Recovery Oil is the perfect product to add to a nightly beauty skincare routine to achieve clearer and firmer skin.
For effective results, Pili Ani recommends the application of at least two to three drops on clean, dry skin at night. Apply a night cream after, if desired. With 40mL per bottle, it will last up to 11 months of continued use.
A proudly local brand with a heart to make a difference, Pili Ani was built, not for profit, but for the community. With every purchase of the Pili Ani Self-Care Recovery Oil and its other products, a portion of the proceeds goes to uplifting and building the local farmer communities.
Bicol's pride Pili Ani is the 1st Filipino beauty product to join the Home Shopping Network in America.
Pili Ani founder Rosalina Tan has been honored in London's Global Woman Summit for her social enterprise that helps farmers in Bicol.
Good News Pilipinas is celebrating its 15th Anniversary in 2021 by giving away prizes! Subscribe to our Good News Pilipinas! TV YouTube channel and enter the raffle by sending us an email to editor@goodnewspilipinas.com saying what you like about our site.
Facebook Comments