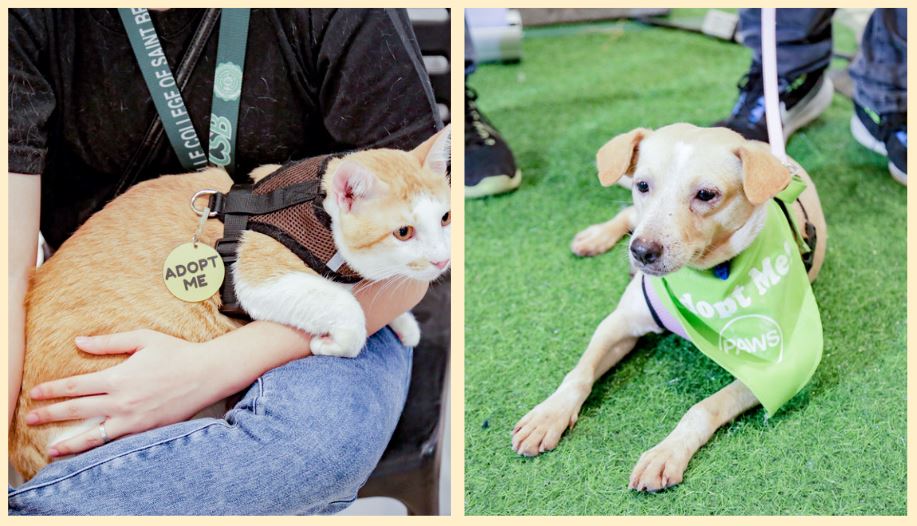 Filipino homes are being urged to adopt pets instead of buying them at the Ayala Malls' pet festival, Paws n' Play Year 5.
Ayala Malls is using its platform and facilities to support animal welfare through the mall's annual event at U.P. Town Center (UPTC) in Diliman, Quezon City.
Now in its 5th year, Paws n' Play continues to promote the humane and loving treatment of animals through various pet fairs, dog obedience training sessions, and workshops on responsible pet ownership. The festival begins in August and will run until October on the weekend before World Animal Day.
A gathering of pet lovers
It's one thing to own a pet, yet it's another to cherish them. Paws n' Plays Year 5 gathers communities with sincere advocacies rooted in animal welfare:
The Philippine Animal Welfare Society (PAWS) regularly hosts programs that protect and promote the humane treatment of all animals.
CARA Welfare provides affordable sterilization and veterinary care and promotes the rehabilitation and rehoming of cats and dogs in need.
Philippine Pet Birth Control Center Foundation (PPBCC), a group that aims to make the Philippines rabies-free and stray-free, hosts more affordable and accessible spay and neuter services in local communities.
Hound Haven PH, a group with a heart for working dogs, promotes the transfer and adoption of working dogs at the end of their service.
Cats of Manila shares the stories of friendly, funny, and ferocious felines to enlighten people all over the metro about the plights and joys of our local cats.
In support of these five communities, Ayala Malls partnered with the Quezon City Local Government to launch the two-month-long festival.
Forever Home Project
Paws n' Play officially kicked off at the Forever Home Project, a two-day adoption event in U.P. Town Center. City Mayor Joy Belmonte led a ribbon-cutting ceremony to officially launch the annual campaign. Also in attendance were adoptable dogs and cats from partner animal welfare organizations – all looking for their very own forever homes. The event allowed mall customers to meet and greet potential additions to their families, encouraging them to adopt rather than shop.
The program continued with Animal Welfare Talks featuring speakers from PAWS, CARA Welfare, PPBCC, Hound Haven PH, and Cats of Manila. Customers who donated to participating animal shelters also got lucky at the raffle draw. Winners, which were announced on the last day, took home special prizes from brand sponsors the likes of Pet Lovers Centre, Woof Freeze Dried Dog Food, Doggies' Choice, Dogs & More PH, and Quinini Pet Food.
Gotcha Gala
On September 10, Paws n' Play continues with Gotcha Gala, an exclusive meet-up of rescued and adopted pets with their fur-moms and fur-dads. The families invited to the gala will be pre-selected from a pool of online entries in response to Ayala Malls' call for stories of hope and successful pet adoptions. Winners and pets will meet at the BarkYard on the day of the event, followed by a photo and video presentation on their respective adoption journeys.
Gotcha Gallery
In conjunction with Gotcha Gala, Paws n' Plays is holding a week-long photo exhibit of Gotcha Gala winning entries at the Gotcha Gallery. Happening from September 10 to 17, Ayala Malls encourages viewers to interact with the photos by leaving notes on the space provided for the pet-parent and fur-baby in the shot. Aside from building an emotional connection, the Gotcha Gallery is also Ayala Malls' way of encouraging the UPTC community to "adopt, don't shop!" Indeed, with many strays in need, this has become a noble message that everyone needs to hear.
Paw It Forward
Paws n' Play Year 5 will culminate at Paw It Forward, a one-day event featuring a series of workshops to be held for the benefit of select animal welfare shelters. It is commencing on October 2, falling on the weekend prior to the globally celebrated World Animal Day. The workshops are open to all, with a registration fee of Php500 as a donation to the participant's chosen organization. The proof of donation serves as the individual's workshop pass.
Make your voices heard! Drop by U.P. Town Center to support animal welfare at the Paws n' Play festival. Get ready to meet new pups and fluffs as they find their forever homes.
CHECK OUT these animal welfare communities and PLEASE CONSIDER ADOPTING A PET instead of buying them at pet stores.
Good News Pilipinas is a Lasallian Scholarum Awardee. TELL US your good news story tips by messaging GoodNewsPilipinas.com on Facebook, Twitter, Instagram, or e-mail editor@goodnewspilipinas.com and WATCH Good News Pilipinas TV YouTube & Good News Pilipinas TikTok for more Filipino Pride stories!
Facebook Comments