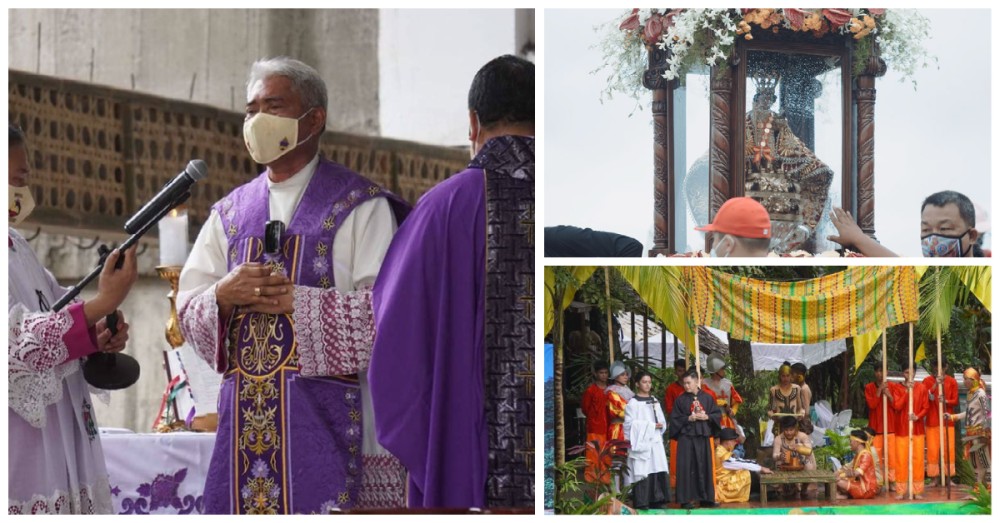 The Philippines celebrated the 500th anniversary of the first Easter Mass on Limasawa Island in Southern Leyte, the site of the earliest recorded Catholic Mass in the country.
The Diocese of Maasin, headed by Bishop Prescioso Cantillas, celebrated a Pontifical Mass at the Magallanes Shrine to commemorate the quincentennial of the first Easter Mass held on March 31, 2021.
In his homily, Bishop Prescioso Cantillas of Maasin said that the historic event which transpired in the island town of Limasawa affirms God's love for Filipinos.
"We need to remind ourselves that the meaning and value of the sacrifice we faced just to celebrate today's great historical event is the reality of the wonderful love of God for you and me," Bishop Prescioso Cantillas said.
The Mass was preceded by the fluvial procession of the pilgrim image of Señor Santo Niño de Cebu to Limasawa Island accompanied by Catholic bishops.
Cantillas called on the faithful to "deepen and intensify" their faith and love for Jesus in the Eucharist, as he lamented "the betrayals by many people including ourselves of the Eucharistic Lord in many forms and expressions".
Archbishop Charles John Brown, Apostolic Nuncio to the Philippines, was originally scheduled to lead the Mass but could not make it due to current travel restrictions imposed by government to stop the spread of the coronavirus disease.
Brown conveyed his message to the people of Limasawa and all Filipinos on the quincentennial of the First Easter Mass which took place on March 31, 1521.
"Five hundred years after the first Mass was offered in the archipelago, the Church in the Philippines is invited anew to go forth and become a community of authentic missionary disciples," Brown said.
The solemn mass and thanksgiving program was attended by hundreds of pilgrims, priests, and officials who flocked to Limasawa Island to celebrate its part in the first Circumnavigation of the World and the arrival of Christian faith in the nation.
The Quincentennial Historical Marker of Limasawa was also unveiled in celebration of the quincentenary of the Magellan-Elcano Expedition in the Philippines.
On Easter Sunday, the Philippines is opening the doors to 500 Jubilee Churches designated to mark the quincentennial commemorations for the arrival of the Christian faith in the country in 1521.
The Catholic Bishops' Conference of the Philippines (CBCP) is leading the Philippines' Quincentennial Commemorations for 500 years of Christianity alongside state-led celebrations for the Victory of Mactan and the country's role in the first circumnavigation of the world.
SEND CHEERS in the comments below to the Philippines for celebrating the 500th anniversary of the First Easter Mass in the Philippines on March 31, 2021.
Good News Pilipinas is celebrating its 15th Anniversary in 2021 by giving away prizes! Subscribe to our Good News Pilipinas! TV YouTube channel and enter the raffle by sending us an email to editor@goodnewspilipinas.com
Facebook Comments