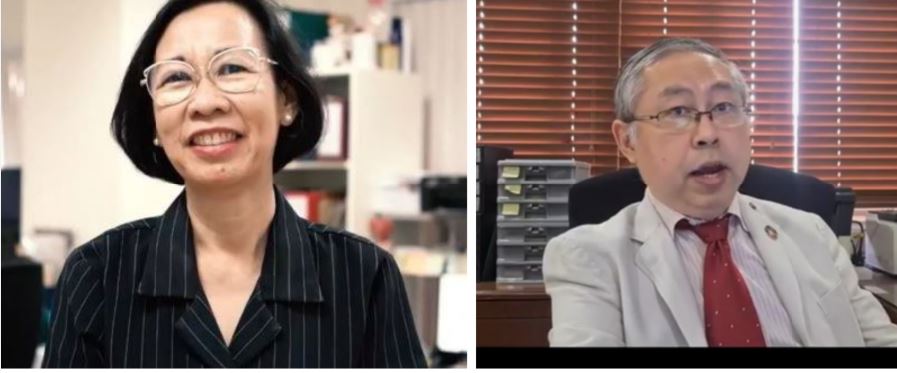 The inspiring stories of scientists Dr. Teresa S. Encarnacion Tadem of the University of the Philippines (UP) and Dr. Anthony SF Chiu of De La Salle University Manila's (DLSU) are featured on the digital storytelling platform iShare's pilot webisode.
"To the young researchers, if you have the luxury to do what you want to do, write what you want to write, and I hope you will not get boxed in a particular way because you have to write in a particular way, I hope that opportunity will be open for everyone. It's not just there. You also look for it."
This was one of the inspiring messages of Dr. Tadem, a UP political science professor, during the first webisode of iShare where she recounted her journey on being sidetracked from her original dream of working for the United Nations, and on finding comfort and fulfillment in doing research and writing, initially at the Third World Studies Center of UP.
Tadem, the author of "The Marcos Technocrats," added, in sharing her research experiences in the country and abroad, "I learned that the only way I could really learn about that country is to do fieldwork, to interview people from the ground of what they're really doing to push for the democratization of their development."
On the other hand, DLSU professor Dr. Anthony SF Chiu shared his story on professional networking – an important factor in advancing one's career.
Tadem and Chiu were the main storytellers in the pilot webisode of iShare, which premiered last December 2020 and can still be accessed through the Research Pod, a Facebook Page of DOST-NRCP.
"As children, we were awed by the courage, persistence, compassion, and some magical skills of heroes and heroines, hoping that one day, we will be like them," Marieta B. Sumagaysay, DOST-NRCP's Director, said by way of introducing iShare and on how storytelling has largely been a part of the Filipinos' lives.
Sumagaysay also shared how her grandparents would gather them when they were children and told them stories of people emerging unscathed, and even stronger after hurdling through life's challenges. As a result, these stories played a big role in the successful careers of those children who listened along with her.
iShare is a digital storytelling platform initiated by the Department of Science and Technology's National Research Council of the Philippines (DOST-NRCP), wherein the council's Achievement Awardees share their challenges and triumphs in their chosen fields. Through iShare, DOST-NRCP aims that more Filipinos, especially the younger generation will learn and get inspired from the real life's experiences of Filipino scientists.
Watch out for the next iShare webisode on 24 February 2021, and be inspired by the stories of exceptional Filipinos who were successful in their own fields; the Achievement Awardees Karlo L. Queaño, Ph.D., a geologist at the Ateneo de Manila University, and Joyce L. Arriola, Ph.D., a professor from the University of Santo Tomas.
The next storytellers on 25 March 2021 will be Dr. Elmer S. Estacio, also a professor from the UP- National Institute of Physics, and Dr. Rowena DT. Baconguis, a professor at UP Los Baños.
The NRCP Achievement Awards is a recognition given since 1979 to its members with outstanding contributions to the body of knowledge in science and to the country's nation-building initiatives. Succeeding iShare webisodes will be announced on the Facebook Page: Research Pod.
UP scientist Mahar Lagmay's animated infographics on the Taal Volcano eruption in 2020 helped tell factual stories amid the public's confusion.
UP, Ateneo, and PRRI scientists have been honored in the 1st virtual Science & Technology Awards given by DOST.
SEND cheers to the DOST and UP and DLSU scientists for sharing their inspiring stories on the iShare pilot webisode.
Are you a Proud Filipino? Get more good news stories on Filipino Pride! Subscribe to GoodNewsPilipinas.com and our YouTube channel: Good News Pilipinas! TV
Facebook Comments