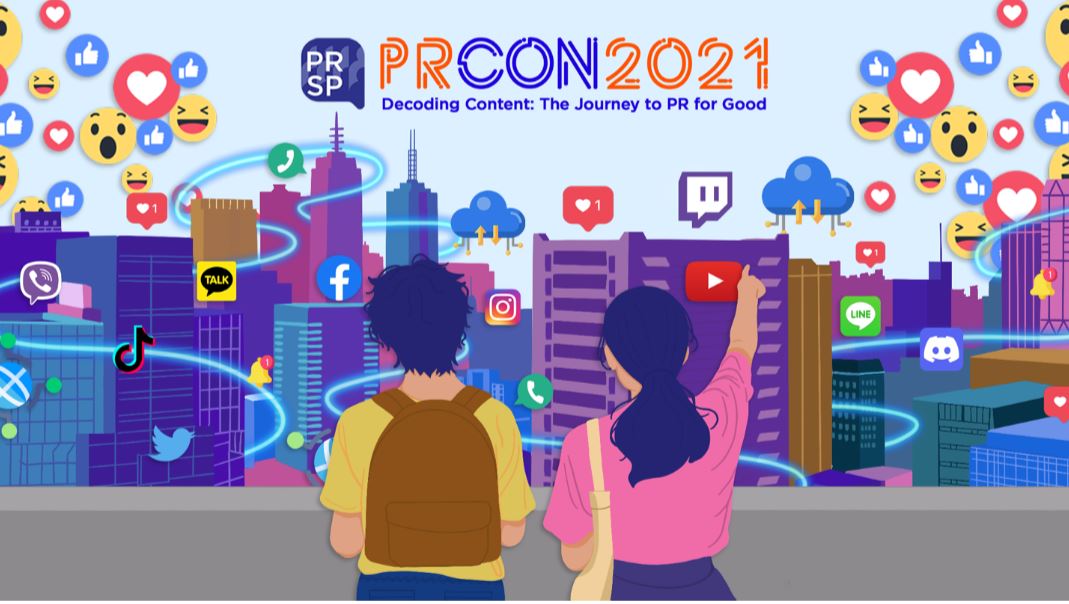 The first-ever Virtual Public Relations Students' Congress (PR Con) organized by the Public Relations Society of the Philippines (PRSP) is putting the spotlight on using digital media PR for the Good of society.
The 2021 edition of the PRSP Students' PR Con is turning virtual, interactive, and nationwide for the first time amid the Covid-19 pandemic that continues to restrict large face-to-face assemblies.
The annual gathering of students to learn more about the public relations industry from leading practitioners in the field carries the theme "Decoding Content: The Journey to PR for Good".
The PR Con seeks to address questions on how digital platforms can be used more responsibly.
"We are excited to bring the PR Con to students of public relations, communications, marketing, advertising, and related disciplines in the Philippines. Despite the pandemic, digital platforms have given us the opportunity to bring people from all over the country together to learn and engage in an interactive way," said Ferdinand Bondoy, Chairman of PRSP Students' PR Con and Grand Prix 2021, Board Trustee of PRSP and Regional Integration & Chief Executive Director of ComCo Southeast Asia – New PR and Smart Social.
"Digital and new media are not the future anymore, they are the present, and we want to invite students to explore these new frontiers with us, along with the challenges and opportunities they bring. How can students navigate this new landscape and what does it mean for them as they look to enter the workforce as young communications professionals? We will address these questions and more in the PRSP Students' PR Con 2021 this November," Bondoy added.
Norman Agatep, President of PRSP and also the President and Managing Director of Grupo Agatep meanwhile said, "Students of Communication have always been a significant sector that the PRSP has been reaching out to over the years. As such, we have designed pillar programs that aim to supplement their classroom learning, fuel their interest in public relations, and ignite their desire to pursue careers in our industry, This year's PR Con will give all participants an exclusive glimpse of what their lives as PR professionals could be like."
The PRSP Students' Con is scheduled to be held this November.
For inquiries about the PRSP Students' Con, email studentsprcongress@prsp.ph
Good News Pilipinas is celebrating its 15th Anniversary in 2021 by giving away prizes! Subscribe to this website and  Good News Pilipinas! TV YouTube channel and enter the raffle by telling us what you like about our stories in an email to editor@goodnewspilipinas.com
Facebook Comments