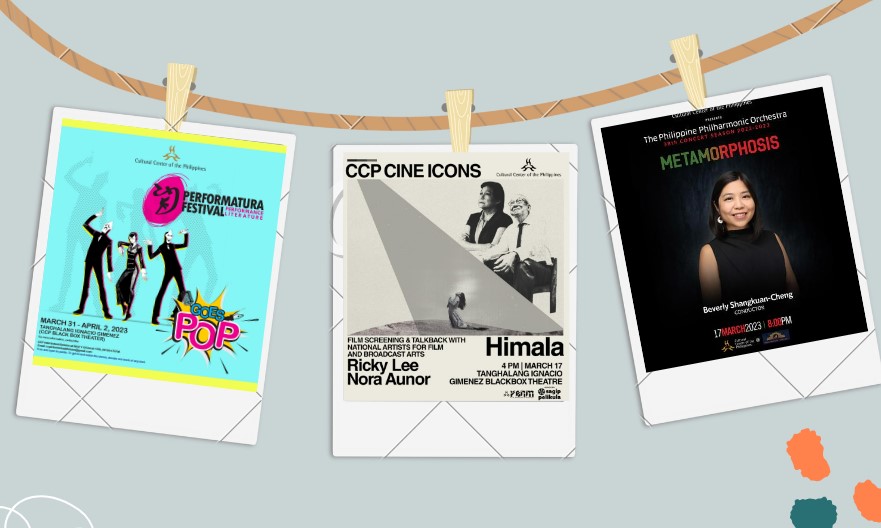 Here are the 3 different ways you can watch the Cultural Center of the Philippines (CCP) shows Cine Icons, Philippine Philharmonic Orchestra (PPO), and Performatura for free, for a fee, or with a book donation.
Today, March 17, 2023, the CCP officially launches its newest series, Cine Icons, with a film screening in the afternoon and stages a PPO concert in the evening. The Performatura literature performance is scheduled for March 31 to April 2. Here are the ways you can catch these CCP shows:
CINE ICONS, Free Screening
March 17, 4:00 PM
Tanghalang Ignacio Gimenez (TIG) Blackbox Theater
The CCP Cine Icons is a year-round film program featuring the outstanding cinematic masterpieces of the country's newest National Artists for Film and Broadcast Arts: actress Nora Aunor, writer Ricardo "Ricky" Lee, and director Marilou Diaz-Abaya.
The series had its soft launch in February with the screening of Diaz-Abaya's Brutal, written by Lee at the Polytechnic University of the Philippines.
The Cine Icons will be officially launched today with a screening of filmmaker Ishmael Bernal's classic, "Himala," written by Lee and starring Aunor. A talk with the artists follows the Tanghalang Ignacio Gimenez (TIG) Blackbox Theater screening with an outdoor spillover screening at the CCP parking lot.
Himala is a full-length film that tells the story of an orphan named Elsa having visions of the Virgin Mary and healing people with a variety of ailments.
Admission to this event is free and open to the public on a first-come, first-served basis for the first 75 people for the theater indoor screening. Others will be accommodated at the outdoor screening. Visitors who opt for walk-in registration are advised to be at the venue 15 minutes before the event.
Pre-register HERE bit.ly/CCPCineIconsHimala
Nora Aunor-starrer "Himala" directed by Ishmael Bernal is featured in today's Cine Icons March 17, 2023 | 4:00 PM
Tanghalang Ignacio Gimenez (Black Box Theater) @TheCCPofficial Here's how to register for free. FULL STORY on @GoodNewsPinas_ https://t.co/octOerX6WI

— Angie Quadra-Balibay (@AngieQBalibay) March 17, 2023
Cine Icons' third installment is scheduled in May, featuring "Bulaklak ng City Jail," and in October featuring "Moral" and "Karnal" to complete Diaz-Abaya's trifecta.
PHILIPPINE PHILHARMONIC ORCHESTRA
March 17, 8:00 PM
Metropolitan Theater
The CCP presents the Philippine Philharmonic Orchestra in its 38th concert season, "Metamorphosis," at the Metropolitan Theater.
The seventh series concert features conductor Beverly Shangkuan-Cheng, President of the Philippine Choral Directors Association, Artistic Director of the Las Piñas International Bamboo Organ Festival, and Associate Professor of Music at the University of the Philippines, where she teaches graduate and undergraduate conducting.
Shangkuan-Cheng is a First Prize Winner at the American Choral Directors Association (ACDA) National Graduate Conducting Competition. She also won the First Prize for the A1 Piano Category of the Philippines' National Music Competitions for Young Artists (NAMCYA).
Her performance and adjudication engagements have brought her to South Africa, Germany, Sri Lanka, Hong Kong, Malaysia, Indonesia, Thailand, China, Spain, Vietnam, Portugal, and Singapore. She also regularly leads workshops in different parts of the Philippines.
For ticket inquiries, visit https://premier.ticketworld.com.ph/
PERFORMATURA 2023: PERFORMANCE LITERATURE FESTIVAL
"Performatura Goes Pop"
March 31 to April 2, 2023 | 10:30 AM – 8:00 PM
Tanghalang Ignacio Gimenez (CCP Black Box Theater)
The Cultural Center of the Philippines presents Performatura, a three-day performance literature festival promoting the rich history of Philippine literature, both the written word and oral traditions.
Activities include poetry readings, storytelling, theatrical shows, dance dramas, musical presentations, and even spoken word competitions headed by the festival's director Dr. Vim Nadera, a poet and a performance artist.
Unbox @ Blackbox: A book launch by Carlo Ople, a film showing of 'Brutal' by Marilou Diaz Abaya, a talkback, and a book signing by Ricky Lee.
From Page to Stage: An excerpt of the 'Light of Words' by Gemino Abad, spoken workshop by Ampalaya Monologues and an open mic.
Araw ni Francisco Balagtas: Rap album launch of Anygma, poetry readings, and musical performances to celebrate the birth of Francisco Balagtas and show the importance of Bataan to one of the greatest Filipino Tagalog litterateur and poet.
Taking part in the festival are national artists, poets, writers, and performance artists. Books, artworks, and merchandise are also available at the Tanghanglang Ignacio Gimez Basement.
TICKET INFORMATION:
DAY 1 & DAY 3: A minimum donation of one book per show.
DAY 2: Register online and pay as you can (more details to follow).
Good News Pilipinas is a Lasallian Scholarum Awardee. TELL US your good news story tips by messaging GoodNewsPilipinas.com on Facebook, Twitter, Instagram, or e-mail editor@goodnewspilipinas.com and WATCH Good News Pilipinas TV YouTube & Good News Pilipinas TikTok for more Filipino Pride stories!
Facebook Comments