Since the completed restoration of the Las Piñas Bamboo Organ in 1975, the Philippines has been celebrating the gift of this instrument to the southern city in Manila by holding the International Bamboo Organ Festival.
This year's edition of the annual festival which gathers international music talents goes virtual to continue protecting while celebrating the bamboo organ that gave an identity to the city and to the country as a national organ patrimony which is unique in Asia.
"The present situation caused by the COVID-19 pandemic did not change our conviction to continue this annual event although held in another platform maximizing the use of technology and the ingenuity of social media," said the festival organizers in a statement.
The Online Festival will feature the event's titular organist, Armando Salarza, Luc Ponet (Belgium), Guy Bovet (Switzerland), and a Filipina based in New York, Jennifer Pascual (St. Patrick's Cathedral, NYC), to improvise on Filipino tunes to be played on the grand pipe organ.
Each program will close with a rendition of a short motet by the Villancico Vocal Ensemble, the festival's resident choir celebrating their 10th anniversary, directed by Beverly Shangkuan-Cheng.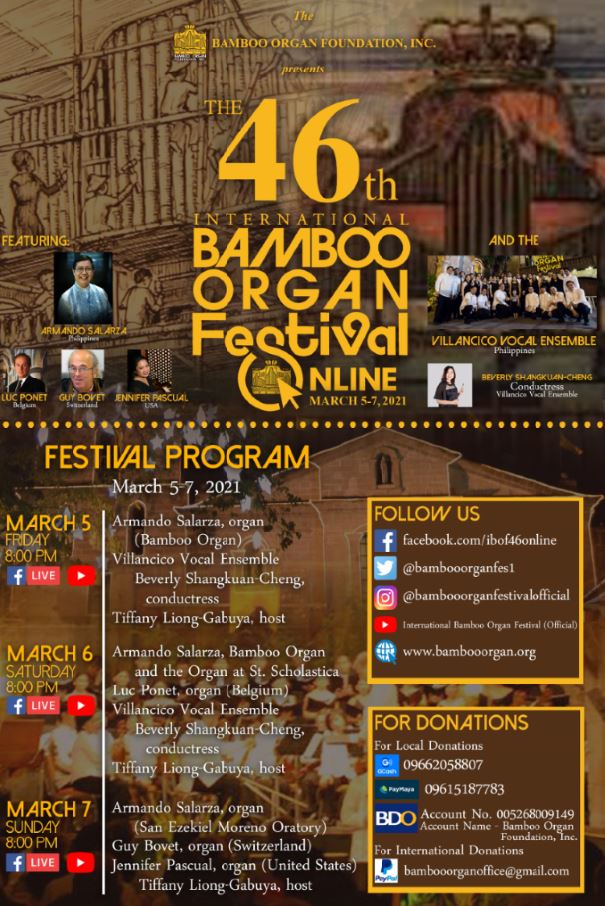 The 46th International Bamboo Organ Festival Online is scheduled from MARCH 5-7, 2021 every evening at 8 PM. The Online Concert will be live-streamed on the Official Facebook Page 46th International Bamboo Organ Festival Online, Youtube Channel, and other Facebook Pages of Media Partners such as GoodNewsPilipinas.com.
GoodNewsPilipinas.com is an official Media Partner of the 46th International Bamboo Organ Festival Online.
Last year, multi-awarded Filipino group Acapellago starred in the 45th edition of the International Bamboo Organ Festival.
Good News Pilipinas is celebrating its 15th Anniversary in 2021 by giving away prizes! Subscribe to our Good News Pilipinas! TV YouTube channel and enter the raffle by sending us an email to editor@goodnewspilipinas.com
Facebook Comments