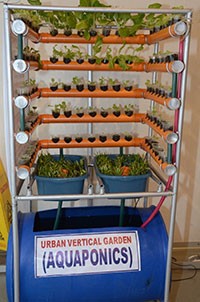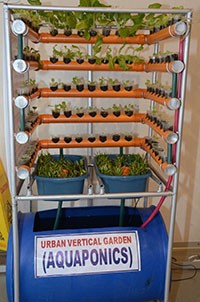 Mother Nature would surely love these Filipino inventions which were exhibited at the National Science and Technology Week held at SMX Convention Center.
These 5 Filipino-made greennovations from the exhibit organized by the Department of Science and Technology (DOST) picked by a Rappler feature, could help Filipino industries with their business while taking care of the environment.
Aquaponic Urban Vertical Garden

This very green invention will allow anyone to grow their own garden of leafy vegetables within a space of one square meter. Designed by Chito Sace from Central Luzon State University in Nueva Ecija, it has a submersible pump in a water-filled cylinder that lifts water to the hose pipes running through the vegetables shelves. Freshwater fish swims in the cylinder making the water being pumped in the system filled with nutrients. Meanwhile, the manure of the fish serves as the fertilizer for the vegetables.

Watershed Information Portal for the Philippines

If you don't know anything about watersheds, this is the perfect site to look into. This is a collaborative project by the leading state universities, DOST and Department of Environment and Natural Resources (DENR). Philwatershed.org intends to provide everything that you need to know about a particular watershed in the country. However, the portal has available data for 3 watersheds only as of the moment but it hopes to cover every watershed in the country.

Naturecast: Forest waste turned to classy furniture

Nature's Legacy only proved that wastes can be turned into gold. The group's Naturecast, a wood-like material made of twigs and other debris that can be found on the forest ground, is used to create lamps, vases, chairs, even walls and ceilings. Filipino furniture designer Ito Kish features some of their products in his store while The Body Shop used Naturecast as their packaging box for some products.

VERMAC (Vitro-Engineered Restorative Micro-cellulose Absorbent Covering)

Denver Chicano, a Filipino nurse, found a way to treat burns on a cheaper price through the use of nata de coco. Produced by Xyderm Corporation, VERMAC is composed of coconut milk, which can be turned into cellulose, giving the tissue-like properties of the treatment which can be applied to burns and other skin wounds. It has a high water holding capacity and cooling effect, easing the pain of the patients.

Coconut fronds to wood

Another score for coconuts! Palwood from Zamboanga del Norte uses coconut fronds or palapa, which are considered as agricultural wastes, to make wood. The wood is 70 percent made of palapa- leafstalk of the coconut tree- which is said to be harder than coco lumber. However, Palwood cannot yet mass produce these engineered woods because of the lack of machinery.
Facebook Comments