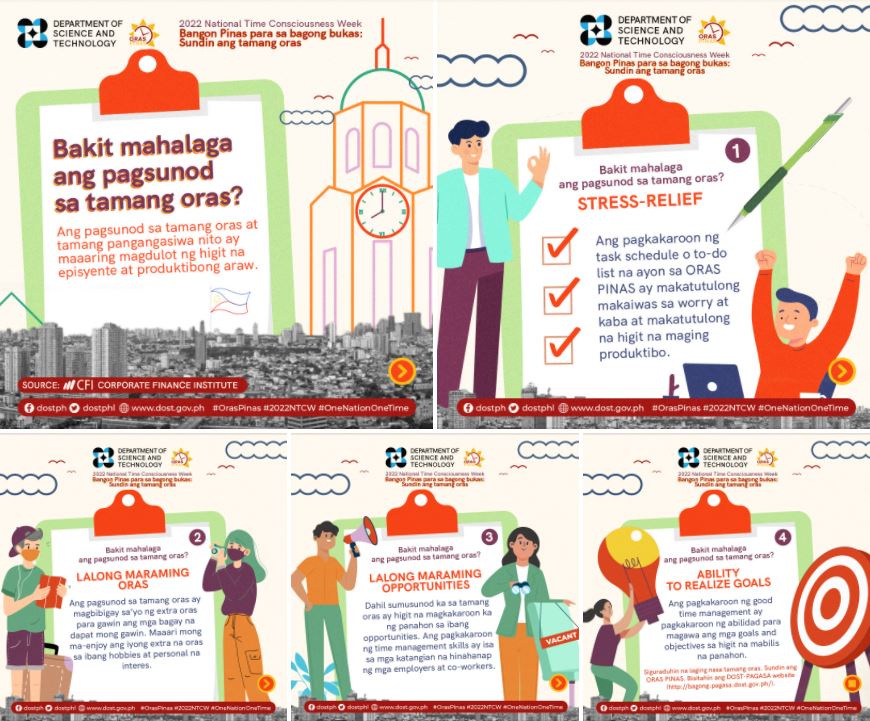 The observance of Philippine Standard Time (PST) comes with many benefits including productivity and stress management, according to the New Year campaign initiated by the Department of Science and Technology (DOST).
DOST Philippines released infographics listing the value of observing the official time following the observance of the National Time Consciousness Week from January 1 to 7, 2022.
The advocacy campaign identifies the following benefits of observing PST:
Following and managing the correct time increases efficiency and productivity
Having a task schedule based on PST reduces worry and stress
Proper management of time frees up more time to enjoy hobbies and personal activities
Developing time management skills opens new work opportunities
Good time management allows for the quicker realization of goals
DOST encourages Filipinos to sync all clocks to the official PST found on the DOST-PAGASA website to help in nation-building and to support efforts to achieve sustainable development and inclusive growth.
DOST has been spearheading the observance of the National Time Consciousness Week in the Philippines.
SHARE your good news story tips to GoodNewsPilipinas.com on Facebook, Twitter, Instagram, or e-mail editor@goodnewspilipinas.com and subscribe to Good News Pilipinas TV YouTube for more Filipino Pride stories!
Facebook Comments