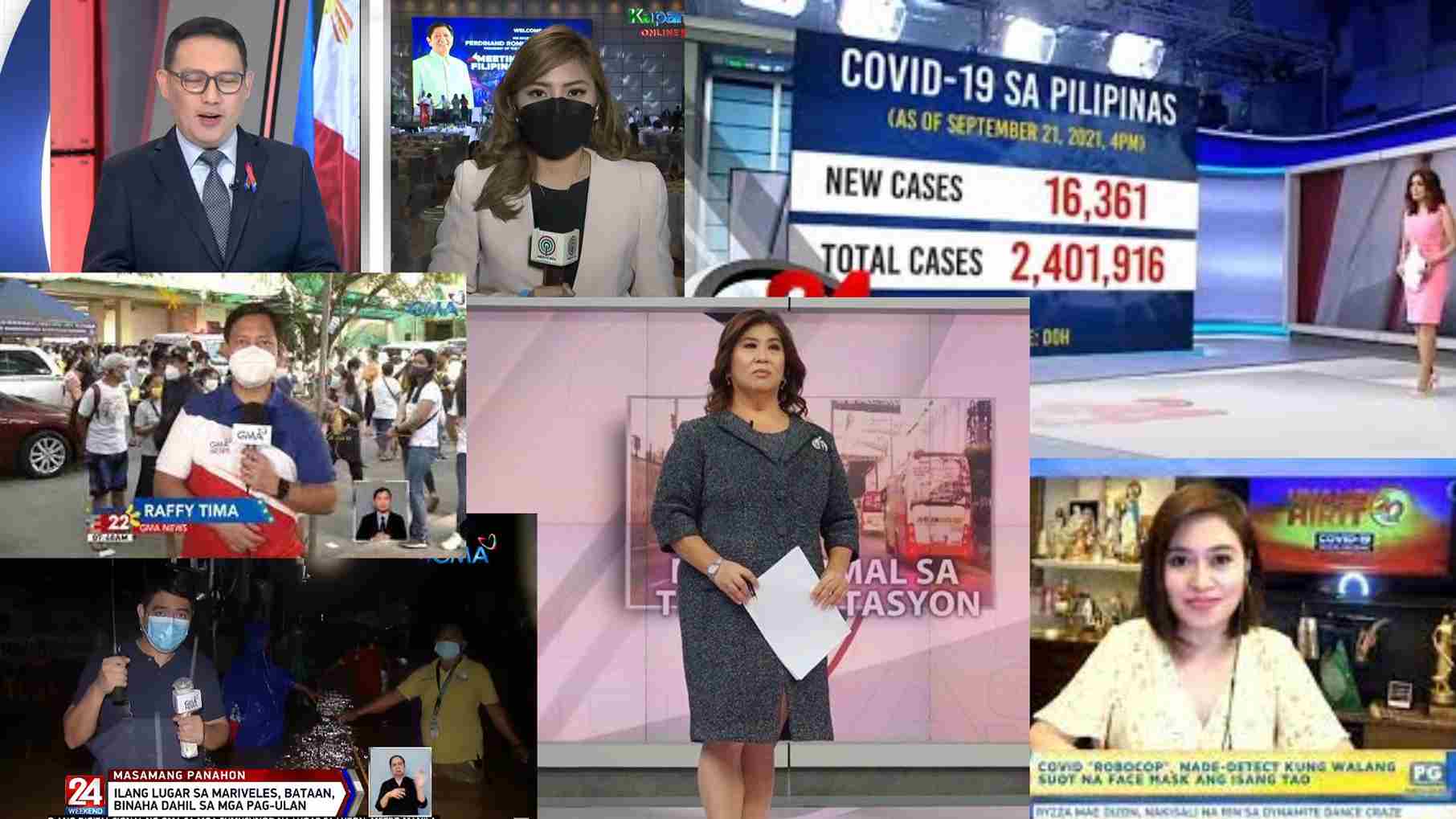 Life has not been easy for anyone, especially since the COVID-19 pandemic hit the world. The unexpected lifestyle adjustments and transition to other modes of work disrupted people's lives. Nobody had predicted the situation and nobody could fully understand how the catastrophe would turn out.
Journalists, whose tasks included providing information about the coronavirus that can be used by people to make good decisions about their lives, are among those who experienced the difficulty of continuing their work amid the fast-changing conditions that impacted how they gather and distribute the news.
When the COVID-19 pandemic hit the Philippines it brought out the world-renowned resiliency of Filipinos in journalists, proof of which is collected in the academic research "Reporting in the New Normal" conducted by the University of Santo Tomas (UST).
UST Professors Felipe Salvosa II and Christian Esguerra presented the key findings and conclusion of their research in an online briefing hosted by the Philippine Press Institute (PPI) and attended by media, members of the academic community, and the general public on Zoom, Facebook, and YouTube.
The results of the research conducted under the Stiftung grant pointed out how journalists were challenged and met the challenges to newsgathering and reportage brought on by the public health emergency which restricted people's movements.
The academic research that started in June 2021 and was presented on August 31 determined the COVID-19 pandemic's effects on the practice of journalism in the Philippines.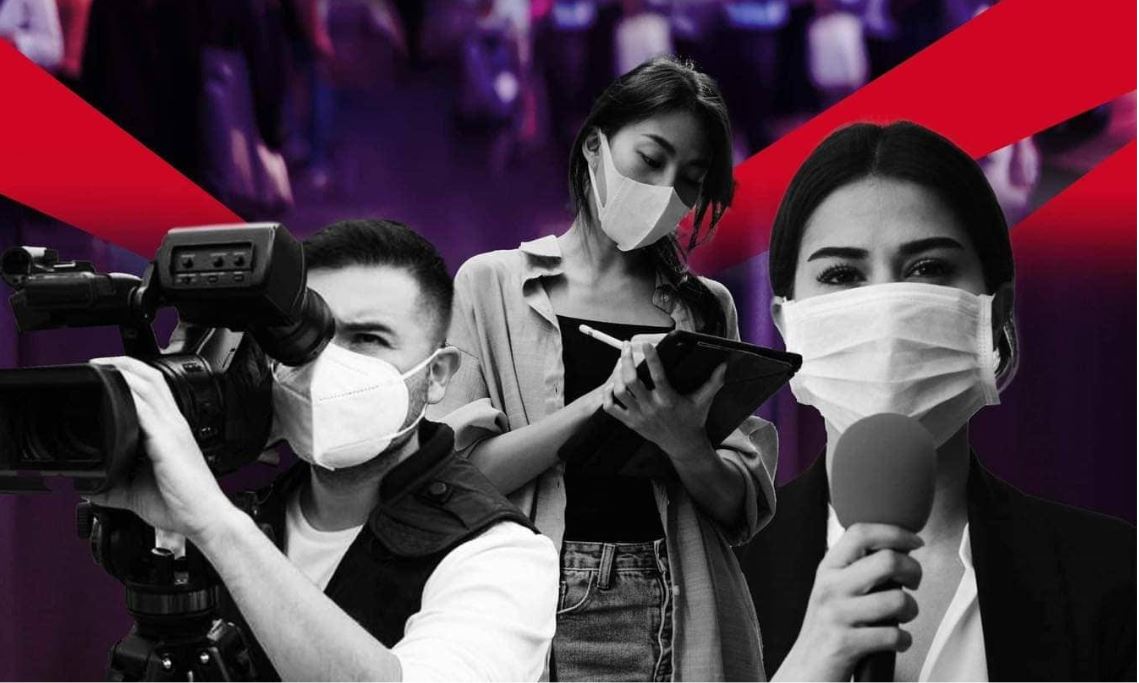 As a takeaway from the research findings, Good News Pilipinas came up with a list of ways how the COVID-19 Pandemic has revealed the resiliency of Filipino Journalists:
1 Reporters about an unprepared government
According to the researchers, their respondent-journalists considered the unpreparedness of the government as the number 1 issue that the Philippines had to overcome during the crisis, and that it was evident in the inconsistent and unclear policies that were issued in attempts to mitigate the situation.
This was a hurdle journalists had to overcome: to make sense of the information that they needed to deliver to the public, such as how to differentiate the quarantine stages.
They had to work harder than ever because the people depended on the news to know what exactly was happening and what they need to do during the emergency.
"There were discussions whether a government like the Philippines could actually be really prepared in terms of dealing with a pandemic. But of course, there were comparisons later on with other countries as to how they were responding early on during the pandemic.
"Understandably, there was no guidebook in terms of dealing with this kind of pandemic in this particular time but there were concerns regarding the unpreparedness of the government and we saw this when it came to, for example, lockdown itself early on," Professor Christian Esguerra explained.
2 Forced to become science journalists overnight
Most journalists became scientists overnight. Due to the continuous increase in COVID-19 cases in the Philippines, they could not help but force themselves to learn about the new virus and matters related to its management. They studied viruses, vaccines, and so on.
Because of this experience, they became even better journalists due to exposure to more complex stories. The situation also helped them become more creative in finding sources for their stories. Journalists made efforts to ensure that the information they presented was accurate and would not raise any doubt.
"I think if you went through this pandemic this is eye-opening for everyone. Pandemic harsh siya, and one editor told na they are forced to become science reporters overnight. Because they are so used in reporting about politics, and then all of a sudden you're talking about vaccines etc.," Professor Felipe Salvosa II shared.
3 Alternative to traditional newsgathering
With the restrictions they had to follow, journalists got innovative in obtaining news. The world was bombarded with bad news and gruesome stories left and right but Filipino Journalists toiled to find stories that would uplift the spirits of the people during the pandemic.
Another factor they had to put an extra effort into is finding and reaching out to sources for their news. They turned to direct messaging for interviews with the challenge of working virtually. They found alternative ways for news gathering. The journalists knew they had to ensure that they would deliver news that the public must know about.
"Direct messaging became more common and became an acceptable substitute for face-to-face interviews. Once they have verified the identities of these persons are indeed the owners of this social media account or Viber accounts," Salvosa shared.
4 Initiatives to maintain credibility
Journalists created different methods where they can verify the information they receive. The material was cross-referenced with official declarations and official or field data and further validated with comparative data from international sources.
They had to depend on receiving information online or corresponding digitally because of the threat of the pandemic which reduced their in-person engagement with people. Direct messaging replaced face-to-face interviews as a valid alternative.
"Journalists really tried their best not to sacrifice standards. The fact that they developed this verification routine; It's an effort to ensure that reporting standards do not suffer because of this pandemic," the researchers said, commending the diligence of Filipino journalists.
Additionally, journalists established a method for determining the reliability of their online sources which were evaluated through many stages of credibility assessment. The media sought people who can talk authoritatively about the pandemic to ensure that the information provided to the public is accurate and error-free.
5 Working independently
Filipino journalists endured a great deal of difficulty because of the pandemic. They were constrained in what they could do at work, but that did not distract them from performing their duty.
Instead, they developed strategies for carrying on with their work. Most local journalists, as well as a few national journalists, worked from their homes. They were in charge of everything – from planning, using their camera, scriptwriting, and presentation of information for reporting.
They guaranteed that they will continue to find a way to share the news despite the minimal assistance they received from outside.
"Working alone at home, away from their colleagues and connected only via messaging apps, was also taxing for them," the researchers shared.
6 Struggled with mental health issues yet still performed their duty
"It gave rise to certain mental health concerns. Kasi nga yung iba hindi na a-identify yung difference between them as a person and sa kanilang role as a journalist," Esguerra explained.
[It gave rise to certain mental health concerns. Because others will no longer identify the difference between them as a person and their role as a journalist.]
Journalists may have secured their physical health by adopting the work-from-home setup but they faced another pandemic-like situation in the comfort of their homes – mental health issues.
The research revealed that being away from their routine on the field, journalists lost touch with 'who they were, as they were away from their colleagues.
The setup also damaged their work system, disrupted their work-life balance, and they grew fearful of failure due to limited access to information and sources.
These unseen struggles were unknown to the public because the journalists were not reporting about themselves.
Filipino journalists were literally tested on all fronts during this pandemic but they were able to rise to the occasion and continued with their duty. The journalists who were interviewed in the research said that they overcame these struggles by reminding themselves of their duty as providers of accurate information.
7 Quick to adapt to the situation
The researchers came up with the conclusion that Filipino journalists are "quick to adapt to the situation" based on the data they obtained from their respondents.
Filipino journalists adapted different methods during the pandemic such as verification dashboards, used different sources, and compared data with that from international wire agencies to verify the information before reporting them.
They opted for virtual lines of verification such as direct messaging to interview sources. Another verification method was horizontal – they would ask the higher up and subordinates in a cycle to get the authentic information. This only goes to show how dedicated these Filipino Journalists are to honest reportage and how they planned to safeguard the practice of journalism.
"I think many of them became better journalists, having exposure to more complicated stories and having to be more creative in reaching out to sources," concluded Professor Felipe on how the pandemic changed Filipino journalists.
The Philippine Press Institute presents the research findings of UST researchers, Felipe Salvosa II and Christian Esguerra on how the COVID – 19 pandemic affected journalist practices in the Philippines. @GoodNewsPinas_

WATCH HERE:https://t.co/VeCocsky6h pic.twitter.com/ODvlpTNC9p

— Martina Torres (@martinajoyce_) September 6, 2022
Filipino journalists have been receiving help with the adjustment to new normal ways of newsgathering and reportage. The United Nations has been working with academics and news organizations on how to keep journalists safe while performing their duties.
Google News Initiative has also been working with local universities and news websites to help them transition into credible multimedia reporting.
With reports by Martina Joyce M. Torres and Earl Julius D. Transfiguracion
SEND CHEERS in the comments below to Filipino journalists who have improved themselves and shown resiliency in the face of the COVID-19 pandemic!
Good News Pilipinas is a Lasallian Scholarum Awardee. TELL US your good news story tips by messaging GoodNewsPilipinas.com on Facebook, Twitter, Instagram, or e-mail editor@goodnewspilipinas.com and WATCH Good News Pilipinas TV YouTube & Good News Pilipinas TikTok for more Filipino Pride stories!
Facebook Comments