Eight Filipino-Americans were given the Gawad Bayani "2016 Kalayaan Heroes" award during the Philippine Independence Day celebrations at the historic Union Square in San Francisco.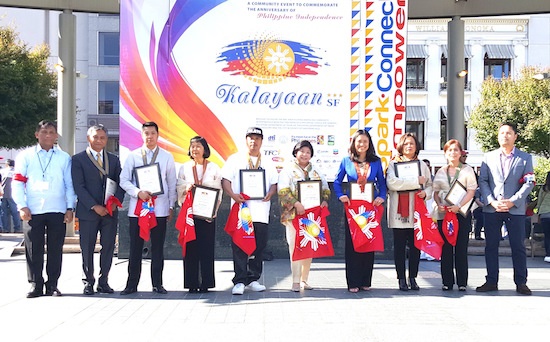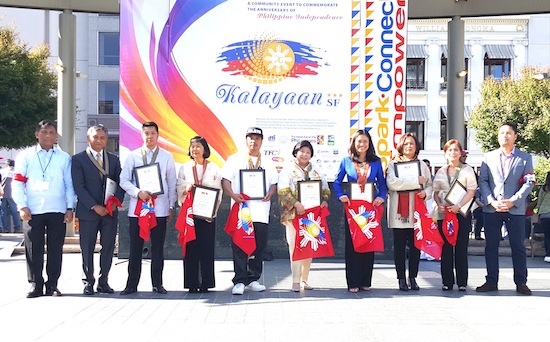 The 2016 Kalayaan Heroes formally presented to the public in the annual ceremony were both known and unheralded individuals who inspired the community with their accomplishment and ideals in the fields of sports, politics, arts, business and community service.
The 8 recipients of the 2016 Gawad Bayani award were:
Cecilia I. Gaerlan, founder and executive director of Bataan Legacy Historical Society, the organization that advocates justice for Filipino war veterans whose benefits were rescinded in 1946;
U.S. Army Major General Antonio Taguba (Ret.), a Filipino World War II veterans benefit and recognition advocate;
Erlinda Borromeo, co-foundee of the Autism Network for Global Education and Lifelong Support (ANGELS), a community center which cares for children and adults with autism spectrum disorder (ASD);
Cora Tellez, founding president and CEO of Sterling Administration with Amazing CARE Network, Inc. services, which set funds aside to pay for services not covered by long term care insurance or Medicare;
Dr. Jei Africa, who dedicated his career to building mental health systems that are accessible and responsive to the diverse needs of all communities;
Elaine R. Serina, Ph.D., P.E., is a principal and co-founder of Talas Engineering, Inc., a nationally recognized engineering consulting firm and a leader in engineering expertise;
Juvy Buena-Bulacan, a Filipina immigrant who has made it her life's work to become a community advocate for seniors and women;
Rudy Corpuz Jr., a former felon who founded and is also the executive director of United Playaz, a violence prevention and leadership development organization.
The 2016 Kalayaan Heroes were presented in a press conference on June 12, 2016.
Facebook Comments