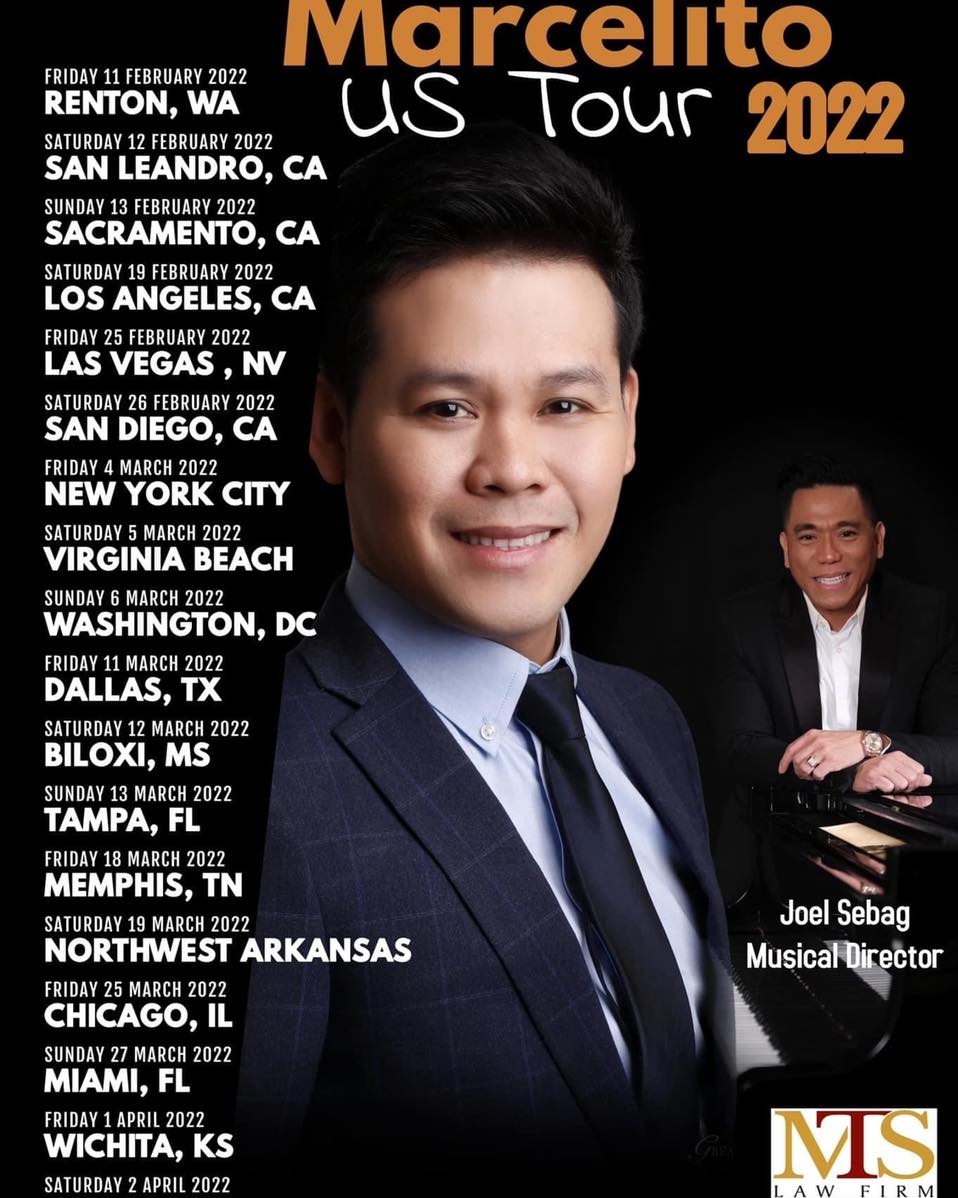 America's Got Talent (AGT) star Marcelito Pomoy is all set to resume his highly anticipated previously planned pre-COVID-19 pandemic United States concert tour now scheduled for February to April 2022.
The AGT Champions 3rd Runner-up winner was scheduled to perform in the US tour right after his sterling performance on the AGT stage in 2020 but the coronavirus outbreak halted live performances around the world.
Pomoy remained in the Philippines since then and had been giving back for blessings brought on by his worldwide fame by helping needy communities hardest hit by the COVID-19 outbreak while performing healing songs online to encourage people.
The "Man with the Golden Female Voice" announced on social media the concert events of his USA Tour beginning February 11 and the last on April 2.
"The Nearly 2 months and the waiting game is OVER! I am very much excited to perform for the people of USA.. hoping you can be there to witness me LIVE… see you all soon USA Peeps. Tickets are already available… will be posting the details for each tour very soon.. thank you… God bless us All!"
Following is the schedule of USA Tour 2022 The Voices of Marcelito:
Seattle February 11, 2022 – Corco Theatre
Call Dorcas +1 (206) 981-7007
https://www.eventbrite.com/e/162612487327
San Francisco/ San Leandro – February 12, 2022- Bal Theatre
Contact – Galo (408) 655-9102
https://www.eventbrite.com/e/98378716389
Sacramento- February 13, 2022- Four Seasons Hotel Ballroom
Howell – +1 (916) 531-2398
https://www.eventbrite.com/e/162611628759
Los Angeles- February 20, 2022- Glendale Hilton-Ballroom
Call 818-818-4301
https://www.eventbrite.com/e/189988489687
February 25, 2022 @7:30 pm
Lord of Harvest Las Vegas
5818 West Spring Mountain Rd 217
Las Vegas, NV
Call Khris Reyes: (702) 505-6700
San Diego- February 26, 2022- Sycuan Casino
Call 818-818-4301
https://stargazeproduction.yapsody.com/…/the-voices-of…
New York- March 4, 2022- Sheraton Casino- La Guardia
Call 818-818-4301
https://www.eventbrite.com/e/189988489687
Virginia Beach- March 5, 2022- Sandler Performing Arts
Call Edward +1 (757) 513-6369
https://www.eventbrite.com/e/100097093100
March 6, 2022 @6 pm
Crescendo Studios
8101 A. lee Hwy
Falls Church VA 22042
Contact: Ken Mendoza
703-859-4031
Texas – March 11, 2022
Four Square church
Call Remel (214) 207-3099
https://www.eventbrite.com/e/224986228867
March 12, 2022 @7pm
F.G. Gruich Sr. Community Center
591 Howard Ave.
Biloxi MS 39530
Call: Edna Greenfield (850)259-8724
March 13, 2022 @5pm
Bayanihan Arts and Events 14301 Nine Eagles Dr. Tampa FLorida
Call Emil Cruz (727) 235-1073
March 19, 2022 @6pm
Jones Center
922 E. Emma Ave.
Springdale, AR
Call Norma Lee (870)280-8442
March 27, 2022 @5pm
Coral Springs Center for the Arts
2855 Coral Springs Dr.
Coral Springs FL
Call Rey Lazarus for Tickets
(954) 257-9125
April 2, 2022 @7pm
Eugene M Hughes Metropolitan Complex- Wichita University
5015 E. 29th St
N. Wichita KS
Contact: Cora (918)9071094
TELL US your good news story tips by messaging GoodNewsPilipinas.com on Facebook, Twitter, Instagram, or e-mail editor@goodnewspilipinas.com and WATCH Good News Pilipinas TV YouTube for more Filipino Pride stories!
Facebook Comments