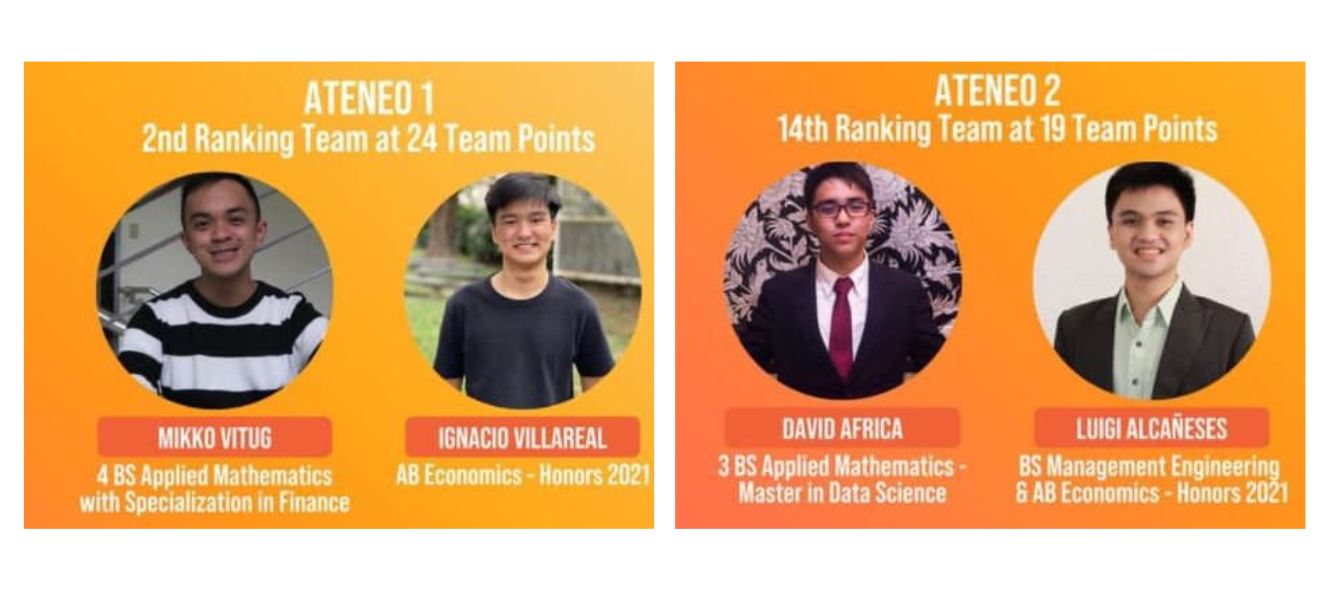 Ateneo de Manila University students have won top honors after reaching the Grand Finals of the Korea World Universities Debating Championships (WUDC), the first WUDC ever to be held in Northeast Asia.
Four Ateneo students made the Grand Finals finish and earned Top Best Open Speaker awards at this year's edition of the World Universities Debating Championship which ended on July 14, 2021.
The two Philippine teams competed among over 380 teams and were among the 48 that advanced to the main elimination rounds.
The students were grouped into two Ateneo teams composed of the following:
Ateneo Team 1: Ignacio Villareal (AB Economics- Honors 2021) and Mikko Vitug (4 BS Applied Mathematics with Specialization in Finance)
Ateneo Team 2: David Africa (3 BS Applied Mathematics -Master in Data Science) and Luigi Alcañeses (BS Management Engineering and AB Economics Honors 2021)
Team 1 advanced to the finals after finishing the semis of the Open Category with 24 out of 27 points.
Team 2 advanced to the finals after its semis finish in the Open Category with 19 out of 27 points.
All four Ateneans received Top 10 finishes for Best Open Speaker:
Villarreal (3rd)
Vitug (4th)
Africa (7th)
Alcañeses (8th)
The Filipino students competed in the finals against speakers from the University of Zagreb and the London School of Economics on the topic "This House supports the creation of an international court with a mandate to prosecute leaders for health crimes", with Zagreb taking home the top prize in the world's largest debating competition that has been held annually since 1981.
Ateneo has been competing in WUDC for 30 years, and the furthest the organization has gotten was to the World Semifinals 17 years ago.
WUDC is an academic debate tournament that follows the British Parliamentary Debate format- 4 teams of 2 people in each debate.
Considered as the world's largest academic debating competition, WUDC uses a format modeled on British Parliamentary debate and is participated by top universities including Harvard, Oxford, Yale, Princeton, and NUS.
Ateneo de Manila University is the 2nd top Philippine university in the QS World University Rankings and Unirank.
SEND CONGRATULATIONS in the comments below to the Ateneo students who earned top honors in the Grand Finals of the World Universities Debating Championships!
Good News Pilipinas is celebrating its 15th Anniversary in 2021 by giving away prizes! Subscribe to our Good News Pilipinas! TV YouTube channel and enter the raffle by sending us an email to editor@goodnewspilipinas.com
Facebook Comments