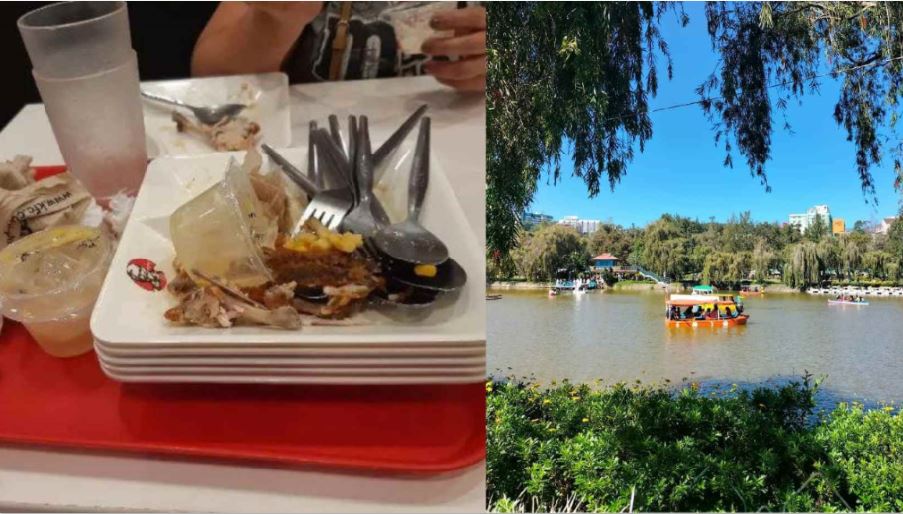 Popular tourist spot Baguio City in the Cordillera Region of Luzon is on its way to making the green lifestyle customer practice of 'Clean as you go' (CLAYGO) a standard in restaurants once a newly proposed ordinance is approved by the city council.
The Summer Capital of the Philippines is currently enjoying the status as an Association of Southeast Asian Nations (ASEAN) Clean Tourist City award recipient for its campaign to uplift the quality of life of its citizens through public space beautification, environment conservation, public safety, proper waste disposal, and maintaining sanitation.
The new proposal when enacted will mandate Baguio food establishment owners, proprietors, and managers to initiate and regulate measures to encourage their customers to practice CLAYGO or the voluntary cleaning of tables after eating.
Under the measure, the following are expected of food establishments:
Install signages and other promotional materials on clean-as-you-go practices within their premises
Provide a minimum of three garbage bins to separate wastes for biodegradable, non-biodegradable, and recyclable material
Designate an area where customers can place their return trays and other used non-disposable tableware
Provide basic cleaning supplies near the depository areas
The proposed institutionalization of the CLAYGO practice in all food-serving establishments was approved by the city council in the first reading on August 15, 2022.
"By practicing CLAYGO, citizens observe and promote good manners and right conduct, proper dining etiquette, hygiene, cleanliness, and common courtesy to each and every customer. This will also foster collaboration between customers and food establishment personnel," ordinance author Councilor Elmer Datuin said in the Baguio City Public Information Office report on August 17.
CLAYGO Practice
Starting as a self-initiative among environmental advocates, CLAYGO had become a campaign of its own. It is the practice of cleaning after oneself in dining areas, especially in public places such as restaurants, coffee shops, fast food chains, and other food-serving establishments. Awareness and habit of proper waste segregation is another ideal result of CLAYGO.
This practice promotes discipline, courtesy, and cleanliness and minimizes risks to hygiene, health, and safety.
CLAYGO has been observed in school cafeterias across the Philippines.
The internationally awarded greenest university in the Philippines, the De La Salle University – Dasmariñas in Cavite, has made it a campus policy to practice CLAYGO.
DLSU – D includes CLAYGO practice in their environmental policies for a sustainable program.@GoodNewsPinas_ https://t.co/nKdzSDW5Vf

— Martina Torres (@martinajoyce_) August 19, 2022
The student council of the Ateneo de Manila University in Quezon City reminded students of the continued practice on campus of CLAYGO as more face-to-face classes are revived.
Sanggunian ng mga Mag-aaral ng mga Paaralang Loyola ng Ateneo de Manila advises Ateneans on Cafeteria Services and reminds to always practice CLAYGO.@GoodNewsPinas_ https://t.co/JS4Oe9meHu

— Martina Torres (@martinajoyce_) August 19, 2022
The student council of Batangas State University welcomed students back on campus with encouragement to practice CLAYGO.
The Supreme Student Body of Batangas State University Pablo Borbon reminds students to 'clean-as-you-go' (CLAYGO)@GoodNewsPinas_ https://t.co/Xl5KrjzYaI

— Martina Torres (@martinajoyce_) August 19, 2022
More than promoting cleanliness, CLAYGO is considered a little way of showing how we care for our environment and the people we encounter. The CLAYGO practice also addresses over-reliance on street sweepers and food service crews. Establishments such as SM City Grand Central and San Lazaro Place Mall also take part in campaigning for the practice.
SM City Grand Central reminds FoodCourt diners to always CLAYGO – clean as you go.@GoodNewsPinas_ https://t.co/Q3r4QFtHlo

— Martina Torres (@martinajoyce_) August 19, 2022
San Lorenzo Place Mall invites mall-goers to spend time at the #SanLoAlfresco and reminds them to practice #claygo@GoodNewsPinas_ https://t.co/CBhStDBXPs

— Martina Torres (@martinajoyce_) August 19, 2022
If the City of Pines legislates this proposed ordinance, Baguio City will be joining Cagayan De Oro City and fellow ASEAN Clean Tourist City awardee Iloilo City in the observance of the CLAYGO practice.
Cagayan De Oro City recognizes CLAYGO ordinance as SHARED RESPONSIBILITY among Kagay-anons.@GoodNewsPinas_ https://t.co/Dt1MBC3oiF

— Martina Torres (@martinajoyce_) August 19, 2022
TELL US in the comments below your thoughts about the CLAYGO practice being made a policy in Baguio City.
Good News Pilipinas is a Lasallian Scholarum Awardee. TELL US your good news story tips by messaging GoodNewsPilipinas.com on Facebook, Twitter, Instagram, or e-mail editor@goodnewspilipinas.com and WATCH Good News Pilipinas TV YouTube & Good News Pilipinas TikTok for more Filipino Pride stories!
Facebook Comments