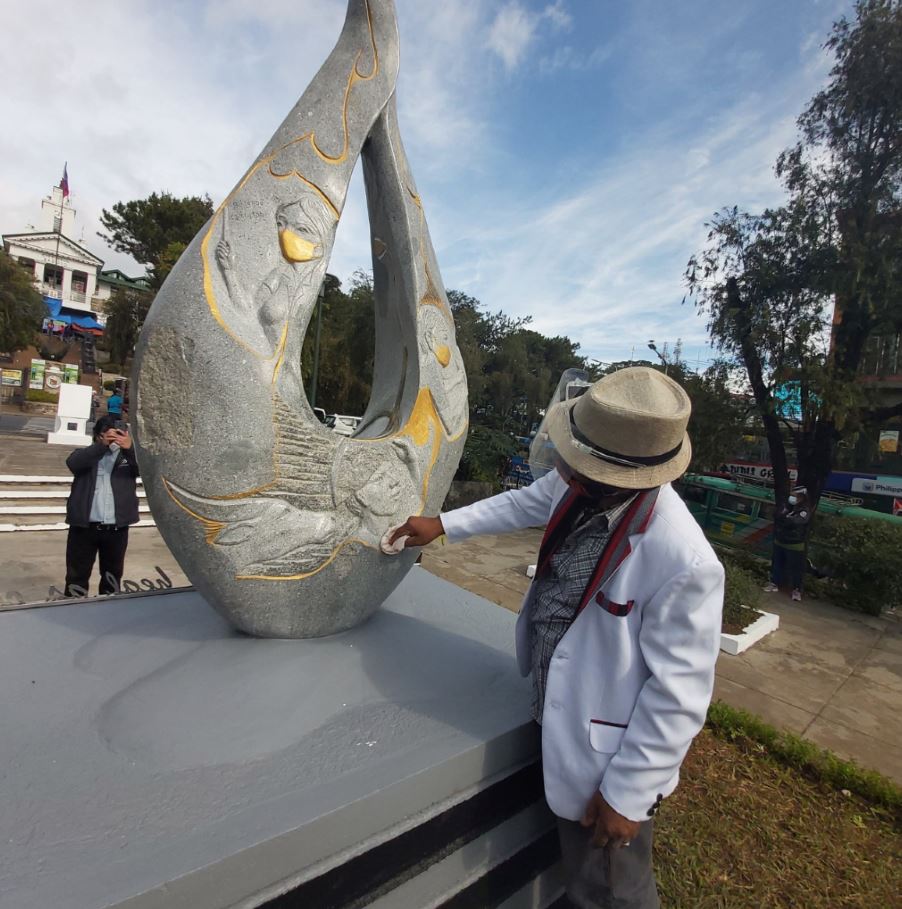 Baguio City has erected a stone marker to honor Filipino frontliners in the battle against the coronavirus disease pandemic.
The city government officially inaugurated on February 15, 2021, "The Golden Blood" Riverstone sculpture which now stands in Rizal Park located below the Baguio City Hall compound.
The eight-foot art piece is shaped like a water droplet and portrays healthcare workers who have put their lives on the line to save others. It is crafted by award-winning Cordilleran sculptor Gilbert "Bergano" Alberto and was conceptualized before the city's celebration of its 122nd charter anniversary last year.
The stone work's inscription at the bottom reads "Behold the modern day heroes, dressed in white, in camouflage, in all colors, braving against the unseen enemy, saving lives of humanity."
According to City Councilor Betty Lourdes Tabanda, the sculpture is a joint project of the City Government of Baguio and the Society of Outstanding Citizens of Baguio (SOCOB) which organizes a yearly search for exemplary residents who had served as an inspiration to others in service to the people living in the city's 128 barangays.
This year, SOCOB decided to forgo the annual search and instead honored all Filipino essential workers who have risked their lives to contain the COVID-19 pandemic.
Filipino frontline workers, who are now considered as modern-day heroes, have been likewise honored by initiatives like Liter of Light's "Light It Forward" Challenge, South Korea's K-Healing campaign, and the Philippines' biggest altar mural, among many others.
SEND CHEERS in the comments below to Baguio City for honoring Filipino frontline workers who have risked their lives to save others at this time of the COVID-19 pandemic.
Are you a Proud Filipino? Get more good news stories on Filipino Pride! Subscribe to GoodNewsPilipinas.com and our YouTube channel: Good News Pilipinas! TV
Facebook Comments