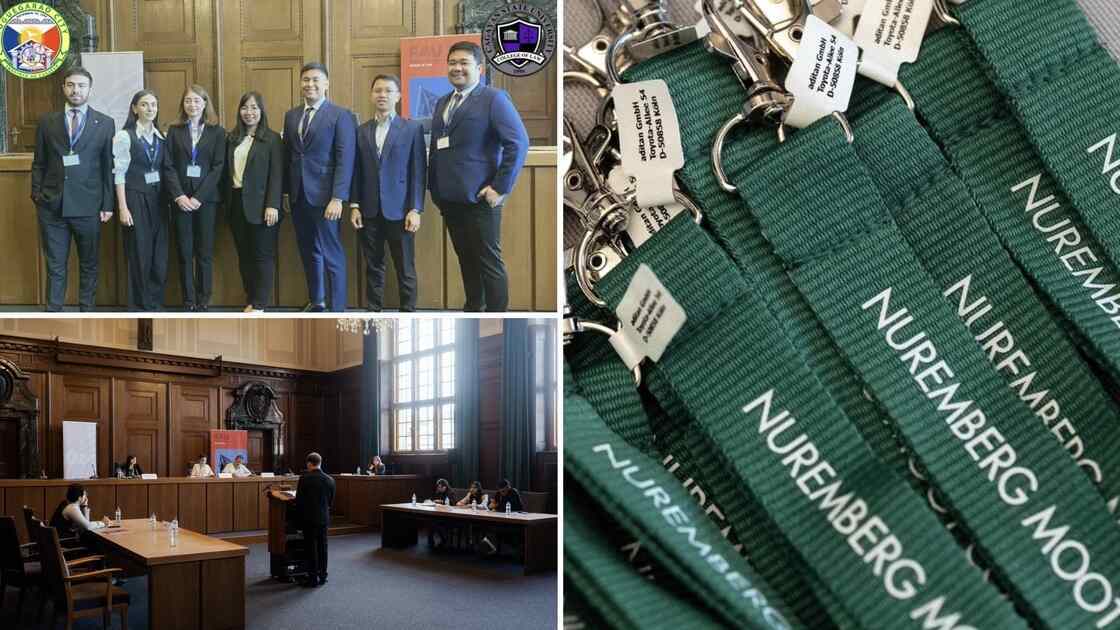 Law students from the Cagayan State University (CSU) displayed Filipino legal excellence to the world after topping the written round and later reaching the quarterfinals in this year's Nuremberg Moot Court simulating International Criminal Court (ICC) cases.
CSU bested over 100 law schools around the world in the moot court's written phase. This victory earned CSU an invitation to participate in the oral rounds in Nuremberg, Germany against 32 other universities from 22 countries, where the Filipino team finished in the Top 8.
In the oral rounds, the team argued an imagined ICC case regarding the fictional Republic of Merty. The case examines a lieutenant's war crimes in destroying significant cultural properties.
Participating teams in the moot court were assigned to take on the roles of both the prosecutor and the defense, reasoning under the jurisprudence of the ICC's Rome Statute. Adopted in 1998, the international law penalizes genocide, war crimes, crimes against humanity, and crimes of aggression.
Cheers to Cagayan State University for topping the Nuremberg Moot Court on international criminal law! Story to follow on @GoodNewsPinas_

Source: https://t.co/ZhrG0JUVwb pic.twitter.com/VWKHYRM0uP

— Summer Sanares (@scvannasummer) July 25, 2023
Coached by CSU Law Dean Atty. Norman Clarence Lasam, the victorious four-member team was composed of aspiring lawyers Marc Stephen Melad, Vladimir Pati, Patrick Dela Cruz, and Maria Katrina Lim. CSU was part of the delegation of the Philippines to the Nuremberg Moot Court, alongside the De La Salle University (DLSU) Tanada-Diokno School of Law.
The oral rounds were held from July 19 to 22, 2023. CSU passed the preliminary oral rounds against Italy's and France's delegates and advanced to the Top 8 after beating an Armenian law school. DLSU placed in the Top 16, behind CSU. Ultimately, Strathmore University of Kenya finished first place in the competition.
The Nuremberg Moot Court is a competitive simulation of international criminal law cases. The moot court has a number of esteemed international law experts as its judges, including ICC Judge Adelaide Sophie Reine Alapini-Gansou.
Nuremberg is considered the birthplace of international criminal law as it was where Nazi war criminals were tried in 1945. Shortly after, the Nuremberg Principles solidified international law's commitment to prosecuting criminal acts. Today, the moot court is conducted at the very courtroom where the historic trial was held.
In 2023, the University of San Agustin and the University of the Philippines rose through the ranks of the 27th Stetson International Environmental Moot Court Competition. In 2022, the University of Cebu Law won the International Moot Court Competition.
SEND CONGRATULATIONS to Cagayan State University Law School's brilliant Filipino quarterfinalists of the prestigious Nuremberg ICC Moot Court!
Good News Pilipinas is a Lasallian Scholarum Awardee. TELL US your good news story tips by messaging GoodNewsPilipinas.com on Facebook, Twitter, or Instagram, or e-mailing editor@goodnewspilipinas.com
Facebook Comments