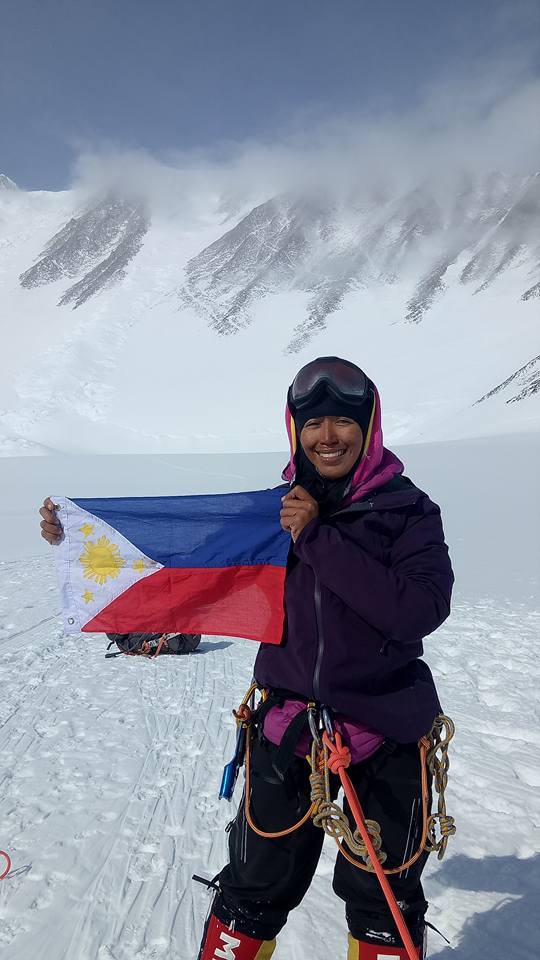 Carina Dayondon has now claimed the distinction of being the first Filipina to reach all of the world's seven highest peaks.
Dayondon successfully ascended Vinson Massif in Antarctica on December 16, the last of the Seven Summits – a grouping of the world's seven highest mountains on seven continents.
The Filipina mountaineer and Philippine Coast Guard officer, travelled a long way to reach the peaks of dream. The Bukidnon-raised mountaineer graduated from Xavier University – Ateneo de Cagayan and her membership with the university's mountaineering society led her to sport climbing.
She even became a member of the national sport climbing team from 1999 to 2001 and competed in the Asian championships in Hua Shan, China. Dayondon's fondness on sports and athleticism paved the way for her to join the Philippine Mt. Everest Team.
Dayondon's climb on each of the seven peaks took her years of mental, physical and financial preparations. She made sacrifices from prioritizing the needs of her family first, homesickness and obtaining loans to finance logistical needs.
Despite the challenges she was able to reach the Seven Summits:
Mt. Denali (6190m) in North America in 2006
Mt. Everest (8850m) in Asia in 2007
Mt. Elbrus (5642m) in Europe in 2013
Mt. Kosciuszko (2,228 metres) in Australia in 2014
Mt Kilimanjaro (5895m) in Africa in 2015
Mt. Aconcagua (6962m) in South America in 2018
Mt. Vinson Massif (4892m) in Antarctica in 2018
Dayondon's perspective on her great feat is not focused about her reaching the tallest peaks of the world but more on inspiring young Filipinos and women. She and her climbing team go to different schools to give free inspiring talks.
"Walang imposible maabot sa buhay basta (nothing is impossible to reach in life as long) they have this focus, determination and believed in themselves, believe in God."
Carina Dayondon is also involved in the project Balangay Voyage of the Mt. Everest Team intended to spread the awareness on the roots of the Filipino culture.
Facebook Comments