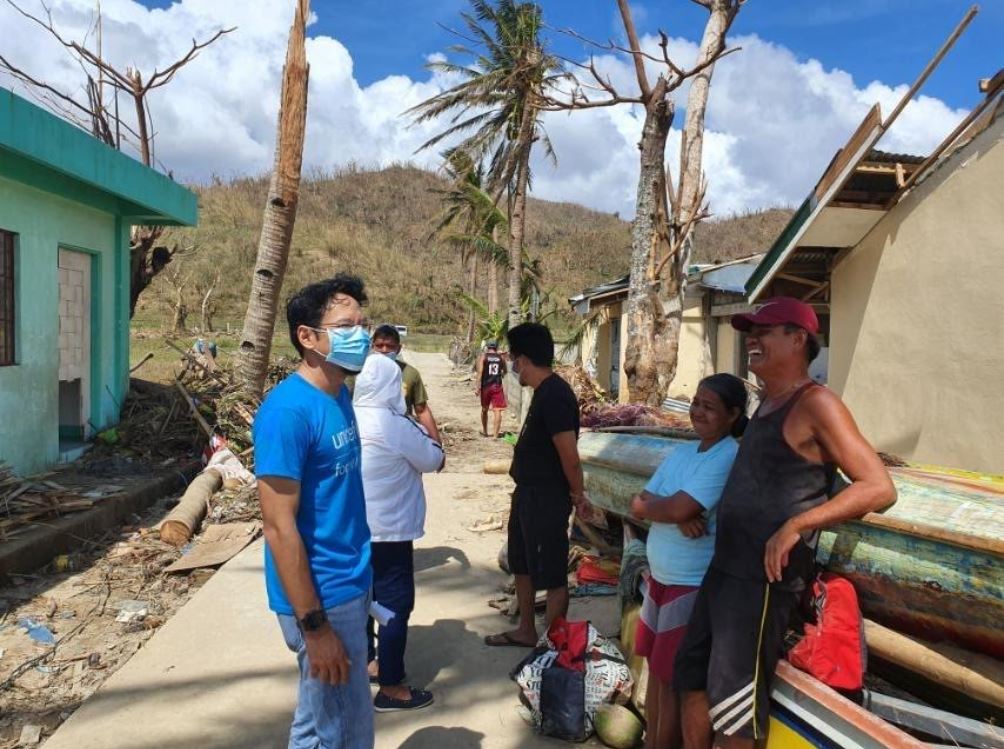 Cebu Pacific is supporting humanitarians on UNICEF missions with free flights to areas with children affected by disasters.
One of the ways children are affected during disasters is the lack of water, sanitation, and hygiene (WASH), essential needs that make a difference to the survival and recovery of children and their families.
During mission-critical times such as these, Cebu Pacific lends its support to humanitarians like Geo Lapina, UNICEF's WASH Officer, through free flights to emergency areas.
For the past 13 years, Geo has been hard at work to ensure that children and their families have access to water, hygiene, and sanitation supplies especially in the midst of the pandemic where washing of hands with soap and water is an important protective measure. Geo was exposed to this work from an early age, hailing from a family of development and humanitarian workers.
Being in a country with one of the longest lockdowns in the world has made Geo's work doubly harder. When the pandemic hit in early 2020, responders with critical functions were restricted from traveling. This made it hard to see the real situation of children on the ground. Their challenges during the pandemic were exacerbated by the fact that many of UNICEF's focus areas have limited infrastructure or were cut off due to strong typhoons.
During the Typhoon Rolly response when traveling was allowed for humanitarians like Geo, Cebu Pacific provided free airline tickets via the Points for Good initiative of Cebu Pacific.
"I was able to travel to affected areas in Albay and Catanduanes through our partnership with Cebu Pacific. With the money saved from airline tickets, we at UNICEF are able to dedicate more funds to support the many children who still needed our help to recover from Typhoon Rolly," he says.
Cebu Pacific reaffirmed its commitment to serving children when it renewed its partnership with UNICEF during the airline's 25th anniversary. During the pandemic, Cebu Pacific (CEB) provides safe and reliable travels for everyJuan. Now more than ever, the airline has made sure this is prioritized and applied all throughout the whole customer journey.
CEB received a 7-star safety rating for its efforts to safeguard the health and safety of its passengers, flight, and ground crew. It strictly implements and applies a multi-layered approach to safety in accordance with global aviation standards. This includes the regular and thorough disinfection of its fleet, along with the presence of HEPA filters in its jet aircraft.
CEB also continues to champion vaccination initiatives as it rolls out its very own vaccination program for its employees and their families, COVID Protect, while strengthening partnerships with various LGUs. To date, the airline has already vaccinated 90% of its flying crew, and expects to fully vaccinate its workforce by 2021 as it continuously works towards restoring the trust and confidence of everyJuan in air travel.
In August, Cebu Pacific repatriated rescued Pandi the Pangolin back to Palawan.
Good News Pilipinas is celebrating its 15th Anniversary in 2021 by giving away prizes! Subscribe to our Good News Pilipinas! TV YouTube channel and enter the raffle by sending us an email to editor@goodnewspilipinas.com
Facebook Comments