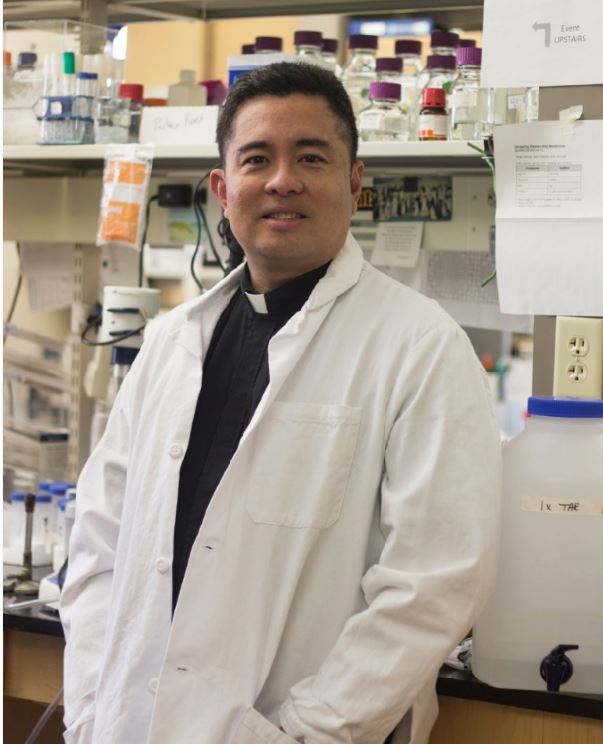 Filipino-American molecular biologist and priest Nicanor Austriaco has confirmed that he is currently working on a cheaper yeast-based oral COVID-19 vaccine that will be made more accessible to Filipinos.
Father Nicanor Austriaco is a University of the Philippines (UP) – OCTA Research Fellow involved in pandemic management for the Philippines and is a Visiting Professor of Biological Sciences at the University of Santo Tomas (UST).
During the 121st Plenary Assembly of the Catholic Bishops' Conference of the Philippines (CBCP) held from January 26 to 27, 2021, resource speaker Father Austriaco discussed the COVID-19 vaccines that will soon be available in the Philippines as well as their moral and scientific dimensions.
In his presentation, Father Austriaco said he recently flew to the United States to work on his plan to "try and develop an oral yeast-based vaccine for the Philippines that will be cheap and effective" and can be "stored and transported without refrigeration".
"The reason why the pandemic was so devastating around the world with 100 million have been affected by SARS-CoV2 in less than a year is because no one has any antibodies against SARS-CoV2," Austriaco explains.
For the Philippines, vaccines are expected to come from the West including Moderna, Pfizer, and AstraZeneca. The country has also secured deals with the Gamelaya from Russia and China's Sinovac and Sinopharm.
In his virtual presentation, Rev. Fr. Nicanor Austriaco laid out the challenges in the different vaccines such as storage issues and efficacy, among others.
The Filipino scientist notes that Moderna, Pfizer, and Russian vaccines are "relatively good" in terms of efficacy.
Austriaco also touched base with the moral implications of the modern COVID-19 vaccines developed with cells from the remains of an "aborted female fetus in 1973."
The Filipino-American molecular biologist earlier shared that he and his team would use the probiotic yeast available in the market and genetically modify it to induce the immune system response against the deadly novel coronavirus.
Austriaco said his laboratory, funded by Providence College in Rhode Island, U.S.A., has been working on building the genetically-engineered yeast.
Rev. Fr. Nicanor Austriaco urged the faithful to get inoculated against the novel coronavirus and hopes actions would be taken to address vaccine hesitancy that is widespread among Filipinos.
Father Nicanor Austriaco is a Professor of Biology at Providence College in Rhode Island, U.S.A., who studies cell death in yeast. He hopes to use bioengineer yeast to develop a shelf-stable vaccine that will be easier to transport in developing nations, in contrast to the earlier COVID-19 vaccines, which require storage at very low temperatures.
Research efforts initiated by local scientists in the Philippines against the COVID-19 disease include the test kits for COVID-19 developed by the University of the Philippines National Institutes of Health (UP NIH), studies on Virgin Coconut Oil (VCO) as a treatment for COVID-19 patients, and the creation of a Philippine Virology Institute.
SEND CHEERS in the comments below to Filipino-American molecular biologist and priest Nicanor Austriaco who is currently working on an affordable yeast-based COVID-19 vaccine for Filipinos!
Are you a Proud Filipino? Get more good news stories on Filipino Pride! Subscribe to GoodNewsPilipinas.com and our YouTube channel: Good News Pilipinas! TV
Facebook Comments