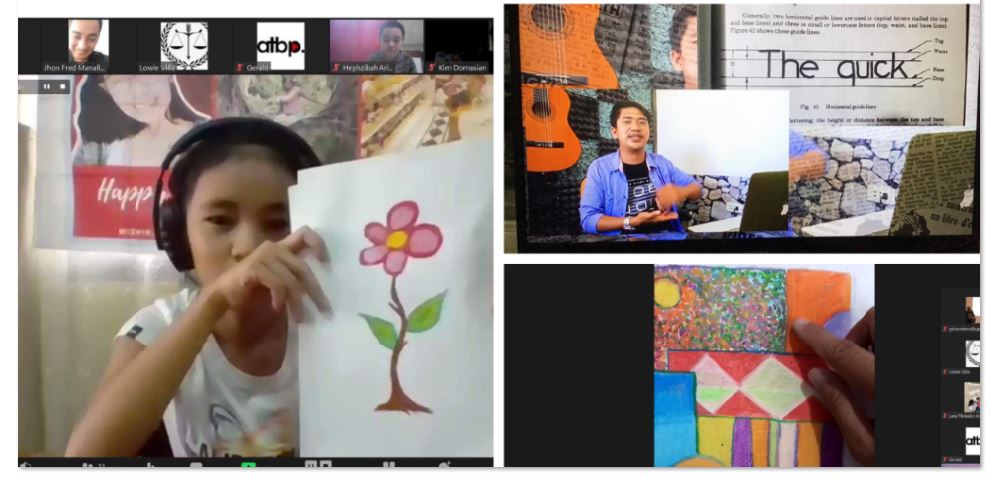 Child rights advocates joined Bicol artists for a virtual arts workshop to celebrate the National Arts Month in Sorsogon.
Members of the Kurit-Lagting Art Collective and youth participants including parents and teachers coming from the municipality of Prieto Diaz spearheaded by Good Neighbors International Philippines Prieto Diaz Community Development Project, joined hands in a series of virtual workshops via Zoom from February 13 to 27, 2021.to celebrate the National Arts Month in Sorsogon.
"The virtual workshop series that we conducted focused on the following objectives: to conserve, promote and popularize the Bicolano youth's artistic creations; integrate the arts in the community life, and harness the arts as catalysts for values education," said Allan Abrigo, co-founder of Kurit-Lagting.
The said workshops included discussions on basic photography, photo essay, basic drawing, basic lettering, and slogan making including mobile voice recording which consisted of a lecture-demo with the community as a source of inspiration in documenting everyday life such as the people's livelihoods, surroundings, rituals, and sceneries.
"Taking off from the lessons in every session, participants learned how to use their creativity including their memories in taking photographs, creating drawings, writing photo essays and slogans on children's rights," said Ronel Obar of Good Neighbors International Philippines, Prieto Diaz CDP.
"Using their skills and knowledge that they learned from the workshops, participants were able to create advocacy materials such as posters, slogans, taglines and even record their own call-to-action using their mobile phones for their own advocacies," added Geri Matthew Carretero, art director and co-founder of Kurit-Lagting.
Outputs from the said workshop series will be exhibited online through Kurit-Lagting Art Collective's Facebook page. More events and activities to highlight children's rights and the role of teachers and parents in the development of a child will be organized by the group.
The Bikol Art Group held webinars for teachers in Sorsogon City during the pandemic while Bicol artist Sheila Brobio's leaf, paper carved portraits aided students' learning.
SEND CHEERS in the comments below to child rights advocates and Bicol artists who celebrated National Arts Month with a month-long virtual arts workshop series!
Good News Pilipinas is celebrating its 15th Anniversary in 2021 by giving away prizes! Subscribe to our Good News Pilipinas! TV YouTube channel and enter the raffle by sending us an email to editor@goodnewspilipinas.com
Facebook Comments