The lack of decent affordable housing for young working males in Metro Manila is a big problem. Not everyone can afford to live in the countless condominiums that have sprouted all over. Apartments and even dormitories are prohibitive for the working stiffs.
Ruel Gamboa, 31, was one of the millions of young Filipinos struggling to make it in the city. His salary as an accountant could barely cover his share of the place he was renting with a friend. After paying P7,500 a month for the rent and other bills, he was left with hardly anything to put away as savings.
Panya Boonsirithum, founder of Citihub, saw the demand for affordable housing in this sector of the work force and decided to do something about it in 2011.
In Metro Manila alone, according to Boonsirithum, there are about three million local migrant workers who are forced to live far from the city and commute long distances to their jobs.
"We had to find a way to give them decent housing at low cost," he said. "After much study we decided to use container vans."
Yes, the very same huge, rectangular steel boxes your imported goods are shipped in. Currently the Philippines imports more than it exports so importers find it cheaper to abandon the vans than back empty containers.
Boonsirithum suggested the construction of Citihub, a tiny compound of dormitory-style housing using abandoned container vans.
Citihub started out with four containers totaling 60 beds in Mandaluyong City and has evolved from a corporate social responsibility (CSR) into a for-profit social enterprise, with more hubs built in the Sta. Mesa area of Manila, Quezon City and Cainta, Rizal.
Citihub charges from P1,700 to P2,500 per month for a room, which comes with a bed, locker, a fan or air conditioner. Water, electricity, wifi and cable TV are included. Facilities like washrooms and toilets are communal. The site is protected by CCTV cameras and security guards.
"WE HAD TO FIND A WAY TO GIVE THEM DECENT HOUSING AT A LOW COST."
Gamboa has been staying at Citihub for almost four years now. "Money is not so tight now," he said. What he saves from rent and transport costs he is able to put away, doubling his savings. Another plus is that his workplace is nearby so he also saves time.
Boonsirithum pointed out another positive effect of Citihub on the community: "Fewer people traveling to and from work means less traffic and less pollution,"
To hasten expansion, Citihub is partnering with both the government and private sector and it has been receiving support from foreign impact investors.
Why use container vans instead of pre-fabricated materials from China? Boonsirithum said the reason was mainly financial.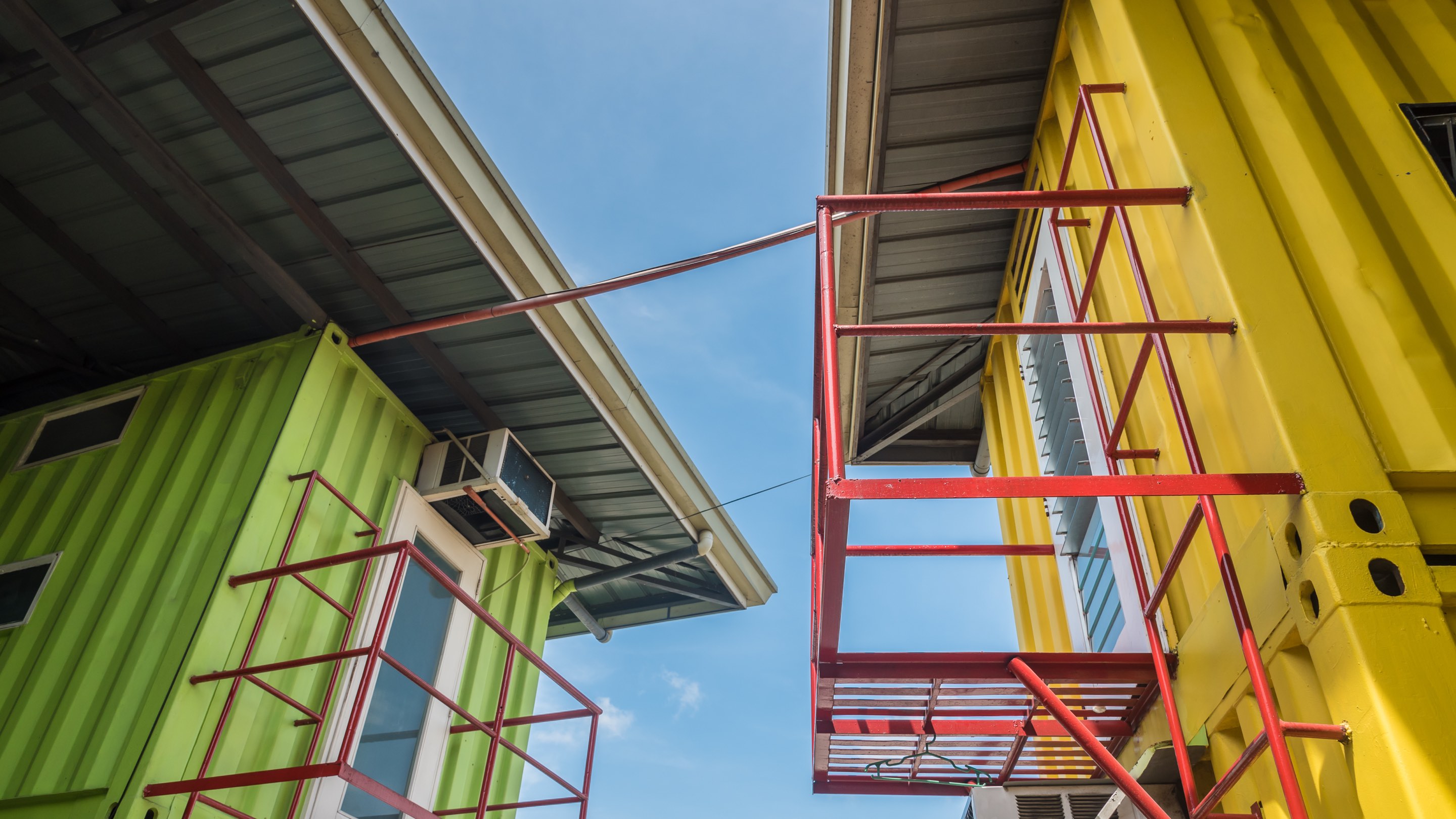 "Our targets are the C and D markets, so we had to find a way to cut costs while ensuring the sustainability of the project," he said.
And since there are over 70,000 abandoned container vans in the country, he said, "recycling container vans is a great way to reduce the carbon footprint."
Although they are steel containers, the converted vans needed building permits from the government. There was some difficulty in obtaining official permission at first because the construction method was non-traditional.
"FEWER PEOPLE TRAVELING TO AND FROM WORK MEANS LESS TRAFFIC AND LESS POLLUTION."
Citihub had to show specs from other countries since there were no guidelines on using container vans for housing in the Philippines. Citihub tenant of three years Christopher Marqueses would like to see more container dormitories: "I hope they expand and open at many locations so that many more wage earners may be helped."
Citihub's plan is to put up dormitories in each city of Metro Manila, according to Boonsirithum.
He is also thinking of ways to make operations more efficient to lower costs. The money saved could be spent on giving tenants better amenities and thus a better quality of life.
This story is part of a series of articles written by GO NEGOSYO writers being published by GoodNewsPilipinas.com as part of our support to Philippine businesses.
Facebook Comments