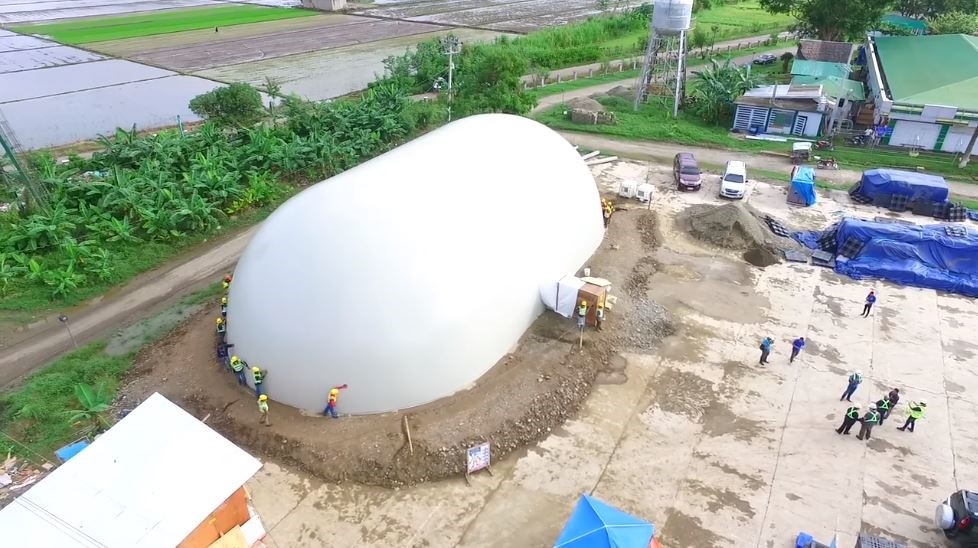 The first ever monolithic dome in the country is rising in Cagayan Valley.
The state-of-the-art facility will serve as warehouse of agricultural products such as seeds and other farm inputs.
The climate-smart technology built to maintain seed viability and quality can withstand typhoons and earthquakes.
The dome is already on its finishing touches and is located at the center of DA-Southern Cagayan Research Center (SCRC), Minanga Norte, Iguig, Cagayan.
The Department of Agriculture Regional Field Office reports the dome is worth P10 million, measuring 8.5 meters in height, 15 meters width and 30 meters length.
Regional Executive Director Narciso A. Edillo highlighted the multiple values of the high technology storage saying, "This can also be used as human shelter or evacuation center during calamities, cold storage for agricultural products and many others."
Edillo added they are now fastracking the monolithic dome's completion so that they can already compare its advantages over the traditional warehouses.
The idea was first introduced in the department during a national conference of agricultural engineers last year wherein foreign and local experts had presented the technology.
"Considering that the technology on "monolithic" is a breakthrough in the field of construction and its cost is comparable to that of the allocated fund for conventional warehouse, the office had immediately considered the project," said Engr. Generoso Oli, chief, Field Operations Division of DA-RFO 02.
"Eight similar projects will be constructed this year at cooperatives or farmer organizations regionwide," Oli said.
A monolithic dome is a structure cast in a one-piece form. The form may be permanent or temporary and may or may not remain part of the finished structure.
Project Engineer Benjamin Progowski of Monolithic Dome Institute in Germany explained that the technology is already an old practice in the United States.
"Monolithic dome existed fifty years ago with various uses such as churches, schools, sports facilities and shelters for humans and animals," he said.
Oli added that they can put up small structures of the monolithic dome in two weeks to lessen labor costs.
Facebook Comments