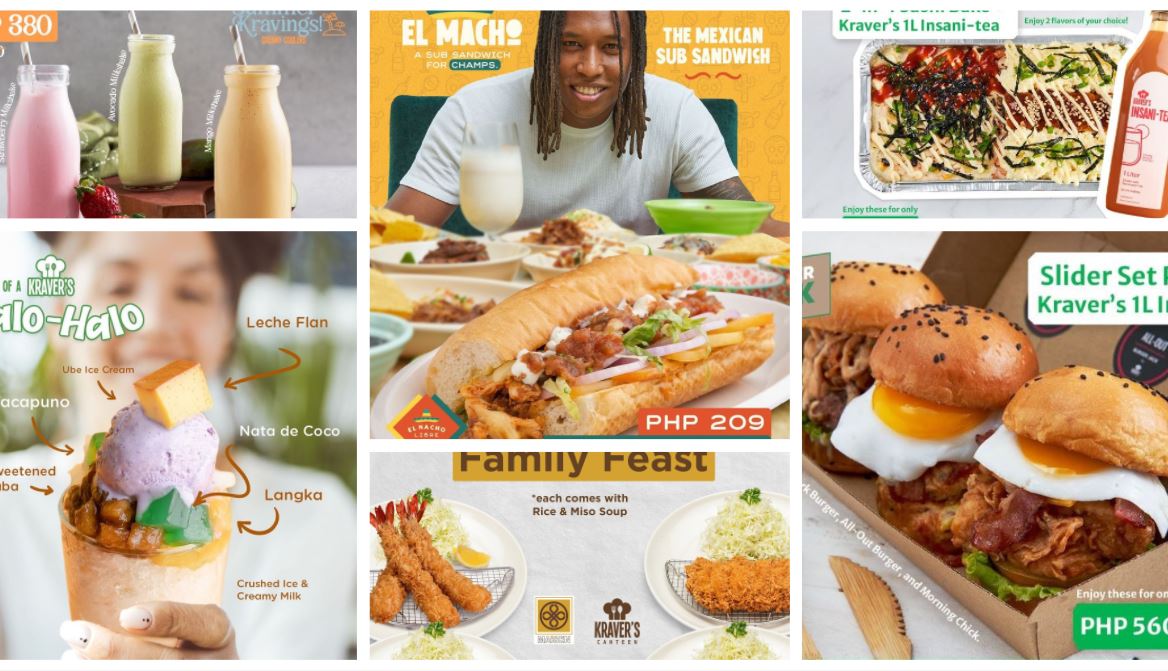 Kraver's Canteen is giving food businesses in the Philippines a boost with its pioneering cloud kitchen model.
Cloud kitchens, also known as ghost kitchens or dark kitchens, are generally defined as commercial kitchens that serve food for online orders only, with no physical, customer-facing features of a traditional restaurant.
Kraver's Canteen points out that for restaurant brands, this translates to lower on-premise costs and less risk in testing markets while growing their digital 'foodprint'.
For customers, this model provides a new level of convenience in reaching a much wider range of food brands.
Launched in 2020 by Eric Dee (President of Foodee Global Concepts), Victor Lim (Ex-Zalora, Global Fashion Group, Coins.ph), and Victor Mapua (Founder of PTC Group of Companies, ex-HSBC) amidst the coronavirus pandemic that has restricted restaurant dine-in experience, Kraver's Canteen has been building cloud kitchens in the Philippines where each site can serve anywhere from 10 to 30 brand concepts under one roof.
Kraver's Canteen Partners
Kraver's Canteen currently works with brands Tiger Sugar, Yogost, and Tonkatsu Maisen (Bench Group), and is set to work with Taco Bell, Pizza Hut, Dairy Queen, Hawker Chan, Highlands Coffee, and up to 20 other major brands over the coming months.
Online-only concepts launched by Kraver's include Kyoto Sushi Bake, Burger Jack, Sheikh's Kebab, Tokyo Don, Wing Dings, Breakfast for Two, Cloud Shakes & Cakes, and Black Kimchi.
The cloud kitchen pioneer also works with celebrity endorsers and/or brand co-owners, like Tex-Mex brand 'El Nacho Libre', co-developed with PBA legend Joe Devance (Captain, Ginebra San Miguel).
"We are very excited to be part of Kraver's kitchen team in serving the demand of Maisen's Guests in San Juan, Greenhills, and nearby areas. This is our first venture with the cloud kitchen concept and I am very positive that
we can now reach some untapped market in more areas in search of quality and authentic Japanese food," said Erwin Lee, General Manager of Bench Food Group (BV Cuisine Inc).
The cloud kitchen pioneer continues to work with a newly-created class of food-trepreneurs born out of the covid pandemic, including chefs who lost their jobs or day-workers who suddenly found the time to build their food business.
In April 2021, Kraver's Canteen raised USD$1.5 million to jumpstart the cloud kitchen ecosystem, with Foxmont Capital (investments in Kumu, Etaily, and Podcast Network Asia) leading the round. Joining the round include industry leaders Lance Gokongwei (Chairman of JG Summit, Robinsons, Cebu Pacific), Brian Cu (Co-founder of Grab PH, Gojek, Zalora), Paulo Campos III (CEO/Co-founder of Zalora), Christopher Po (Chairman of Century Pacific, Shakey's), and George Pua (President of Rico's Lechon, Ogawa).
"We're honored to partner with such industry titans, and are confident that our ability to grow has increased more than a hundred-fold with their experience and support on our side,", Victor Lim shared.
"The Philippines is at the precipice of a major digital evolution. A big part of that will be a change in the way that Filipinos consume food. Cloud kitchens will soon be part of the natural fabric of the F&B industry, and we believe Kraver's is the right startup to lead the way in the Philippines. The Kraver's team has the right expertise, knowledge, and overall skill set to elevate the dining experience in the country and beyond," said Franco Varona, Managing Partner, Foxmont Capital Partners.
Post-Covid Recovery Prospects
The Kraver's Canteen team believes that even as the economy recovers, possibly as early as Q4 2021 continuing throughout 2022, the cloud kitchen model is here to stay.
"As more customers begin to eat-out more and office life resumes, we'll likely see a shift in customer behavior, yes, but overall expect minimal impact to sales. It's important to remember that cloud kitchens are not designed to replace the brick-and-mortar experience, they are designed more as an
expansion tool for brands to take advantage of the growing pie created by delivery aggregators," Eric Dee said,
"Ordering food online is a consumer behavior that is here to stay, and as long as customers are ordering, the cloud kitchen ecosystem will continue to grow. Whether consumers notice this or not, more of the food they order to their home or office will be coming from cloud kitchens over time," Dee added.
"We're excited to grow together with the rapidly evolving, digital lifestyle of Filipinos. With the support from our investors & advisors, we're planning our future with 3 key goals in mind: Building 100 kitchens across the Philippines; investing heavily in regional metropolis hubs like Cebu, CDO, Iloilo, and Davao; Developing smart kitchen tech, designed specifically for cloud kitchens, streamlining and supporting kitchen operations to maximize output and minimize customer wait time; and Investing in the delivery experience, ensuring our products arrive at customers in the same condition, time and quality as a restaurant would.
"Our kitchen tech not only helps us increase the productivity of each kitchen, but it also boosts our ability to replicate our success as we grow our presence across islands and eventually across the region. But for now, our priority is to ensure we give our customers the best possible experience within our immediate
reach," shared Victor Lim.
You can find Kraver's Canteen on https://kravers-canteen.com and use code KRAVINGSATISFIED to get 15% off your first order. In select areas of NCR, customers can also search "Kraver's" on Grab, foodpanda, or Gcash mini app.
SEND CHEERS in the comments below to cloud kitchens by Kraver's Canteen that boost food businesses in the Philippines!
Good News Pilipinas is celebrating its 15th Anniversary in 2021 by giving away prizes! Subscribe to our Good News Pilipinas! TV YouTube channel and enter the raffle by sending us an email to editor@goodnewspilipinas.com
Facebook Comments