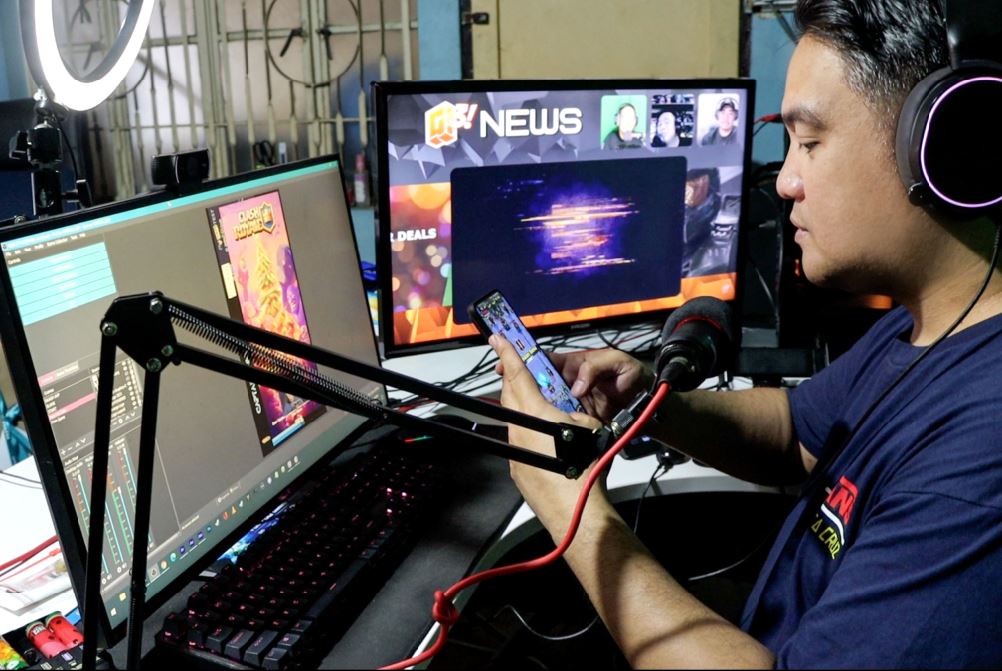 Converge pure fiber data network and internet service provider is powering former BPO employee Captain Mike to pursue his passion for content streaming.
Michael "Mike" Quintana, like the rest of us, grew up playing games – mostly 8-bit games on the family computer, and later on a Sega Genesis – but he didn't know one day it would be his calling and his livelihood.
Otherwise known in the streaming world as Captain Mike, he ventured into the world of content creation and gaming quite unexpectedly. A former BPO employee, Mike only had plans of securing a connection in 2018, not knowing it would lead to so much more.
"I discovered streaming in August of 2018, just a few months after I got my Converge internet connection. When I got connected, I started viewing a lot. With the fast internet connection, you can watch a lot and discover a lot more, unlike before when I had slow connection from a different provider. At that point, I discovered streaming, but I was still employed in the BPO then," said Mike.
With so many possibilities at hand due to the connection, Mike delved into his passion for gaming: he was watching Twitch, interacting with fellow gamers online while he was also playing games. He immersed himself in the world of gaming and decided in 2019 to do streaming full-time.
"I got into streaming because I was fascinated with these gamers. They're amazing! They're playing games and having fun. So sabi ko why not join them? Why not have fun," he shared.
With the gaming community welcoming Mike and content sharing offering an income stream, Mike left his BPO job in 2019 and pursued streaming full time.
Add to that, as a full-time streamer, Mike said he can share his childhood hobby of playing games with a wider and niche audience.
"I can actually share things that I love to others. I know someone, somewhere, out there wants to see what [the game] is all about. Hindi pwedeng isang game lang tututukan mo. You're playing a game and at the same time sharing a story and if you want to share that story kailangan walang interruptions whatsoever. It has to be seamless, it has to be stable. This is what I appreciate with Converge," noted Mike.
A need for differentiation
For the fast-paced world of digital content and gaming, you need to have an edge and people need to see you as an imaginative and exciting content creator – thus having a niche is an advantage.
"Streaming is just the start of a content creation journey. Hindi pwedeng sa start lang na sharing and playing games e. At some point you have to do vlogs, edit your own content and you have to study. You can't get stuck with just streaming. The endgame is for people to see you as a person who can provide entertainment," he said.
With the world of content creation and gaming now opening up to Mike, he's eager to tap into his creative side and develop more skills both as a content creator and as a video editor.
"My journey with Converge took me places: I started streaming, I got to know people sharing their different contents. And now I also get to study. I'm taking online classes for editing," shared Mike.
Fast and stable connection makes a world of difference
Mike shares that having a fiber connection from Converge started his journey and opened up opportunities for him. But more than speed, the reliability and stability of his connection have made a world of difference for his household.
"Apart from fast connection, stability is also a must in this industry. I download files and play games with multiple devices. I also have a partner at home who does online events and we have several mobile devices running on our Converge connection simultaneously. The connection is stable, mapaumaga man or mapa-gabi," he shares.
A strong and stable internet connection paved the way for Mike to pursue his childhood passion, and with it came the joy of connecting with equally passionate people and the chance to tell stories through gaming.
Get to know more about Captain Mike by viewing his channels here and here.
At the height of the pandemic, Converge ICT Solutions partnered with the UP Fighting Maroons to provide free internet to student-athletes.
TELL US your good news story tips by messaging GoodNewsPilipinas.com on Facebook, Twitter, Instagram, or e-mail editor@goodnewspilipinas.com and WATCH Good News Pilipinas TV YouTube & Good News Pilipinas TikTok for more Filipino Pride stories!
Facebook Comments