An all-student event management team from De La Salle University – Dasmariñas (DLSUD) is hosting the 5th Young Filipino Tourism Advocates Power Conference (YFTAPC) at the Aseana City in Parañaque.
The one day event on March 6 will bring together tourism students from all over the country to recognize their skills and knowledge, gain professional development insights from tourism industry experts, and be given networking opportunities.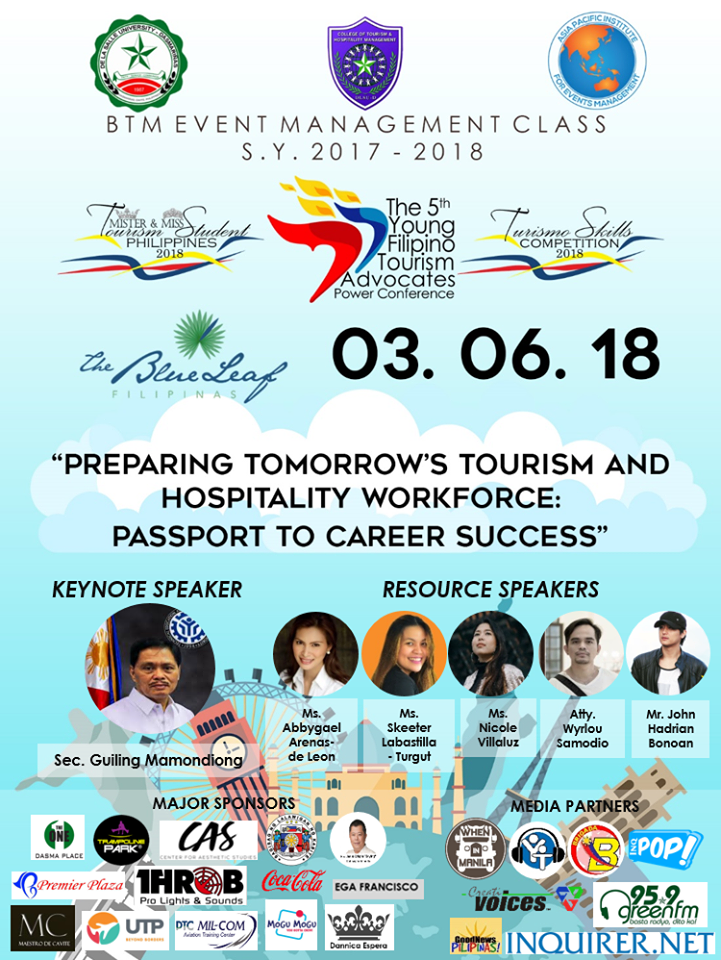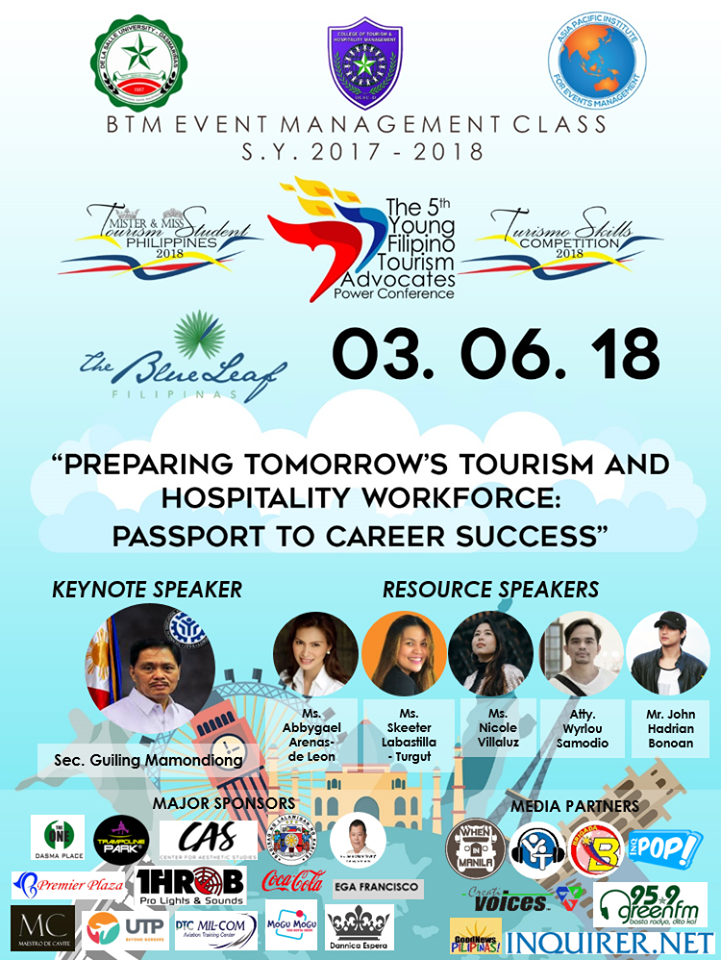 The 5th YFTAPC will feature the addition of the Turismo Skills Competition which showcases student skills honed in tourism education in the Philippines.
Organized by the DLSUD 3rd year BS Tourism Management Event Management Class, the youth tourism conference this year centers on the theme, "Preparing Tomorrow's Tourism and Hospitality Workforce: Passport to Career Success".
The 5th YFTAPC organizers say the theme aims to promote career readiness and positive development, to increase participants' awareness of the importance of a career pathway, and to help participants nurture their experience and skills further.
There will be 5 conference speakers at the 5th YFTAPC sharing their insights with the students:
Certified Image Consultant and Bb. Pilipinas – Universe 1997 Abbygale Arenas-De Leon will discuss "Etiquette and Protocol in Today's Multi-Cultural Global Business Arena". De Leon is the Philippine Chapter president of the Association of Image Consultants International.
The value of blogging in tourism will be discussed in the "The Art of Travel Blogging: Its Role in the Process of Planning your Future Trip" by WhenInManila.com's Nicole Villaluz.
"Holistic School to-Work Transition: Shaping Tourism and Hospitality Millennials and Generation Z" will be discussed by Skeeter Labastilla-Turgut, Executive Vice President of United Towers Philippines (UTP) Beyond Borders.
A talk on "Trends and Issues in the Aviation Industry" will be delivered by Atty. Wyrlou Samodio Chief, Legal Division, Civil Aeronautics Board.
"Developing Entrepreneurial Tourism and Hospitality Graduates" will be discussed by John Hadrian Bonoan Chief Executive Officer, The Tket Project.
The annual pageant for a cause, Mister & Miss Tourism Philippines, will cap the 5th YFTAPC conference day held at the Blue Leaf Filipinas Convention Center.
Facebook Comments