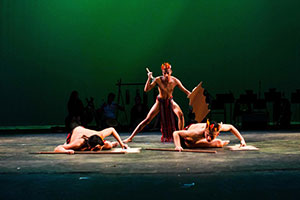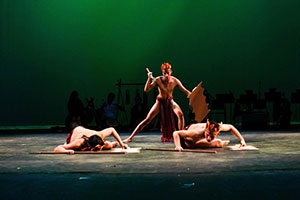 Filipino culture has chock-full of stories and superstitions about spirits and fairies that are passed down from generation to generation. This Filipino folklore has now been brought to the American stage by a university club of Filipino-American students in celebration of the annual Pilipino Cultural Night (PCN).
PCN at California State University, East Bay (CSUEB) for this year took the form of a new play steeped in such Filipino myths, with colorful creatures from the likes of the mysterious White Lady, the witch ghoul "aswang," and the "bampira" (vampires).
The PCN's 43rd presentation brought on stage a new dark fairytale called "Night Walker" about a character called Prince Felipe on a quest to fight for his love against his mother's wishes and then discovers his family secrets through folklore.
The night's production combined the stage play written by Pilipino American Student Association (PASA) member Darlene Megino with traditional Filipino and modern dances performed by the PASA CSUEB club members.
"With every culture, there are myths that are known, but the origin of those stories remain unknown. The script I wrote for this play was my take on the different stories of Filipino folklore that I grew up hearing as a child," Megino said in a published media interview.
PASA CSUEB cultural director Angelica Soliman told The Filipino Channel's Balitang America, "Our PCN is not your typical Romeo and Juliet love story. It focuses on the myth aspect like the aswangs and the white lady and all these superstitions you hear from back home like your grandparents tell you. That's how we keep our culture alive through passing down these stories from generation to generation."
Eleven dance performances presented Filipino historic traditions of Spanish, Muslim, mountain, and barrio dance styles. Hip-hop dances were also performed.
According to Soliman, the night is about young college students gathering to celebrate their Filipino roots. This year's celebration is the PCN's 43rd.
PCN is a student-run production where students learn from other students about dance choreography and Filipino historical and cultural lessons as they work for the promotion of Filipino culture on campus and the East Bay community.
Facebook Comments