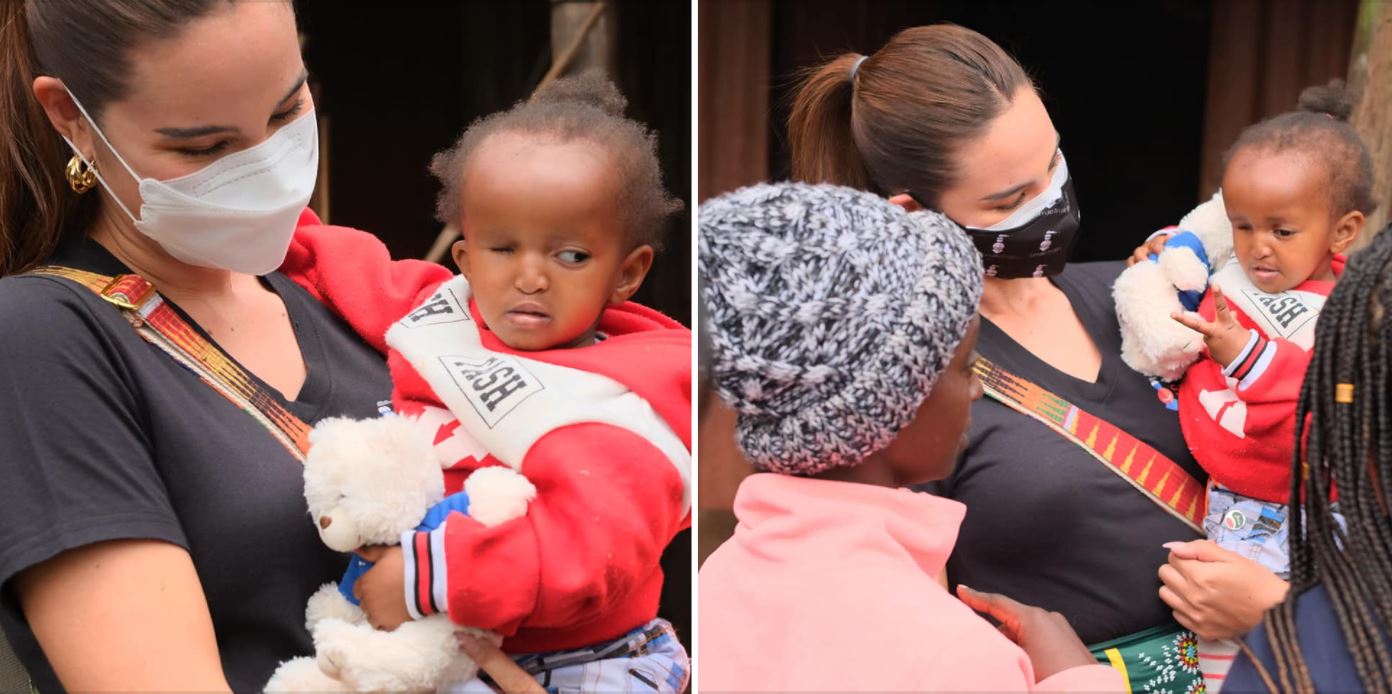 Filipina Miss Universe Catriona Gray is continuing her Smile Train mission for children with cleft lips and palate while she is in Africa to serve as guest host of the 2021 Miss South Africa beauty pageant.
The Philippines' Miss Universe winner is gracing the Miss South Africa pageant for the second time after being part of the selection panel in the 2019 edition.
Ahead of the October 16 pageant, the beauty queen-humanitarian aid worker was announced by Smile Train Africa to have arrived in Kenya for the mission to help children with a cleft – a condition of underdeveloped lip or palate that causes difficulties in eating, breathing, hearing, and speaking – to get reconstructive surgery.
"A warm welcome to Miss Universe 2018 @catriona_gray on her maiden visit to #Kenya to engage with Smile Train programs in the country!
Her visit is part of Miss Universe Organization's partnership with Smile Train to raise awareness of the issues faced by children living with unrepaired #clefts in the developing world," Smile Train Africa announced on October 11.
Catriona Gray is the global ambassador for Smile Train and has also been working with Smile Train Philippines to help children with cleft lips and palate get surgery as part of her child welfare advocacy.
Gray also shared on social media the good news of African children Travis and Gracie who received corrective surgery.
The Filipina-Australian beauty titlist wrote of the journey of Anastasia and her daughter Gracie.
"When people think of cleft treatment, one may think of just the physical transformation for a single child. But Anastasia and Gracie's story opened our eyes to see that it is so much more than a change on the surface.
"Anastasia became a mother in high school. And when little Gracie came into her life, the social stigma beared down heavily on her young shoulders. She shared how her peers would discourage her and even tell her to give her daughter up. But she shared that she 'always looked at her daughter with love'.
"After moving to be with her great-grandmother, she felt a shift in the environment. It was supportive and caring. Neighbours and church members became pillars of strength to lean on. And a few months later, Anastasia learnt of @smiletrainafrica. (I share this because it's important too to shed light on the reality that the child as well as the family has to navigate alot of social stigma, which can negatively effect their emotional and mental wellbeing).
Since then Gracie has received her cleft lip surgery and is currently awaiting her cleft palate surgery.
"Now Gracie is well on her way to developing into a capable little girl with a life of opportunity ahead of her. She's even going to school! A reality that many children with cleft are unable to realize.
"Treating one child's cleft doesn't just transform that one life. It transforms the life of the parents, the family and the community.
"Anastasia and Gracie's story is one of overcoming. Overcoming stigma, judgement and negativity. But it's also a story about how, lives are changed by the people who are in it."
Catriona Gray appealed for more support to the mission to help the children born with a cleft.
"Working towards caring for the community, some of our main goals are to appeal to the department of health to implement birth screenings so that children born with cleft lip and palate are quickly identified and diagnosed and referred to the appropriate care.
"We're also appealing to the media to help demystify cleft. To help educate that cleft is not the result of a "curse" or "witchcraft". It is also not an indicator of a mental disability.
"We also couldn't do all of this without YOUR support along with @smiletrain's generous sponsors and partners.
"@smiletrain does not just help children, they help individuals of all ages and genders with cleft. If you know someone with untreated cleft, please refer them to Find Help.
"Together we can change lives, one smile at a time."
SHARE THIS STORY TO HELP Catriona Gray and Smile Train continue their mission to help children born with cleft lips and palates.
Good News Pilipinas is celebrating its 15th Anniversary in 2021 by giving away prizes! Subscribe to this website and  Good News Pilipinas! TV YouTube channel and enter the raffle by telling us what you like about our stories in an email to editor@goodnewspilipinas.com
Facebook Comments