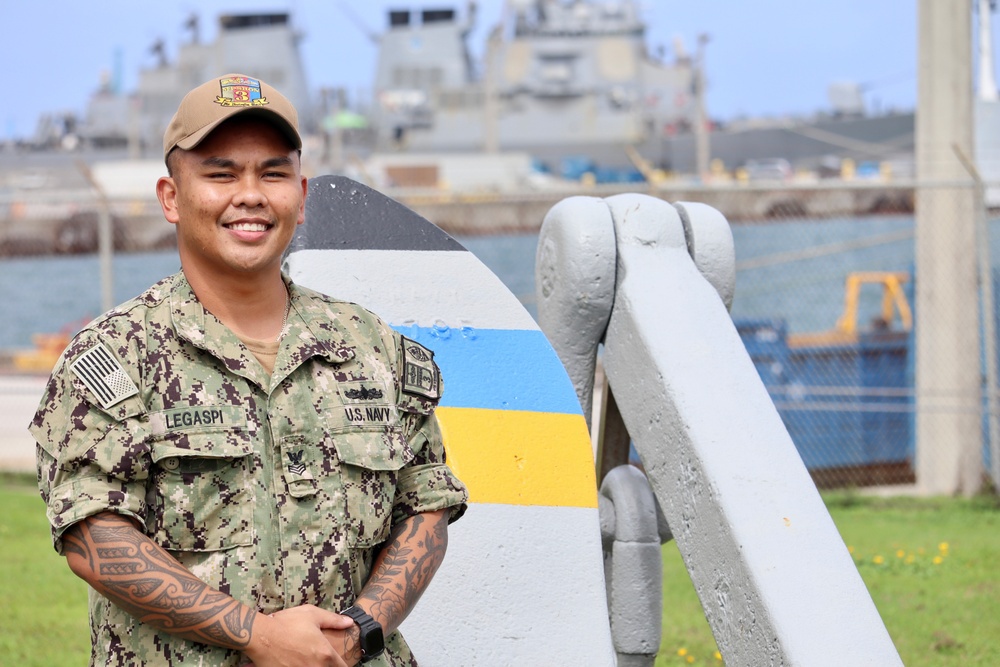 Filipino-American Petty Officer Johncarlo Legaspi has been named the Junior Sailor of the Year by the United States Navy's Maritime Prepositioning Ships Squadron (MPSRON) 3.
The San Diego native currently serves as his command's assistant material officer. In the role, Legaspi tracks the readiness of 14 Military Sealift Command ships that support warfighters from all of the U.S. Armed Services.
The ships ensure that Army, Navy, Air Force, and Marine Corps vehicles, heavy equipment, personnel, and supplies are strategically positioned to support myriad missions.
"I love my job, and I understand the importance of it. I am grateful to also be rewarded for something I already love to do," Legaspi said in a press release dated January 25, 2022.
"My job is important because it gives a snapshot of the readiness of our ships. At any point in time, we know who is up and ready to operate," the first-class engineman added.
The Fil-Am Officer works alongside active duty and reserve personnel and civil service and contracted mariners on Naval Base Guam. Legaspi takes on key responsibilities in his role, including inspecting massive diesel engines on the Lewis-and-Clark dry cargo ships to examining damage control equipment onboard USNS Montford Point (T-ESD-1), among many others.
The U.S. Navy Sailor of the Year was born in Manila to his father who was a senior chief in the U.S. Navy. Three of his uncles also served the fleet.
In addition to his primary responsibilities, Legaspi has also volunteered to serve as the collateral duty diversity officer.
"I am proud of my heritage, and I take pride in teaching the command about different cultures around the world and their significant contributions to our Navy," Legaspi said of his Filipino American bloodline.
Legaspi's other collateral duties include being a command relations coordinator, Navy and Marine Corps Relief Society representative, assistant training officer, and assistant afloat environmental protection coordinator, among others. When not on duty, Legaspi enjoys sports and volunteers for local community service projects.
"Petty Officer Legaspi is surely a model Sailor who always goes above and beyond," MPSRON 3 commodore Capt. John Bub, said about Legaspi. "I know he will continue to pursue more responsibility throughout his career in the Navy."
In 2020, Pampanga-native Melanie Martins became the first Filipina to be given the United States Submarine Warfare Specialist honors for her competency while serving onboard the USS Ohio.
Filipino coast guard Ralph Ofalla Barajan received the International Maritime Organization (IMO) Award for Exceptional Bravery at Sea after saving Siargao Princess passengers in November 2019.
SEND CHEERS in the comments below to Filipino-American Petty Officer Johncarlo Legaspi for being named the Junior Sailor of the Year by the United States Navy's Maritime Prepositioning Ships Squadron (MPSRON) 3.
TELL US your good news story tips by messaging GoodNewsPilipinas.com on Facebook, Twitter, Instagram, or e-mail editor@goodnewspilipinas.com and WATCH Good News Pilipinas TV YouTube for more Filipino Pride stories!
Facebook Comments