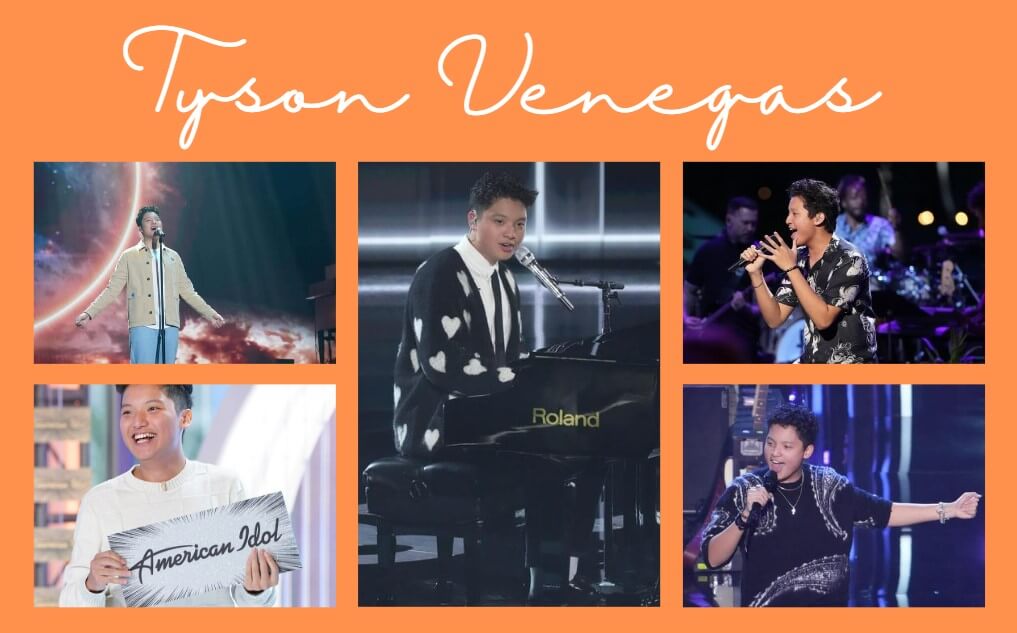 Filipino-Canadian singer-songwriter Tyson Venegas' journey on American Idol may have ended in the Top 10, but his incredible talent, charisma, and determination have left a lasting impression on the hearts of millions.
The 17-year-old's multi-faceted abilities as a performer have firmly established him as a name to remember, and with the strong foundation laid during his time on the show, his future in the music industry looks brighter than ever.
A CHRONICLE OF REMARKABLE PERFORMANCES
Tyson Venegas' American Idol journey is filled with captivating performances that showcased his unique blend of singing, dancing, and songwriting prowess. Let's take a closer look at the memorable milestones that marked his path to stardom.
DANCING FROM TOP 12 TO TOP 10
Venegas made a significant leap in the competition, moving from the Top 12 to the Top 10 with a standout performance of Stevie Wonder's "For Once In My Life." Demonstrating his versatility, he surprised the American Idol judges with his fancy footwork and smooth vocals. The daring choice, suggested by guest mentor Adam Lambert, paid off, securing Venegas a spot in the Top 10 during the season's first live coast-to-coast vote broadcast on April 30, 2023 (May 1 Philippine Standard Time).
WATCH Tyson energize the audience here:
TOP 10 FINISH: EMOTIONS RUN HIGH
In the Top 10, Tyson took to the stage with an emotionally charged rendition of "Someone You Loved" by Lewis Capaldi, chosen by judge Katy Perry. He received praise from the judges for owning both the song and the stage during the May 1 (May 2 PST) broadcast. Although he ultimately did not make it to the Top 8, predictions for Tyson Venegas' future career remain high, with many expecting him to soar even after American Idol.
PLATINUM AUDITION: A STAR IS BORN
Tyson's journey to the Top 10 began with a memorable Platinum ticket audition in Las Vegas. His performance of Billy Joel's "New York State of Mind" while playing the piano impressed judges Katy Perry, Lionel Richie, and Luke Bryan. This pivotal moment set the stage for his remarkable journey on American Idol, as the Platinum ticket allowed him to skip one round of eliminations during Hollywood Week.
Tyson's audition revealed that he faced speech delay as a child and didn't start speaking until he was 3. Music became his bridge to communication, and with the support of his family, he overcame this challenge, further fueling his passion for performing and making people happy.
HOLLYWOOD WEEK: DUET TRIUMPH
During Hollywood Week, Tyson took the stage with fellow Platinum ticket holder Kaylin Hedges for a duet performance of Queen's "Don't Stop Me Now". The stunning performance earned rave reviews from the judges, including Katy Perry, who shared her excitement on social media.
FROM TOP 26 TO TOP 24: JUDGES' PREDICTION
After a somewhat underwhelming performance of a Lizzo cover, the judges expressed their disappointment and initially hinted that Tyson might not make it to the Top 24 during the judges' interview broadcast on April 9 (April 10 PST). However, they ultimately revealed their true belief that he was destined for the Top 10, advancing him to the next round.
FROM TOP 24 TO TOP 20: BRUNO MARS MAGIC
Tyson's cover of Bruno Mars' "It Will Rain" in the Top 24 broadcast on April 23 (April 24 PST) impressed the judges enough to secure him a spot in the Top 20. Although they noted that he focused too much on the audience, his undeniable talent shone through.
FROM TOP 20 TO TOP 12: ORIGINALITY WINS
Tyson's talent combination from his auditions was again seen during the Top 20 performance where he showcased his songwriting skills by performing an original song, "180", that sent him to the Top 12 during the April 24 (April 25 PST) episode.
WATCH his performance here:
The teenager's songwriting skills have given him a competitive edge in the music industry, where many artists rely on others to write their songs. After his powerful Top 12 performance of Elton John's "Don't Let The Sun Go Down on Me", host Ryan Seacrest congratulated Venegas and ushered him into the "victory zone" on the American Idol stage.
WATCH his victory song here:
THE ROAD AHEAD: A PROMISING CAREER IN MUSIC
As Tyson Venegas embarks on his career beyond American Idol, his exceptional journey on the show has laid the foundation for a successful future. His undeniable talent, passion for music, and ability to connect with audiences set him apart in the music industry. With his songwriting skills, singing, and dancing abilities, Tyson Venegas is poised to become a future star, and his remarkable journey on American Idol is just the beginning.
SEND CONGRATULATIONS AND WELL WISHES in the comments below to Fil-Canadian young talent Tyson Venegas for making a mark on American Idol history and launching a bright future in the performing arts!
Good News Pilipinas is a Lasallian Scholarum Awardee. TELL US your good news story tips by messaging GoodNewsPilipinas.com on Facebook, Twitter, Instagram, or e-mail editor@goodnewspilipinas.com and WATCH Good News Pilipinas TV YouTube & Good News Pilipinas TikTok for more Filipino Pride stories!
Facebook Comments