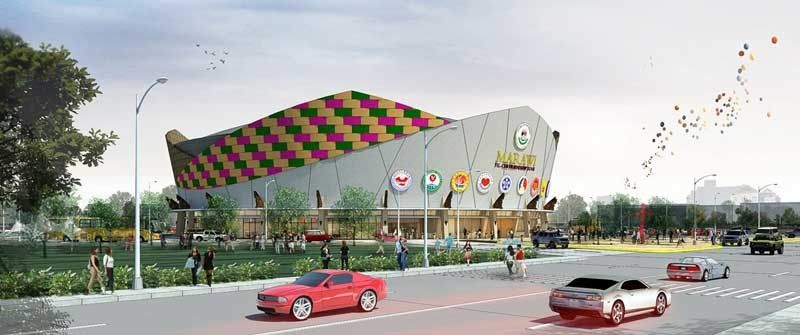 One of the challenges in business worldwide is not just how to ensure smooth transition of business authority and how to continue entrepreneurial vigor in a family and business enterprise from one generation (usually the founder) to the next generation; what about other good traditions?
Beyond business concerns, another challenge important for the social welfare of a country and the world in general is the continuation of successful and idealistic businesspeople's philanthropy by his or her heirs and heiresses. I have seen not a few rich inheritors of fortunes here and abroad who quietly discontinue their forebears' charities and other civic endeavors or commitments.
Support for Marawi's new culture/sports center
One admirable example of success in the transitioning and continuation of business authority and socio-civic commitments is the Metrobank Group, which includes Philippine Savings Bank, AXA Philippines, Toyota Philippines, Federal Land, and many other firms.
On Jan. 10, in perhaps the first public appearance of Metrobank Group chairman Arthur Ty since the demise of his father, the conglomerate's founder Dr. George S. K. Ty on Nov. 23, 2018, Arthur — accompanied by Metrobank president Fabian Dee and Metrobank Foundation president Chito Sobrepeña — turned over P4 million to the Federation of Filipino Chinese Chambers of Commerce and Industry, Inc. (FFCCCII), led by president Domingo Yap, vice president David Chua and secretary-general Dr. Fernando Gan to support two major philanthropic projects.
The two donation checks of P2 million each were given in filial memory of the late founder, who was senior executive adviser of the FFCCCII. Dr. Ty was also one of the Philippines' most generous philanthropists and foremost art patrons.
The two FFCCCII-led philanthropic projects supported by Metrobank Group are a P2 million contribution to the Filipino-Chinese community's civic project to build a P200 million "Filipino Chinese Friendship Dome" in war-ravaged Marawi City as a new 4,000-seat civic, cultural and sports center; and P2 million for FFCCCII's longstanding "Operation Barrio Schools" to construct and donate public school buildings in disadvantaged rural areas all over the Philippines.
The late Dr. Ty had been donating rural public schools in partnership with FFCCCII's "Operation Barrio Schools" since 1970 in Jolo, Sulu.
The "Filipino Chinese Friendship Dome" multi-purpose center, which is expected to be completed in 16 to 18 months from groundbreaking, will be constructed on a two-hectare area of Marawi City. FFCCCII leaders say they welcome all bids from any top contractor capable of constructing this important structure.
Yap says the dome will showcase Marawi's culture, facilitate commerce, promote athletics, and provide a home for other events and community needs. "It is the Filipino-Chinese community's fervent wish that this donation will help in the healing of the people of Marawi from the scars of war and destruction," he says.
The first ever FFCCCII president born and raised in Mindanao, Yap said that the dome was designed for free by architect Jose Siao Ling, who hails from Zamboanga City. Siao Ling has designed some of the SM malls of the Henry Sy family.
Apart from FFCCCII, Yap said 11 other Filipino-Chinese business and civic associations "came together as one, under the leadership of the Federation to seek the guidance of the government on the kind of contribution it can make." These supporting organizations include the Federation of Filipino-Chinese Associations of the Philippines; World News Daily; Filipino Chinese Amity Club; Overseas Chinese Alumni Association of the Philippines; Filipino-Chinese Shin Lian Association, Inc.; Philippine Chinese Chamber of Commerce & Industry, Inc.; Overseas Chinese Chamber of Commerce & Industry of the Philippines, Inc.; Philippine Soong Ching Ling Foundation; Philippine Jin Jiang Shen Fu Zhen Association, Inc; and World Fujian Youth Association & Business Club, Inc.
In late 2018, FFCCCII's "Operation Barrio Schools" also joined the GMA Kapuso Foundation, Inc. led by chairman Atty. Felipe Gozon and COO Rikki Escudero Catibog to donate new, modern public school buildings for the students of Marawi City. FFCCCII has had "Operation Barrio Schools" since the 1960s, donating public school buildings to disadvantaged rural communities all over the Philippines. It also supports diverse socio-civic projects like Filipino-Chinese fire volunteer brigades, disaster relief operations, free medical missions and other philanthropic projects.
In the March 2019 biennial national convention of FFCCCII's over 170 business chambers and industry organizations, sources told me that the two frontrunners in the election for the next president include executive vice president Henry Lim Bon Liong of the Sterling Paper Group and hybrid rice, and vice president Mary Go Ng, who is an industrialist.
FFCCCII's still-energetic 84-year-old chairman emeritus and biggest philanthropist is Philippine Airlines (PAL) and Philippine National Bank (PNB) chairman, LT Group, Inc. founder Dr. Lucio C. Tan. Among Lucio Tan's good health secrets? Playing golf or swimming every morning, eating healthily, drinking traditional Chinese tea, and nonstop working and studying.
Wilson Lee Flores' writings appear with permission on GoodNewsPilipinas.com Mondays.
(Wilson Lee Flores is a multiple award-winning writer, journalist, Kamuning Bakery artisanal breads savior, and Pandesal Forum moderator. This column was previously posted on his column in the Philippine Star. His "KuwentongPanadero" inspiring stories are found on Pilipino STAR Ngayon. Follow @wilsonleeflores on Instagram, Twitter, and Facebook)
Facebook Comments