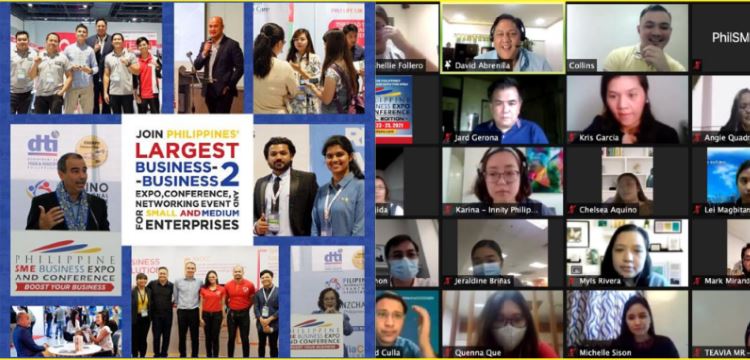 Filipino enterprises are learning how to do business online for the 10th Philippine SME Business Expo through virtual exhibitor booths, remote presentations, and connecting to virtual visitors on the Whova platform.
The first virtual edition of the largest Business-2-Business Expo, Conference & Networking Event for Small & Medium Enterprises (SMEs) in the Philippines is going live and free on Whova for three days, from February 23-25, 2021.
The expo brings together over 40 exhibitors and 2,000 registered attendees, comprised of SME business owners, C-Level executives, and aspiring entrepreneurs, gathering together to learn how to thrive in the new normal conditions of business and the digital economy brought on by the coronavirus pandemic.
This 3-day expo is presenting a highly interactive experience, featuring 50 smart business solutions and opportunities video presentations, raffle games, live chats, networking, and industry talks empowering attendees to grow or start a business.
The free event presents Industry Experts Learning Sessions, also for free.
The 10th Philippine SME Business Expo – Virtual Edition scheduled to be held on February 23-25 is organized by Mediacom Solutions Inc., a professional philippine tradeshow and conference organizer that owns and organizes the Philippine SME Business Expo; Baby, Kids and Family Expo; Entrepreneur and Franchise Expo, Philippine Property Expo, and Philippine Investment Expo.
"We have been seeing digital transformation happening in large businesses over the past 6 years as part of the 4th industrial revolution. Now with the Covid-19 pandemic many small and medium enterprises (SMEs) are forced to digitally transform their businesses as well and we like to help them in this process," says David Abrenilla, CEO of Mediacom Solutions Inc.
"Organizing the first virtual Philippine SME Business Expo is our way of showing that we can continue to meet virtually and to connect SME business owners with suppliers of smart business solutions. This way SME business owners have an opportunity to meet online, find new business solutions and opportunities that can empower them to stay ahead in this fast-changing new digital economy. We remain hopeful that we can do the physical shows soon, but we also realize that virtual expo's are here to stay," adds Abrenilla.
Virtual visitors only need to click the link below to join the expo or download the Whova app on Google and Apple Stores for free.
Web App Link https://whova.com/portal/webapp/asaam_202010/
Are you interested to visit the show? Register for FREE at https://10thphilsme2021-virtual.eventbrite.com
VISIT GoodNewsPilipinas.com, a media partner exhibitor of the 10th Philippine SME Business Expo, to find out how we can help your business by clicking this link.
Are you a Proud Filipino? Get more good news stories on Filipino Pride! Subscribe to GoodNewsPilipinas.com and our YouTube channel: Good News Pilipinas! TV
Facebook Comments