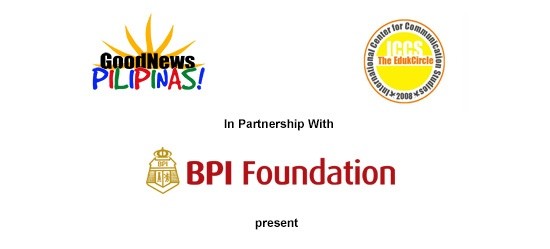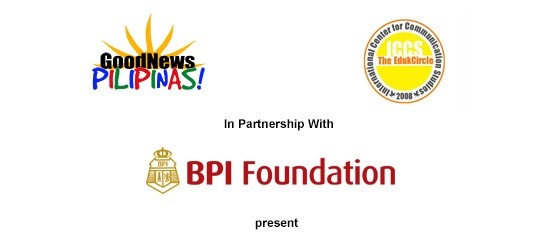 Theme: "WHY I AM PROUD TO BE A FILIPINO"
The competition is to encourage more Filipinos to write positive stories about our people and the country. The contest is divided into two sections the Student and Open categories.
Six winning entries with original titles, three from each category will be published in the INSPIRATIONAL VIEWS section of GoodNewsPilipinas.com alongside the writings of acclaimed Inspirational Personalities.
GoodNewsPilipinas.com and EdukCircle Essay Writing Contest
WHY YOU SHOULD JOIN THIS COMPETITION:
Share your thoughts and feelings in an essay format on why you are a proud Filipino, the great Filipino spirit, and the amazing wonders of the Philippines
Uplift, inspire and boost the morale of Filipinos. Make every Filipino feel proud of their country, heritage, and culture.
Get the fulfilment of being one of the winners and seeing your byline on a news story reach thousands of site visitors.
WHAT DO YOU WIN? CASH PRIZE AND TROPHY!
OPEN CATEGORY (over 21 years old)
1st Prize – P 15,000 and Trophy
2nd Prize – P 10,000 and Certificate
3rd Prize – P 5,000 and Certificate
STUDENT CATEGORY (21 years old and under)
1st Prize – P 10,000 and Trophy
2nd Prize -P 7,000 and Certificate
3rd Prize – P 3,000 and Certificate
HOW TO JOIN THE CONTEST:
LOG on to www.GoodNewsPilipinas.com and CLICK on the "Filipino Pride Essay Writing Contest" ICON Ad on the Homepage and also located on all pages of the website.
Two Categories – Student and Open

Student Category – open to all Filipino students 21 under years old and under and enrolled in a school either in the Philippines or abroad.
Open Category – open to all Filipinos worldwide over 21 years old from any profession.

The Essay must be written in standard American English in approximately 500-800 words with an ORIGINAL TITLE. What are we looking for? Creativity, wit, style and substance.
GoodNewsPilipinas.com will ONLY accept ORIGINAL, UNPUBLISHED works.
Winning submissions become the property of GoodNewsPilipinas.com and GNP Views and Events Inc.
Entries must be written and submitted only on the special page "Filipino Pride Essay Writing Contest" on www.GoodNewsPilipinas.com All other formats will not be considered.
All entries must be double spaced. Attach a photo of yourself, a short bio-data with your birthdate, full mailing address, email and mobile contact number in the special page on www.GoodNewsPilipinas.com
All entries are final. No revisions are accepted. The decision of the Board of Judges is final.
The top three winners in each category will be included in the Inspirational Views section of GoodNewsPilipinas.com.
At the discretion of the judges, all other well written essays (non-winners) may be published on the website.
Submission of essay entries begins on June 15. Final deadline is August 8, 2015.
Winners will be individually notified by email on August 20, 2015.
Winners will be awarded at the EdukCircle ICCS Conference on Saturday, September 5, 2015 at the UP Theatre, Diliman, Quezon City. Winning essays in both categories will be read at the event.
SUBMIT HERE YOUR ESSAY:
For your contributions, please fill up the form below: