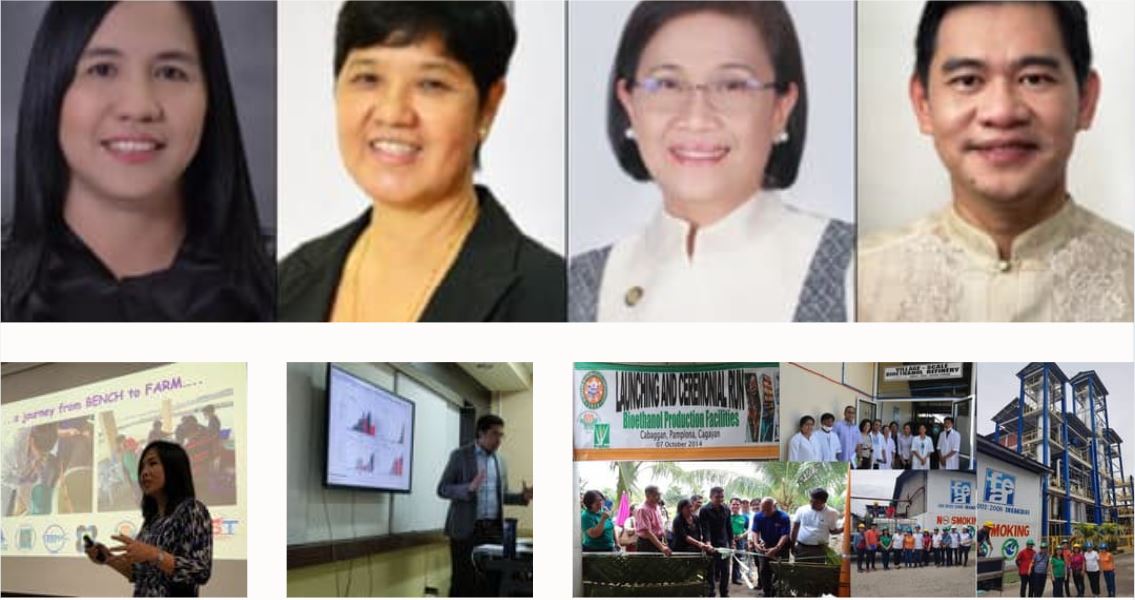 Outstanding Filipino scientists from the academe were hailed during the National Science & Technology Week organized by the Department of Science and Technology (DOST).
Research and Development (R&D) specialists Prof. Mary Beth B. Maningas of the University of Santo Tomas (UST), Arsenia B. Sapin of the University of the Philippines Los Baños (UPLB), Dr. Shirley C. Agrupis of Mariano Marcos State University (MMSU), and Dr. Francis Aldrine A. Uy of the Mapúa School of Civil, Environmental, and Geological Engineering, were conferred four awards in the form of medals, plaques, and cash prizes for their outstanding S&T contributions.
The scientists and their teams were recognized at the opening ceremonies of the 2021 National Science and Technology Week (NSTW) celebration on November 22.
UST research scientists
Prof. Maningas and David Angelo V. Guanzon of the UST won the Eduardo A. Quisumbing Medal for Basic Research, as the tandem bested four other nominees in the mathematical, physical, and life sciences category.
Their peer-reviewed article, published in the July 2018 issue of Developmental and Comparative Immunology, provides evidence that foreign dsRNA triggers a cascade of genes that promote an antiviral state in the edible whiteleg shrimp (Penaeus vannamei).
UPLB research scientists
Sapin led the National Institute of Molecular Biology and Biotechnology (BIOTECH) project team at the UPLB composed of Dr. Rodney H. Perez, Fides Marciana Z. Tambalo, Arra Gaylon, and Maria Katrina N. Alaon with support from Jessica Juarez and Roland Martinez to win over another nominee for the Julian A. Banzon Medal for Applied Research, which is reserved for agriculture, industry, health, and social sciences.
The team published in the June 2021 issue of the Philippine Journal of Science their study proved that phenolics extracted from waste mango branches can promote higher antioxidant and anti-diabetic activities than ascorbic acid and acarbose, respectively.
MMSU research scientist
Dr. Agrupis, President of MMSU, topped two other nominees as she bagged the NSTW Outstanding Science Administrator Award or the Dioscoro L. Umali Medal for her work in agricultural sciences.
Dr. Agrupis' strategic vision focused on seven key areas dubbed as ACHIEVE: academic excellence; creative, relevant, and innovative research program; high-impact and transformative extension and outreach program; improved revenue generation; expanded external linkages and partnerships; vibrant and nurturing learning environment; and efficient and effective management system.
Mapúa research scientist
Dr. Uy, Dean of the Mapúa School of Civil, Environmental, and Geological Engineering, toppled eight other nominees as he garnered the NSTW Outstanding Technology Commercialization Award or the Gregorio Y. Zara Medal.
Dr. Uy is the Founder and Chief Executive Officer of USHER Technologies Inc. USHER (Universal Structural Health Evaluation and Recording System) enables 24/7 remote data monitoring and alerting on structural damage to a building as earthquakes occur.
The annual NSTW aims to bring S&T closer to the people by letting them experience the vital role of science, technology, and innovation in improving the people's quality of life, protecting the environment, and contributing to national development.
In the 2020 NSTW, UP, Ateneo, and PRRI scientists were honored.
Good News Pilipinas is celebrating its 15th Anniversary in 2021 by giving away prizes! Subscribe to this website and  Good News Pilipinas! TV YouTube channel and enter the raffle by telling us what you like about our stories in an email to editor@goodnewspilipinas.com
Facebook Comments