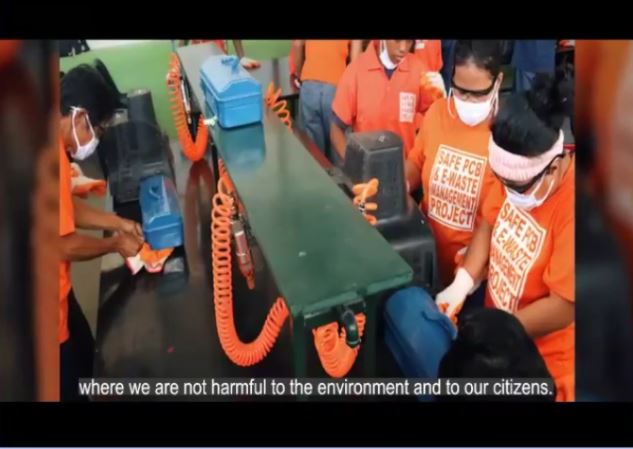 Filipino women dismantlers of e-waste from electrical and electronic equipment have been cited for making e-waste disassembly operations safer for the workers, their families, and communities.
The e-waste dismantlers from the four project sites in Bagong Silang and Camarin in Caloocan City, Longos in Malabon City, and Capulong in Manila City were recognized during the "Women and Chemicals" webinar held in celebration of the International Women's Day on March 8, 2021.
Organized by the Department of Environment and Natural Resources – Environmental Management Bureau (DENR) and the United Nations Industrial Development Organization (UNIDO), the webinar highlighted the changes in the e-waste dismantlers' lives as a result of the on-going Safe E-waste Management Project funded by the Global Environmental Facility (GEF) and supported by the EcoWaste Coalition and the Integrated Recycling Industries Philippines, Inc.
Among those who received the Certificates of Appreciation and Recognition were:
Joanna Amican (Nagkakaisang Lakas ng mga Mangangalakal sa Longos)
Charina Davin (Samahan ng mga Mangangalakal ng Scrap sa Capulong)
Unice Tillerva (Samahan ng mga Mangangalakal sa San Vicente Ferrer Camarin Caloocan City)
Nida Nario (Samahan ng mga Mangangalakal sa Bagong Silang)
Speaking in Filipino, Nario from Bagong Silang where the project-supported e-waste treatment, storage and disposal (TSD) facility is located, said: "Masasabi namin na bilang mga babae ay may malaking papel din kami sa aming komunidad. Hindi lamang kami mga babaeng nagtatrabaho sa bahay at nag-aalaga sa aming mga anak, kami ay kabilang din sa proyekto ngayon na nagbibigay ng suporta at sahod sa amin mula sa e-waste. Kaya ang TSD ay nakatulong po ng malaki sa amin."
For her part, Imelda Orduña, Chief, Environmental Protection and Management Office of Barangay Bagong Silang, host of the TSD facility, said: "We are now given the opportunity to work, thus many women are now owners of junkshops and they have a big contribution to the society. Si Juana ay nakakatulong sa panahon ng pandemya. Let us keep our environment clean. Huwag mahiya na mamili ng mga kalakal lalo na kung ito ay mapapakinabangan natin".
Engr. Vizminda Osorio, Assistant Director of DENR-EMB, commended the grassroots environmental frontliners who have partnered with the government in promoting sustainable e-waste management. "To our women dismantlers, kayo ang mga Juana na tumutulong sa pagsasaayos ng ating kalikasan at ang mga Juana na lumalaban sa pandemya," she said. "Let us continue to be good leaders and serve as inspiration to more women."
During the webinar, Engr. Geri Geronimo Sañez, Chief, EMB Hazardous Waste Management, briefed the participants about common organic and inorganic contaminants, their sources, pathways, and health effects, and shared some of the project's activities to enhance workers' protection from harmful chemicals during the dismantling of e-waste.
In her concluding remarks, Dr. Carmela Centeno, Industrial Development Officer of UNIDO, said. "Women are at a high risk as they are usually involved in dismantling and separation of e-waste parts, thus the project embarked on capacity building and awareness-raising targeting women. The project commits to find ways to elevate and appreciate woman dismantlers who now have decision-making positions in their own associations."
She reiterated that "it is UNIDO's vision that women and man equally lead, participate in and benefit from inclusive and sustainable industrial development," adding that "UNIDO is committed to addressing gender inequalities in industry and to harnessing women with full potential as leaders and economic agents of change, thereby transforming economies and generating inclusive growth."
E-waste collection and disassembly can be dangerous to both the recyclers and the surrounding environment if it is not done with protective equipment or the means to safely dispose of toxic materials. Women in particular are at risk, as they are typically the ones who dismantle and separate the parts. In absence of other options, this dangerous activity is often conducted in homes, without protective gear or other safety measures, and often in the presence of children.
Also, residual e-waste that still contains toxic substances, such as cathode-ray tubes or plastic casings from televisions and computer monitors, are not sent on to recycling centers and are discarded on roadsides and in alleys and creeks – popular playgrounds for children.
To help prevent pollution and to effectively and safely process the non-recyclable hazardous substances, the project provided a new facility and safety training for recyclers. The existing municipal waste facility in Bagong Silang was upgraded into an e-waste TSD facility.
In addition, the women and men working as e-waste collectors and dismantlers have received education and training on safe processing practices. Finally, workers were supported in obtaining required licenses and formalizing their employment with the municipality, thereby enabling them to increase their income.
To date, more than 3,000 television cathode ray tubes have been collected and processed through the TSD facility, resulting in a significant reduction of e-waste dumping in the rivers and alleys of the community.
In 2020, Caloocan City's Bagong Silang barangay was cited for its practice of safe e-waste management.
After major typhoons struck the Philippines in 2020, EcoWaste Coalition praised the proper waste retrieval of flood-damaged electronics.
SEND CHEERS in the comments below to the four Filipino women dismantlers of e-waste who were cited in the UN webinar for practicing workers' safety.
Good News Pilipinas is celebrating its 15th Anniversary in 2021 by giving away prizes! Subscribe to our Good News Pilipinas! TV YouTube channel and enter the raffle by sending us an email to editor@goodnewspilipinas.com
Facebook Comments