Filipino workers are the happiest in Asia, according to a survey conducted by Jobstreet.com among seven countries.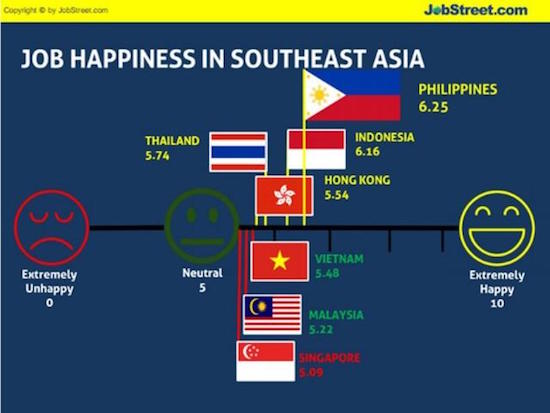 The employment portal's Job Happiness Index indicates that 73% of Filipinos were happy with their jobs.
The complete Happiness Index Report 2016 pegs the Philippines as having the highest job satisfaction rating ahead of Indonesia, Thailand, Vietnam, Hong Kong, Malaysia and Singapore.
The survey results also showed those in the government, education and oil and gas sectors registered the highest job satisfaction rating.
The top reason for Pinoys being happy workers is good relationships with fellow workers.
Convenience in the work location and company reputation were the other two factors that boost Filipinos' job happiness.
Government workers registered as the happiest workers owing to the optimism about the new administration, explains Jobstreet.com Philippines Country Manager Philip A. Gioca.
Teachers who ranked second, find fulfilment in their jobs. Gas and sector employees get the highest pay among industries.
The happiest workers are those in Bicol, CARGA and Western Visayas.
The 2016 Happy Planet Index released by UK-based think tank New Economic Foundation also ranked the Philippines among the happiest countries who use environmental resources to lead happy lives.
The July survey by Jobstreet was conducted among 12,796 respondents from the Philippines, with 61% coming from Metro Manila.
Facebook Comments