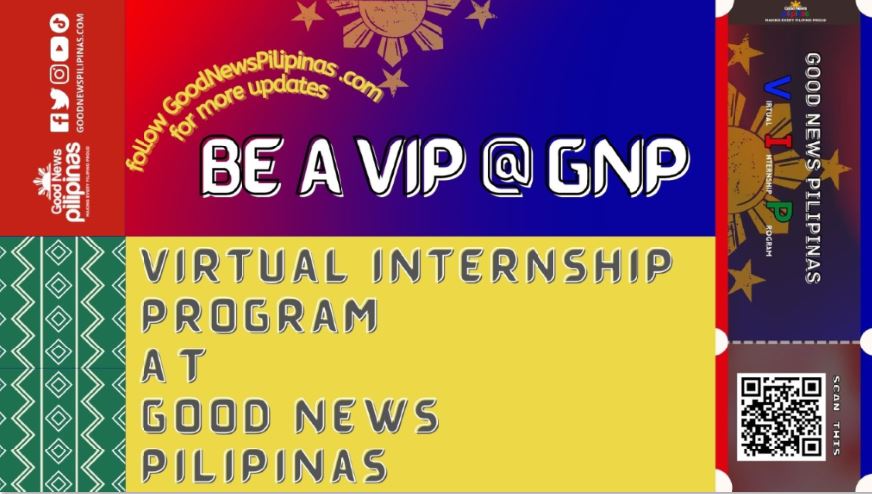 Good News Pilipinas is opening a Virtual Internship Program for Multimedia Content Interns.
The Virtual Internship Program was first pioneered by Managing Editor and Internship Supervisor Aurora Quadra-Balibay for two student interns from La Consolacion College Manila and is now a full-blown program for new interns.
The program is an opportunity for journalism, communication, and multimedia arts students to showcase their skills in news writing, content production, and event planning.
The program is an avenue for them to kick off their careers in journalism and multimedia. Interns can attend exclusive press briefings, gatherings, and workshops. They can even be published writers on their very first day on the job.
Virtual Internship People (VIP) can write and create content that will make every Filipino feel proud of our country, heritage, and culture.
Get the fulfillment of seeing your byline on a news story, seeing your work reach hundreds of thousands of site visitors, expanding your reputation as a writer, and contributing to the uplifting of the Filipino spirit!
Be a VIP of the GNP online community and get the privilege of having your story published on the GoodNewsPilipinas.com website, with equal exposure on our Facebook page, be followed on Instagram, and featured on Twitter. Your video creations get audiences on YouTube and TikTok.
If you are a Multimedia Content Creator who wants to uplift, inspire and boost the morale of Filipinos, then scan the QR code on the photo below or click this link to register for the program. For more information about the VIP @GNP head to this page.

Let's create a community where we can share with each other, the good news, positive action, triumphs, and inspirational stories in our very own homes, and communities.
WATCH this video to know more about the VIP @GNP and SHARE THIS ARTICLE with others who may want to join our Virtual Internship Program and be one of our VIPs (Virtual Internship People)!
Good News Pilipinas is a Lasallian Scholarum Awardee. TELL US your good news story tips by messaging GoodNewsPilipinas.com on Facebook, Twitter, Instagram, or e-mail editor@goodnewspilipinas.com and WATCH Good News Pilipinas TV YouTube & Good News Pilipinas TikTok for more Filipino Pride stories!
Facebook Comments