Jessica Tejada had a challenging childhood. When she was 10, family problems forced her to drop out of elementary school. For the next five years, she and her mother – a single parent – had to move several times as financial and other problems piled up.
Tejada said she never thought they would be able to hurdle that phase in their life. "Those five years were such a journey for me. We faced a lot of problems."
In 2014, some relatives stepped up and offered her an opportunity to get back on her feet. Returning to school, however, was not going to be easy. She was afraid she would be teased by classmates who would be much younger.
"I really wanted to go back to school but I was afraid because I was much older," she said
Tejada had left school after the third grade. On her return, she took and passed an accreditation and equivalency test which qualified her for Grade 7. Still, she would be older than her classmates.
Fortunately, Tejada stumbled on the right school—the Affordable Private Education Center or APEC Schools, which is owned by the Ayala Group.
"I felt it was the right school for me. They said their students were employment-ready after graduation," she said.
APEC Schools' progressive teaching method encourages active and collaborative learning.
APEC Schools operates a chain of 27 high schools in Metro Manila, Rizal, Cavite, and Lipa City with the aim of preparing its students for college or employment right after graduation. Through various partnerships, the school is able to provide students with scholarships. Senior high school students can get government vouchers. The tuition for APEC Schools' afternoon shift for Senior High School is equal to the government voucher amount, meaning the student can study for free.
The curriculum was developed in-house and follows a progressive teaching method that encourages active and collaborative learning.
Beth Lui, the company's CEO, said the goal was to prepare young people for the challenges they will face by giving them a high quality but affordable education.
"You cannot throw a life away. We work with young people with limited options in life. We get them to a better state," Lui said.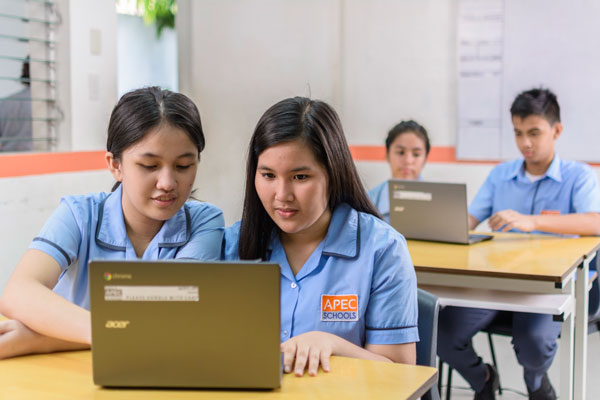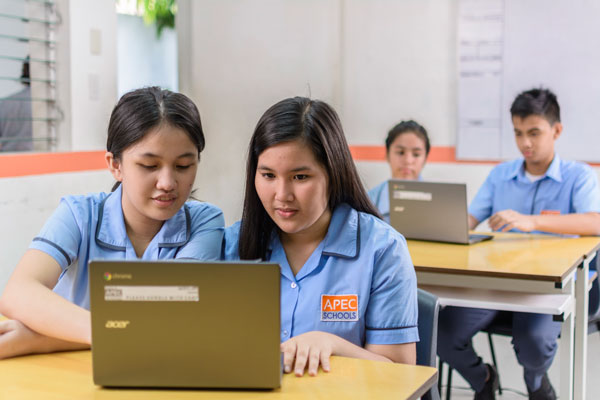 Students are fully immersed in English language education and take part in Life Labs where they are challenged to address problems and come up with solutions.
She also notes the positive impact the schools have on the local communities.
"In opening a school, you impact the community. You hire direct services, like food suppliers, tricycle and jeepney drivers, security guards. This makes the community a viable place to live in. When we operate a school, we also try to source the canteen concessionaire from among the parents," she said.
School uniforms are sewn by residents of Gawad Kalinga communities, providing employment to dozens of GK residents.
"I HOPE MANY OTHER COMPANIES CONTINUE TO INVEST IN THE YOUTH. IF THEIR EDUCATION IS IMPROVED, THE ENTIRE COUNTRY WILL MOVE UP."
In hiring teachers and other school personnel, APEC Schools also looks for residents of the community.
Mary Ann Barcelon was teaching in an international school abroad but returned to the Philippines when she heard about APEC Schools.
"I had been wanting to teach Filipino students," she said. She became one of the pioneer teachers at APEC.
Today, she is an expert teacher assigned to coach and guide teachers on the different campuses, mainly in southern Metro Manila near where she lives in Cavite.
Lui said that schools are also instrumental in helping communities thrive.
"I have heard of communities that practically died after families moved out for lack of good schools to go to. When a community has a good school, the families will stay for a long time," she said.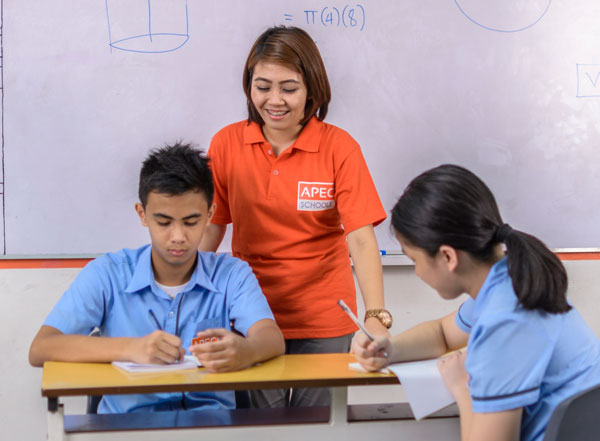 She added that APEC Schools aim to make a big difference through sheer numbers. To achieve this, it needs to scale up and establish more schools to handle more students.
"Scaling up not only helps but is crucial to the model," Lui said. It will bring down costs while ensuring high quality education. It will also enable APEC to adopt systems that help in teacher training, such as the master teacher-learning facilitator model.
Operations are not without challenges.
"Unlike a restaurant where if you have 10 tables, you can fill the tables immediately, with a school you may lease a facility for 12 classrooms but you can only fill two sections at a time. You will have to wait several years before you can fill six grades," she said.
Despite the challenges, Lui said these were nothing compared to the lives APEC can potentially change.
"I think education is a game changer," she said. "I hope many other companies continue to invest in the youth. If their education is improved, the entire country will move up."
Now 17, Jessica – who is in Grade 9 at APEC Schools' North Fairview campus in Quezon City – said the decision she made three years ago was the right one.
"The staff, teachers and school head are friendly and caring. They help me improve and apply what I've learned to my life," she said.
This story is part of a series of articles written by GO NEGOSYO writers being published by GoodNewsPilipinas.com as part of our support to Philippine businesses.
Facebook Comments