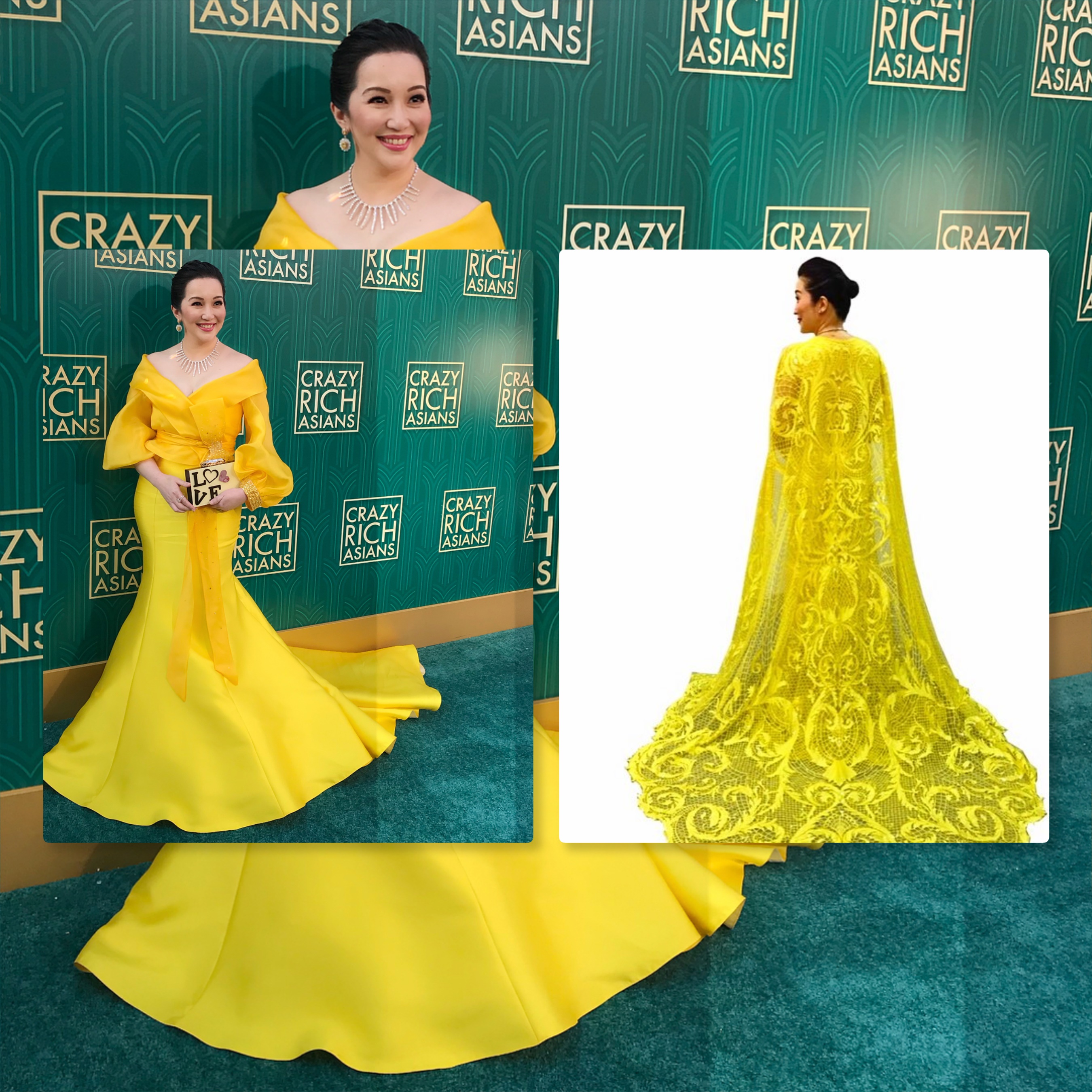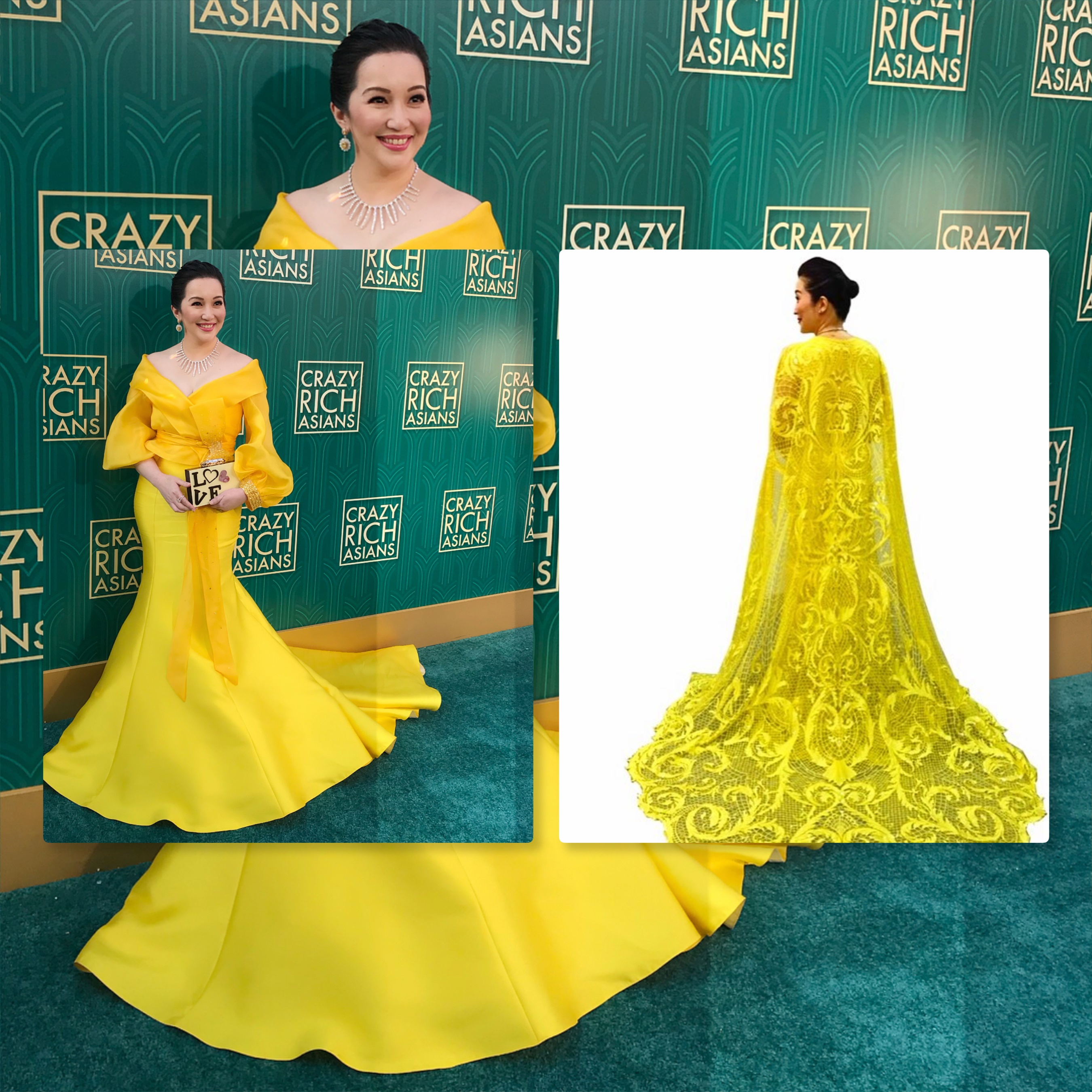 Kris Aquino brought Filipino pride to Hollywood and she was warmly welcomed on the green carpet by adoring colleagues, fans, netizens, and media.
Aquino went to the green carpet world premiere of the all-Asian-American ensemble Hollywood film Crazy Rich Asians (CRA), where she portrays the pivotal role of Malay Princess Intan.
Acknowledged as the Philippines' Queen of All Media, Aquino showcased Filipino craftmanship in both the movie and the movie premiere:
In the movie stills, Aquino is seen wearing a couture fully embroidered gown by celebrated Filipino fashion designer Michael Cinco (originally from Samar but now based in UAE) as she faces Constance Wu's lead character.
On the green carpet, the Filipino celebrity actor, television host, and endorser was again seen proudly wearing a Filipino designer's gown, this time a yellow classic modern Filipiniana by Michael Leyva of Rizal whose Filipino cutters and sewers she acknowledged.
She wore jewelry crafted by Cebu's Diagold
Makeup credits were given to RB Chanco who traces her roots to Laguna and Masbate, and to Bicol's Juan Sarte
Hairstyle credited to Pin Antonio whose parents are from Tarlac, Bulacan, and Antipolo, and also to Butuan-born Nante Alingasa and Quezon City's Jonathan Velasco
Overall styling by Filipino-Chinese Kimi Yap and Boop Yap
Aquino wrote that the support from Filipinos both in the Philippines and in Hollywood helped restore her faith that it is good to be a Filipino.
"…walking down that imperial green carpet, in a yellow gown w/ a prominent yellow ribbon a lasting, meaningful symbol of sacrifice & the Filipino worth dying for, fighting for, and living for…" wrote Aquino on her Instagram post as she described her gown and why she chose to wear it at the CRA premiere.
A video posted by Aquino showed the Filipino celebrity approaching and greeting Filipino-Americans who lined up Hollywood Boulevard with flags and banners to greet the daughter of iconic former Philippine President Corazon Aquino, and sister to the country's former President Benigno Aquino III. Aquino acknowledged the Fil-Ams support not only for herself but for Philippine pride.
"… I felt when auditioning for this that there was absolutely nothing left to lose & whether I was included or not- I gave it my very best… seeing the proud, smiling faces of all our fellow Filipino Americans lining Hollywood Boulevard made me realize that the greatest gift this movie gave me was that it gave me that special opportunity to make us Filipinos feel good about ourselves & our contribution to the global workforce…" wrote Aquino on her IG.
CRA bestselling author Kevin Kwan continued to express gratitude for Aquino's involvement in the movie and the support of Filipinos from around the world. Kwan's interview by Curtis Chin saying how Aquino was a highlight of the movie has gone viral worldwide.
Teen Vogue acknowledged that Aquino was indeed the country's queen for making her presence felt across all media.
Warner Bros Pictures Group Chairman Toby Emmerich even had Aquino sit with him and meet his favorite Beverly Hills Hotel staffer, a Filipino-American devout fan of Aquino, in appreciation of the hotel worker's Filipino-style graciousness.
Kris Aquino as Princess Intal on Crazy Rich Asians will be seen in Philippine theaters on August 22.
Facebook Comments