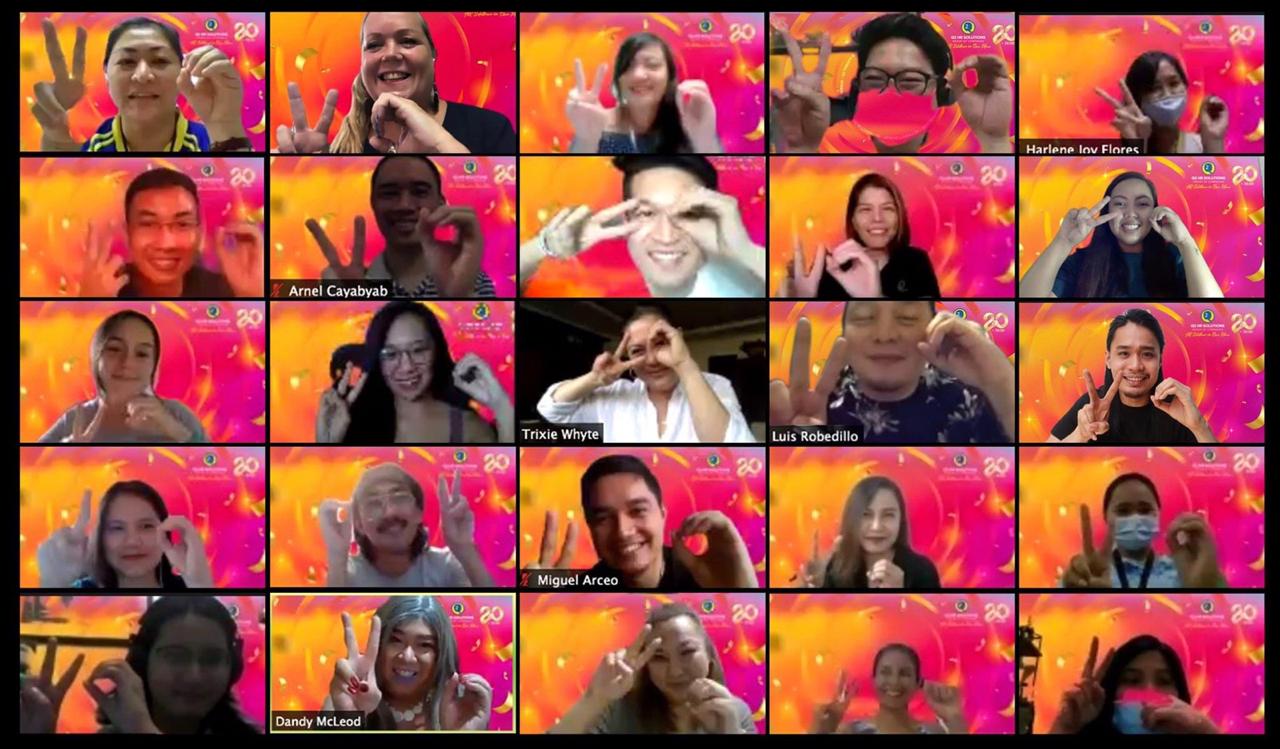 HR Industry thought leader and Q2 HR Solutions Founder Trixie Whyte talks about the labour market and how to be employable during this crisis.
With different iterations of the community quarantine in place, many businesses need to adapt in order to cope with the changes brought about by the current global situation. There have been many repercussions on policies aimed at controlling the spread of the coronavirus. In the Philippines, companies are either downsizing or shutting down, and OFWs are currently being repatriated.
Job market situation
"There is an oversupply of labour," says Whyte. As her company reaches its 20th year of being the country's leading fully-integrated HR solutions provider this September, she paints a picture of the current labour market.
"There is a repurposing and redeployment of workers in certain industries hit by the pandemic such as entertainment, hospitality, airlines and cruise-ships, among others. It is more challenging now than before. This is due either to a logistical problem and limited access to transportation or a skills mismatch. There are just competencies that are very specific to an industry and are difficult to move across another sector," she says.
This is compounded by industries that are facing an uncertain future, therefore being cautious and putting recruitment activities on hold. This includes industries like business process outsourcing (BPOs), a consistent revenue source for the past several years. "Companies have been forced to shut down and unemployment soared to 17.7 per cent in April, with at least 7.3 million Filipinos currently jobless."
Reactions, solutions and how to land a job during the crisis
In this kind of environment, businesses have had to recalibrate. Those who are still hiring have pivoted to accommodate what is now called the "new normal". According to Whyte, additional recruitment and employment criteria now include things like: Internet access and good Wi-Fi coverage at home; conducive home work environment; noise cancelling gadgets and apps; and strong self-management and self-motivation, requiring that the candidate is able to work with minimal supervision. She says, "I have also seen a movement towards localized recruitment drives i.e. hiring candidates who live near the company location for businesses that require their workforce to come into the workplace, especially for the manufacturing sector."
This pandemic has given rise to technology tools and portals to help job seekers look for employment opportunities, she adds. "Virtual platforms are now the norm in recruitment. This means candidates would need to differentiate themselves to stand out from the crowd. People are up-skilling to broaden their job opportunities through online courses, and there has been a surge of freelance workers in various disciplines. Digitizing CVs is a trend that will continue to rise, and I predict that video CV will be the new norm and will be a differentiator."
She notes that because of these changes in the hiring landscape, companies will need extra resources to help identify the right candidates due to the surge of unemployment leading to more applications.
In fact, the Q2 HR Solutions Group of Companies recently held a successful Virtual Job Fair for the first time in September. Being one of the first companies to do this gives them a definite advantage in terms of their ability to improve their recruitment and turnaround time for clients that need it the most.
Agile leadership
Whyte says that Q2 has also been affected by the pandemic. "Like most companies, we were hit by the sudden change in working environment, such as the restriction on face to face meetings and people having to work from home. We've also had clients putting their requirements on hold, laying off people, even early termination of client contracts. The uncertainty caused by the pandemic made all our previous strategic and operational plans irrelevant. We had to start from scratch and realign based on 'instinct' and 'educated assumptions'."
She outlined how she was able to steer the business that now has about 4,000 employees, with 160 of them organic. "We had to re-align our tactical approach and plans based on government rules that kept changing, and continue to change. We focused on things that we could control: I called it our 3-Cs — Converting contracts to revenue, Controlling costs and expenses, and Cash management because as we all know, cash is king! This means ensuring we billed accurately and on time, and collected quickly.
Constant communication was key, as her employees were starting to feel insecure about their safety and job security. "We conducted weekly town halls, and continue to do so, to communicate what was going on in the country, in the company and the impact of the pandemic to our business and our clients. We were transparent and we did not sugar coat the situation. Our ExeCom took turns in speaking in the virtual town halls every Monday afternoon via Zoom. Here, we rallied everyone and leaned on our set of 5 Core Values, which really spoke to us during this crisis. Never has Create Positive Impact, Embodying Malasakit, Have Grit, Being Grateful, and Be Innovative, been so relevant as it served as a compass and our guiding principle during this very challenging time."
"Survival is at the forefront of our minds in Q2, but in order to energize people and give them hope, to see some light in all this darkness, I had to change people's mindsets to give them purpose and a sense of control during this very uncertain time."
Whyte is confident that their culture of customer centricity is a factor for their continued success. The thought leader says that businesses should start future-proofing their companies, adapting while staying true to their core values. "We always need to keep ourselves relevant and must constantly adapt to the changing needs of our clients, as well as the current economic and physical environment. Work is not immune to these changes and businesses cannot afford to be bystanders and expect things to go back to normal, if they want to survive."
OFW returnees are being helped by the Department of Science and Technology to set up business in the Philippines while displaced workers are being given emergency jobs to counter the impact of COVID 19.
Want to know how to be a Proud Pinoy? Like, Follow, Subscribe to GoodNewsPilipinas.com, and our socials on Facebook, Twitter, Instagram, Good News Pilipinas! TV on YouTube, for new story notifications, and e-mail newsletters for updates on more Filipino Pride stories.
Facebook Comments