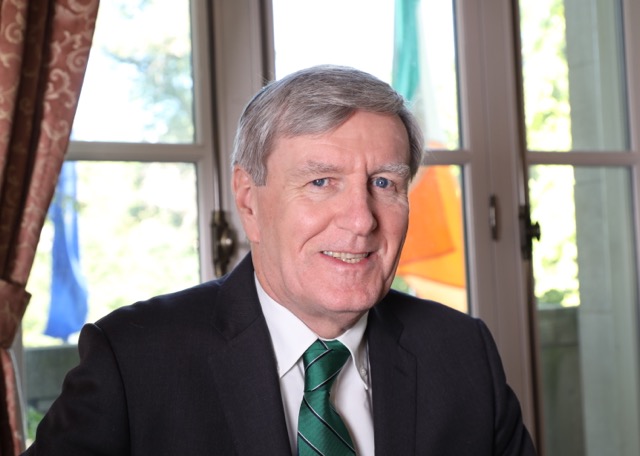 The government of Ireland is planning to increase its footprint in Southeast Asia by opening an embassy in Manila in early 2020.
Daniel Mulhall, Ambassador of Ireland to the United States, disclosed this saying: "In the next 15 years, Ireland intends to be a much more significant international player. Our Prime Minister, Leo Varadkar, has said he wants to expand our global presence, opening new missions, increasing the size of existing missions–most of which are very small–putting more resources into tourism promotions, promoting investments into Ireland and promoting our exports.
"This year, we will be seeking a seat on the UN Security Council, which we would like to become a reality by 2022, the centenary of Irish independence."
Such developments, according to Mulhall, have come after the realization that "Ireland is uniquely open to the world and affected by what happens in the world. It can no longer be a passive observer."
Mulhall, who Ireland's envoy to Malaysia from 2001 to 2005, says that currently his country has full-fledged missions in North Asia, represented by Beijing and Tokyo, and in Southeast Asia, represented by Singapore, Jakarta, Hanoi and Bangkok. "The Philippines is an obvious gap," he says.
Diplomatic relations between the Philippines and Ireland were established in 1984.
The Philippines opened an embassy in Dublin in 2009, which it shut down in 2012 due to financial reasons. There is currently an Honorary Consul in Manila. Filipinos applying to visit Ireland, however, are required to send their documents to the Irish mission in Singapore, which covers the Philippines.
Other bilateral engagements have seen Filipino and Irish troops serving together in a number of UN missions, most recently in Kosovo, Liberia and the Golan Heights.
Based on the 2016 Census, there are about 4,214 people living in Ireland who identify as Filipino and 3,499, who identify as Irish-Filipino, the largest community from any Southeast Asian country. Most work in the healthcare sector.
In the Philippines, approximately 700 Irish citizens are residents.
So far, Irish exports to the country have largely involved food ingredients such as cheese and commodity milk powders, beef, beef offal and pigmeat, among others, totaling Euro 80,957 296 in 2017. Ireland is the third largest exporter of beef to the Philippines, after Australia and Brazil. Total bilateral merchandize trade in 2017 was valued at Euro 327 million.
Mulhall sees rich future trade potential between the Philippines and Ireland in IT, software development and pharmaceuticals. Nine of the 10 largest pharmaceutical firms in the world have operations in the "Emerald Isle," as Ireland is also known.
Having a full-service embassy in Manila will expectedly make Ireland more accessible to Filipinos travellers as visas will be issued directly, Says Mulhall: "We'd also like to see more Filipinos consider studying in Ireland. There's really a lot that can be done to building up our relations further."
Facebook Comments