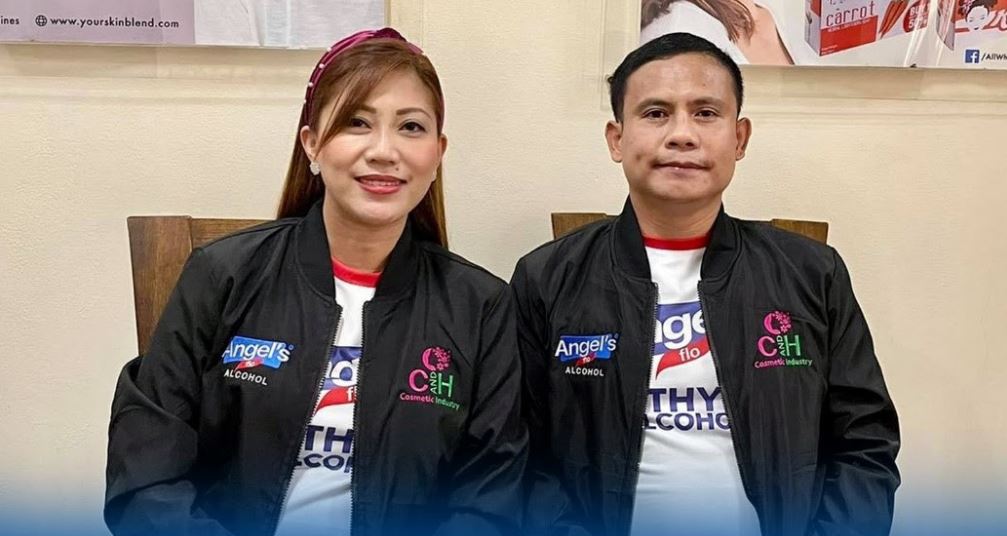 Former janitor Henry Raca's success in turning his life around by going into cosmetic manufacturing has been hailed as the best innovation story that merits an award from the Department of Science and Technology (DOST).
Raca and his wife Apple, owners of the C&H Cosmetic Industry, were awarded the DOST CALABARZON Best Small Enterprise Technology Upgrading Program (SETUP) Adoptor this year for outstanding innovation.
The Racas' company was awarded the Best SETUP Adoptor of the Year citation given to a company that "exhibits outstanding operational performance due to technology adoption and utilization of DOST's technological innovations and technical assistance. The award uses productivity, resilience, agility, innovation, sustainability, and excellence as metrics in selecting which adoptor excelled the most."
The Raca couple first met as sales agents in the same company. Henry worked as a janitor during the day and as a student at night until he landed a job as a sales agent. On the other hand, Apple had an easier life until her family business failed.
Henry, who later worked as a sales agent, met Apple, a rookie in their company. They shared time as co-workers, agents of insecticide products, until such time that they found themselves falling for each other and soon decided to make a family together.
As a couple, they dreamt big and so they unfolded their maximum potentials to kick off their own business together. Using 5,000 pesos, a fraction of the cash gifts during their wedding, they started a trading company. This venture became successful and has inspired them to embark on a brave journey of creating their own beauty product company instead of just trading other brands. The love of Apple for beauty and skincare products served as their springboard in venturing into this kind of business.
SETUP assistance
In 2014, Henry learned about DOST's SETUP while watching television. The couple applied for SETUP's assistance at the DOST's Provincial Office in Batangas, armed with the desire to improve their fully manual and labor-intensive soap production. When their application got approved, they were able to acquire equipment that helped mechanize their production processes and eliminate rejects which, in effect, increased their productivity. As they progressed as a business, they were able to also provide local employment in Quezon and Batangas and all over the Philippines by creating their regional distribution channels.
Aside from the SETUP project they availed in 2014, the firm also received other DOST services such as the Energy Audit Consultancy Program, PO Financing Program, and LIGTAS COVID-19 Program under the DOST-Technology Application and Promotion Institute.
In 2020, they applied for another SETUP project to upgrade their cosmetic line production processes and cater to a wider market. These interventions paved the way for the company to achieve 436% total increase in production volume from 2014 to 2021; 92.2% increase in sales; local and export market penetration; improved packaging and soap cutting processes that reduced contamination risks and ensured the products' quality of the company. Significantly, the company has also reduced their production rejects from 23% down to only 2% at present. Savings was computed at around 45% for energy and about 88% for time. Meanwhile, more than 600 employees all over the country are now working for the company.
Embracing R&D
What sets them apart from other soap companies is their market-oriented research and development program. As a result, they were able to develop their own "Kereina White Formula" which employs all-natural plant-based ingredients for their soap products. Using this formula, the company can help more than 5,000 coconut farmers who supply their coconut oil requirements.
Through the leadership of the Raca couple, the company has also developed an emergency-ready strategic plan where their business continuity plan, five-year market plan, full-year plan, risk management plan, and research & development plan were identified and linked together. With this strategy, they spun off three more companies dedicated to local, export, and online marketing distributions of their products that safeguarded their sustainability. They have co-established a US-based Extension Office at Azusa, California, to distribute their products to forty states in America. Realizing the big potential of their products, the company is now exporting to countries in Asia, United Arab Emirates, Africa, and Australia, among others.
Henry and Apple are also proud of the local and international recognitions they received throughout the years. They are the first Filipino Cosmetic Company with HALAL Compliant Manufacturing Plant certified by the United Arab Emirates and the first Filipino Cosmetic Company with HALAL Certification in the Middle East given by Prime Certification Accreditation. They were also awarded a Canadian Health Accreditation for Cosmetics and Skincare, Best Innovative Product Award in South Luzon during the Department of Trade and Industry's Gawad SME, and the 2020 InJap Sia Outstanding Young Entrepreneur Awards Finalist.
Profit with honor
Amid the pandemic, the challenge for Henry and Apple was to ensure that they win and stay operational since soap products were not part of what people consider essential during a crisis. According to them, it was no longer a test of survival for the company but a commitment to save the lives of their 600+ employees and their families. Driven by this cause, they have strategically developed an alcohol formula to add to their product line. While there's still a persisting public demand for alcohol, the company thrived in the middle of this crisis and continued to employ its people. The agile shift of production was made possible by utilizing some of the equipment they have acquired through their second SETUP project with DOST CALABARZON.
Aside from operating as a business, the tandem of Henry and Apple also focused their mission to give back to the community through their "#Project C&H: We Care and Help" program. This program includes converting chemical drums into trash bins and benches to benefit schools and barangays in Quezon; annual financial support to Barangay Balat-Atis, San Antonio, Quezon; and sponsorship of civic programs and activities like the DepEd Brigada Eskwela in Batangas and Quezon.
As a gesture to reach out and support other communities, the company also initiated donation drives to lend a hand to people in need, specifically those who were affected by the Taal Volcano Eruption in 2020 and the implementation of community quarantine due to the COVID-19 pandemic. They distributed relief goods not just to the municipalities affected by the crises but also to their workforce and residents of Barangay Balat-Atis, San Antonio, Quezon.
Aside from providing local employment to hundreds of people, their company was also recognized by the municipal government of San Antonio Quezon as the first company in their municipality to practice non-discriminatory hiring as they provide jobs and opportunities to senior citizens, PWD, LGBT, and out-of-school youths.
Given the success they have received from their business, the only story that Henry and Apple would want to share with the world is their firm determination to brave the challenges of running a business to achieve their wildest dream and to do it with the goal of transforming, not just yourself but, the lives of the larger community.
The story of Henry and Apple is just one of the many tales of successful beneficiaries of SETUP since the program started in 2002. More tales of success will be featured in the upcoming celebration of the 2021 National Science and Technology Week to be held from November 22-28 through the virtual platform.
The Best SETUP Adoptors will be chosen among the regional winners and will be awarded and recognized for their efforts in leveling up their operation and processes to produce world-class products and services using science, technology, and innovation.
DOST previously awarded SETUP beneficiaries for resilience during the pandemic.
Filipino entrepreneurs are offered business upgrade services at the DOST NCR SETUP e-Caravan.
Good News Pilipinas is celebrating its 15th Anniversary in 2021 by giving away prizes! Subscribe to this website and  Good News Pilipinas! TV YouTube channel and enter the raffle by telling us what you like about our stories in an email to editor@goodnewspilipinas.com
Facebook Comments