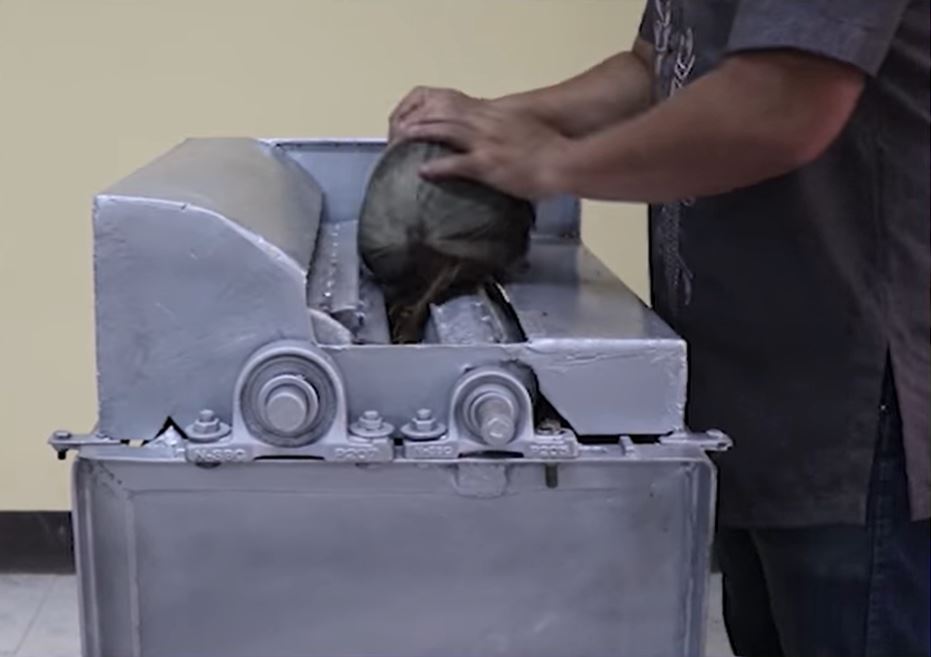 Jose Rizal Memorial State University – Tampilisan Campus (JRMSU-TC) in Zamboanga del Norte has developed a portable coconut dehusker to help the Philippine coconut industry.
SAFitek Coco Dehusker is a mechanical coconut dehusker designed to cater to all sizes and varieties of Philippine coconuts.
The coconut dehusker's features include:
Dehusk more than 500 nuts per hour )based on a series of tests and runs conducted by JRMSU_
Portable, with a bodyweight of only 75 kg, making it easy to move from one area to another (In contrast, other dehuskers available in the market weigh some 350 to 750 kgs, making it very difficult for farmers to transport.)
The technology is expected to benefit some 2.5 million coconut farmers in the country, who at present rely mostly on manual dehusking.
The technology will make the work a lot faster and is safer compared to manual dehusking, where farmers are constantly confronted with the risk of getting injured, the team stated.
The coconut dehusking technology developed by the university team of local researchers and innovators in Zamboanga del Norte was announced to be ready for commercialization during the Demo Day of the Department of Science and Technology (DOST) Transforming R&D Outputs into Innovations through Technopreneurship and Customer Validation (Project TransDI).
Prof. Yhebron J. Lagud, the team's entrepreneurial lead, said they are looking for partners to commercialize said technology dubbed as "SAFitek Coco Dehusker".
"We are looking for business partners, fabricators, distributors who want to produce and distribute the SAFitek Coco Dehusker," he told the participants of the Demo Day in late April 2022, composed of industry stakeholders, Project TransDI mentors, and other researchers and innovators all over the country.
Prof. Lagud added that they are open to licensing out the technology to interested fabricators at very affordable licensing and royalty fees. Contact the team for inquiries through researchunit-jrmsutc@jrmsu.edu.ph
SAFitek is developed by a team of innovators composed of Engr. Kalfred Junnee A. Doydora, Engr. Jeward M. Dagodog, and Jayrald Gio Misperos. The team helping in the commercialization includes Prof. Lagud who also heads JRMSU-TC's Research Unit; Prof. Jariet Adriatico of JRMSU's Innovation and Technology Support Office (ITSO); and Dr. Ma. Corina E. Camazo of JRMSU's Knowledge and Technology Transfer Office (KTTO).
The technology was the regional winner during the 2019 Regional Invention Contest and Exhibit (RICE). As part of their rewards for being the regional winner, DOST-IX and DOST's Technology Application and Promotion Institute (TAPI) provided the assistance that paved the way for said technology to be granted a utility model certificate by the Intellectual Property Office (IPOPHIL). Said IP protection is the first in the university.
In addition, DOST-IX recently approved a grant amounting to P1.2 Million for the fabrication of a few units that will be deployed to select areas in the province to further popularize and test the technology.
Dir. Martin A. Wee, DOST-IX's regional director, said the agency is always supportive of this type of endeavor. "Rest assured that we in DOST will always back you up to ensure that you will be able to further advance your work," he told the researchers and inventors during the RICE 2021 Awarding Ceremony.
"We have some programs you might be interested in, like IPR protection, prototyping assistance, and some research and development support," Dir. Wee revealed.
SAFitek is one of the two technologies from Region IX that are part of Project TransDI. TransDI or Transforming R&D Outputs into Innovations through Technopreneurship and Customer Validation is DOST's special project being implemented nationwide with the primary objective of helping local innovations reach the market through a series of capability and mentoring sessions as well as market matching activities. The project is funded by DOST's Philippine Council for Industry, Energy and Emerging Technology Research and Development (PCIEERD) and is led by DOST-MIMAROPA.
University studies positively impacting the Philippine coconut industry include the UP PGH and DOST study on virgin coconut oil as adjunctive therapy for COVID-19 and the PUP study developing disinfectant ethyl alcohol from virgin coconut oil.
WATCH the presentation of the SAFitek Coco Dehusker here:
Good News Pilipinas is a Lasallian Scholarum Awardee. TELL US your good news story tips by messaging GoodNewsPilipinas.com on Facebook, Twitter, Instagram, or e-mail editor@goodnewspilipinas.com and WATCH Good News Pilipinas TV YouTube & Good News Pilipinas TikTok for more Filipino Pride stories!
Facebook Comments