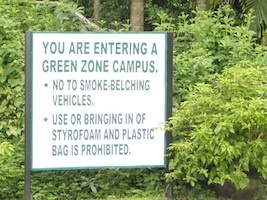 De La Salle University – Dasmariñas was recently cited by an ecological group for banning the use of disposable plastic bags since 2011 and polystyrene (styro) products since 2005 in the university premises.
Ecological Waste Coalition of the Philippines (EcoWaste Coalition), a public interest network of community, church, school, environmental and health groups, mentioned the DLSU-D example in its recent appeal for the Department of Education (DepEd) to foster the same ban on the use of plastic bags and styrofoam in schools throughout the country to support waste minimization.
EcoWaste Coalition explained that disposable plastics and polystyrenes increase the risk of pollution which make them "non-environmentally acceptable."
DLSU-D, which has been at the Philippine campuses' forefront of achieving ecological sustainability, has "tremendously reduced the amount of residual wastes in the campus, lessen operational expenses related to waste management, and imbued good values that led to a change in behavior toward good stewardship among students and school personnel," explains Marlon Pareja, the campus Environmental Resource Management Center Director.
"The values and practice of ecological stewardship, which should start at home, should be strengthened in the school if we are to produce citizens that truly care for the environment," Pareja added.
As mandated by the Philippine Environmental Law: Ecological Solid Waste Management Act of 2000 or Republic Act 9003, DepEd "has a clear task under the law to strengthen the integration of environmental concerns in school curricula at all levels, with particular emphasis on the theory and practice of waste management principles like waste minimization, among others," according to EcoWaste Coalition Zero Waste Program Officer Christina Vergara.
The Coalition encourages schools to help address environmental concerns by adopting policies such as the implementation of ecological solid waste management, namely segregation, composting, recycling, and reuse to truly attain zero waste.
In accordance with EcoWaste Coalition's petition on waste incineration, aside from DLSU-D, Cong. R.A. Calalay Memorial Elementary School in San Francisco del Monte, Quezon City, St. Scholastica's College in San Fernando City, Pampanga and all public and private schools in Batangas City, Batangas province have already implemented solid-waste management practices such as phasing out of disposable plastic bags and styrofoam and using reusable containers and table wares for students and school personnel's snacks.
Last year's waste audit administered by EcoWaste Coalition, Global Alliance for Incinerator Alternatives, Greenpeace, and Mother Earth Foundation in the Manila Bay stated that plastic wastes marked at 23.2 percent and polystyrene debris at 7.5 percent, among the plastic wastes.
Facebook Comments