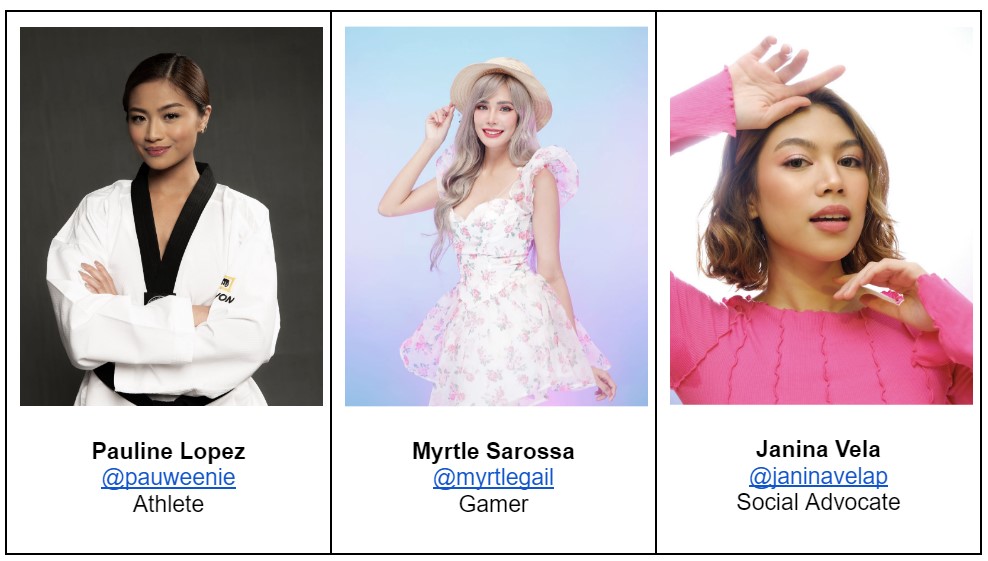 In honor of Women's History Month and International Women's Day this March 2023, TikTok presents Filipina Women of TikTok who inspire positive and meaningful change in their video content.
The list is diverse: from creators who advocate for social change to creators who teach something new, women on TikTok inspire others to share their stories, express themselves, and connect with the world.
TikTok celebrates these amazing women who will continue to make a positive impact on the global TikTok community and beyond through their creativity, passion, and advocacy.
#EmbraceEquity with women changemakers and allies
International Women's Day recognizes women's achievements and celebrates women all over the world who forge change. This year's International Women's Day theme is #EmbraceEquity, calling for everyone to actively support and embrace equity by challenging gender stereotypes and discrimination.
#WomenofTikTok, which has garnered over 3 billion views globally, brings together a diverse group of women changemakers, pioneers, leaders, and allies who are using their voices to break barriers, and gender stereotypes and advance women's equity every day. From popular hashtags such as #WomeninSTEM and #WomeninSports to women entrepreneurs who use TikTok to start and grow their businesses, to women activists dedicated to enhancing women empowerment and gender equality, the #WomenofTikTok are supporting and connecting with one another.
#WomenofTikTok creator spotlights
TikTok has unlocked boundless opportunities for women from all walks of life, unveiling exciting programming and events featuring creators, beloved artists, and celebrities who are inspiring, powerhouse women.
As a part of the Women's Month celebration, TikTok highlights creators, music playlists, women-owned small businesses, non-profits, and inspiring voices from across its global community. Throughout the month, the video content-sharing platform will have #WomenofTikTok in-app programming that will feature creators, women-owned businesses, and non-profit organizations who are making significant impacts both on and off of TikTok.
Filipina #WomenOfTikTok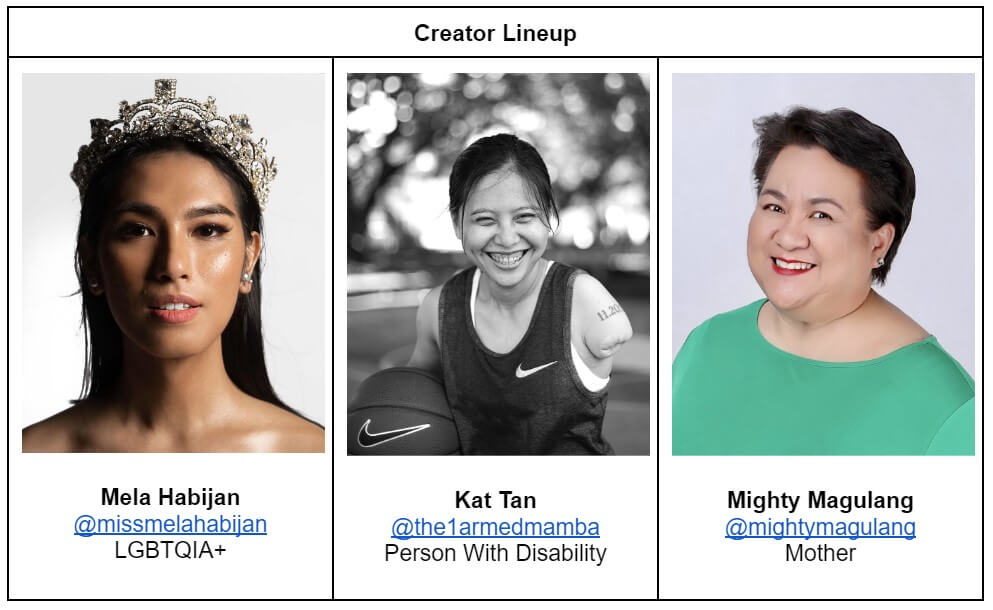 On March 25, TikTok celebrated Filipina #WomenOfTikTok who use their voice to inspire creativity, bring joy, and create meaningful change.
TikTok, the leading destination for short-form mobile video, hosted the 1-day TikTok Hangout, amplifying the voices and perspectives of female TikTok creators in the Philippines.
TikTok users in the Philippines were invited to join in on celebrating Filipina women and femme TikTok creators who have used their voice and platform to positively impact the TikTok community and society as a whole.
Featuring empowered female creators who shared their unique challenges and uplifting journeys, the talk was live-streamed on @tiktokphilippines.
Creator Lineup:
Mela Habijan @missmelahabijan
LGBTQIA+
Kat Tan @the1armedmamba
Person With Disability
Mighty Magulang @mightymagulang
Mother
Pauline Lopez @pauweenie
Athlete
Myrtle Sarossa @myrtlegail
Gamer
Janina Vela @janinavelap
Social Advocate
Women on TikTok continue to be shining examples of empowerment and strength in whatever fields they choose. Regardless of gender, TikTok is a haven for creators who are making their marks in the virtual world of art and content. Join TikTok during International Women's Month as it celebrates women's talents and successes while acknowledging the challenges they strive to hurdle to attain inclusivity in all areas.
Recognizing the women leaders of TikTok's internal community
TikTok's Women employee resource group (ERG) spotlights the inspiring stories of its employees through company-wide programming initiatives and events. Year-round, TikTok's Women ERG strives to connect, educate, and empower all employees with the resources needed to further their collective and individual advancement within and outside of the workplace.
In 2022, TikTok featured 5 Women of TikTok using their voices to inspire others.
Good News Pilipinas is a Lasallian Scholarum Awardee. TELL US your good news story tips by messaging GoodNewsPilipinas.com on Facebook, Twitter, Instagram, or e-mail editor@goodnewspilipinas.com and WATCH Good News Pilipinas TV YouTube & Good News Pilipinas TikTok for more Filipino Pride stories!
Facebook Comments