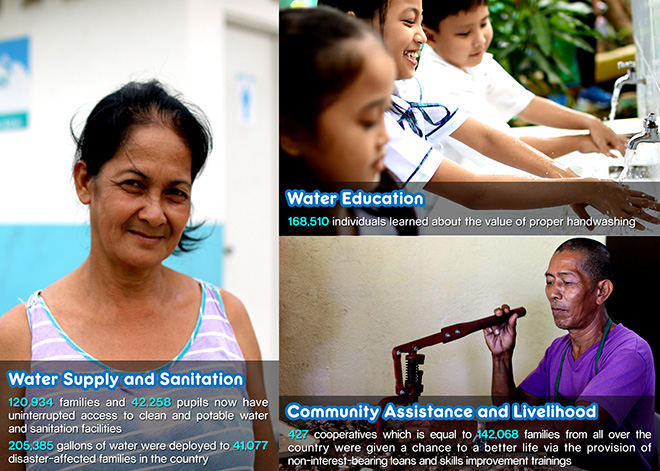 Manila Water Company (MWC) does not limit its service to supplying the eastern portion of Metro Manila with the water. Its social responsibility arm, the Manila Water Foundation (MWF), wants to be the enabler of change by uplifting the quality of life of Base of the Pyramid (BOP) communities through access to sustainable water and used water services.

MWF has identified focus areas such as Water Supply and Sanitation, Water Education, and Community Assistance and Livelihood. The first area focuses on Water Supply and Sanitation, which introduces several programs aimed at providing access to clean and potable water, as well as basic sanitation. The second area in Water Education focuses on programs that educate children and adults alike on the importance and wise use of water, and proper handwashing. The last area in Community Assistance and Livelihood aims to promote local economic development by providing sustainable livelihood opportunities to select community-based cooperatives.
Manila Water not only enables communities through sustainable water but also uplifts lives through cooperative loans and partnerships
With promising results, MWF has expanded its mandate to include in its inclusive business models the Kabuhayan Para Sa Barangay (KPSB). KPSB provides various capacity-building programs and interest-free loans of up to P100,000 to micro, small and medium cooperatives. The loan is payable within 12 months after a 3-month grace period, giving enough leeway for the borrowers to build their initiative and venture before they pay back MWF.

The program is driven by the company's goal to reach out to low income communities and network with a pool of potential suppliers and community partners.

While most inclusive businesses directly help a specific community by incorporating the livelihoods of the people in their business processes, for MWC, inclusion has meant reaching out to more communities through the simple act of lending through Manila Water Foundation.

From only 15 cooperatives taking out loans in 2005, the number of cooperatives availing themselves of the fund grew to 427, translating to 142,068 families, by 2016, and it continues to increase.

The growth has been attributed to KPSB's evolution from forming new cooperatives at a small scale to providing interest-free loans to existing cooperatives. Over the years, especially in 2014, MWF shifted the focus of KPSB from just providing more financial flexibility for the cooperatives to ensuring the inclusion of more cooperatives in its ranks.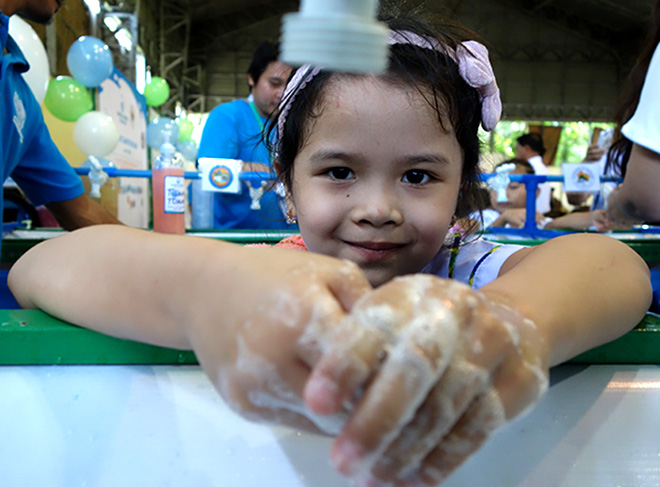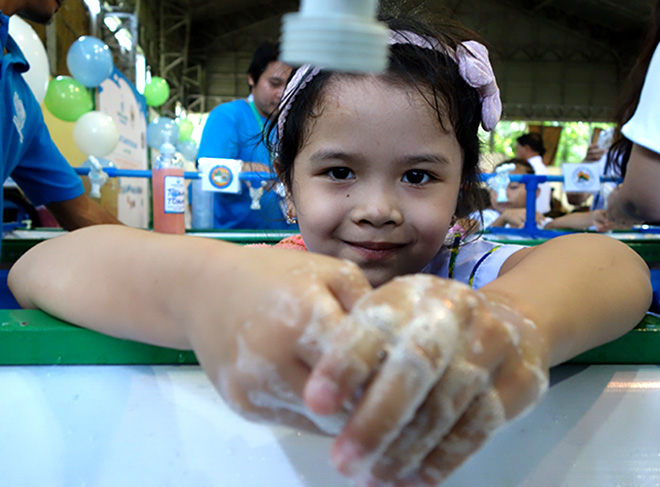 Through KPSB's non-interest bearing loans, partner cooperatives have realized an average of 16% increase in gross sales and 24% growth in profit. Their growing business also encouraged others to join their cooperative as evidenced by rising memberships.

One of the cooperatives that has benefitted from the KPSB loans is the Federation of People's Sustainable Development Cooperative (FPSDC).

Tetay Plantilla, CEO of the FPSDC, a cooperative that deals with various agricultural products such as muscovado sugar, said that the loan has allowed them to invest in capital-intensive machinery and expand their business.

More than providing loans, the program also teaches cooperative members proper loan management and capital investment techniques to ensure the ability of the cooperatives to make full use of their loans and sustain their businesses.

MWF highlights that the fund assistance was developed to help cooperatives, from various industries, grow their businesses into self-sustaining sources of livelihood.
"LIKE THE RIPPLES ON A POND, ITS SMALL INVESTMENT HAS EXPANDED TO COVER ENTIRE COMMUNITIES. THE COMPANY DOES NOT ONLY SATISFY PEOPLE'S THIRST, IT FEEDS THEIR HUNGER, TOO."
"It doesn't end with the loan; we also help them in capacity building. We tie up with other organizations like LGUs to provide them with entrepreneurship and business management trainings and seminars," said Carmela Rosal, KPSB Program Manager.
Miguelito Salgado, General Manager of the Lupang Arenda Muslim-Christian Development Cooperative (LAMCDC), shared that KPSB gave them financial knowledge and technical training on how to optimize their manufacturing and fabrication of metal products. The initial loan helped them expand their site and increase the capacity of their metal fabricators.

KPSB has also become an avenue for forming partnerships between Manila Water and its pool of cooperatives.

"Our partnership with Manila Water began when they provided us access to potable water through the TPSB (Tubig Para sa Barangay) Program. Eventually, our cooperative received assistance from the company through the KPSB program," Salgado said.

Among these cooperatives, Manila Water chooses to partner with those it can invite as suppliers for products that it needs in its day-today business.
"IT DOESN'T END WITH THE LOAN; WE ALSO HELP THEM IN CAPACITY BUILDING."
In the case of Lupang Arenda, it became a supplier of metal products to Manila Water.

"Since then, we have been supplying the company with A-frames, meter protectors and services for Lingap projects," Salgado said.

Through this, KPSB ensures that the cooperatives' businesses also help out the local communities in which they are located.

"Thanks to KPSB, many of us have been encouraged to work and develop our skills. More importantly, Muslims and Christians in our community live harmoniously together because of a common purpose and a sustainable livelihood," he added.

Manila Water shows how a little goes a long way. Like the ripples on a pond, its small investment has expanded to cover entire communities. The company does not only satisfy people's thirst, it feeds their hunger, too.
This story is part of a series of articles written by GO NEGOSYO writers being published by GoodNewsPilipinas.com every Tuesday as part of our support to Philippine businesses.


Facebook Comments