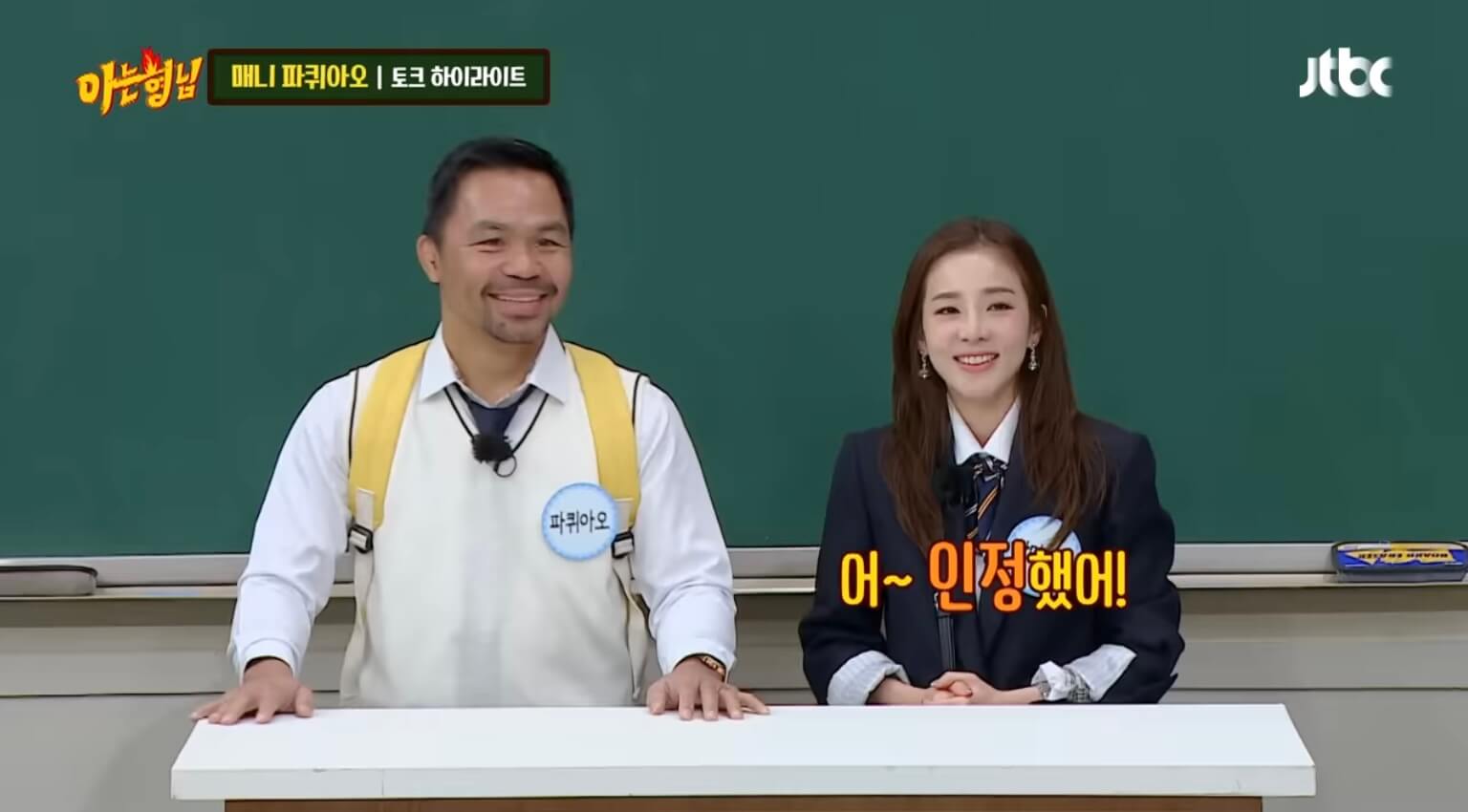 Boxing champion Manny Pacquiao teamed up with Kpop idol Sandara Park on the popular Korean variety show, Knowing Brothers, during a break from training in preparation for the Filipino athlete's ring bout this December to raise money for war-ravaged Ukraine.
The 355th episode of the popular television program where Kim Heechul, Min Kyunghoon, Lee Sangmin, Kang Hodong, Lee Soo Geun, Kim Young Chul, Seo Janghoon, and Lee Jinho play high school students, welcomed the 21st Century's Greatest Boxer from the Philippines as their surprise guest classmate battling them in games.
JTBC's "Knowing Bros", also known as "Men on a Mission" and "Ask Us Anything", released the full episode on October 22, 2022.
In the episode, Knowing Bros' hosts were visibly surprised at seeing Manny Pacquiao enter their classroom with Sandara Park who personally knew the Filipino boxer during her 3-year stay in the Philippines where she first made a name as an actress before returning to Korea and becoming a member of the iconic Kpop girl group, 2NE1.
"I'm looking for the boss, I challenge him," Pacquiao jokingly told the hosts as he showed up in class looking tough and seemingly in a fighting mood.
But the hosts were undaunted as they found the 8-division titleholder as cute and kind. "Mukha ka daw mabait (You look kind)," Park translated the classmates' reactions for Pacquiao.
When asked how they met, Sandara recalled meeting him when the multi-talented Pacquiao released a music album and guested on a music show. Hodong then asked Manny why he started singing. "Gusto ko makapagbigay ng inspirasyon sa tao. Gusto ko kumanta (I want to inspire people. I want to sing)," Manny answered.
Pacquiao showed both his strength and funny side as he traded barbs with the Korean show hosts. Despite the language difference, Manny and his new classmates managed to enjoy each other's company with jokes and stories translated by Sandara, who also shared how she continues to be warmly welcomed by Filipinos and even gets free passes and police escorts at the airport.
Hodong also asked why someone world-famous like Manny Pacquiao is on their show. "Pumunta ako dito para i-promote ang exhibition match ko this coming December 11 (I came here to promote my exhibition match this coming December 11)," he answered.
Manny Pacquiao is scheduled to battle DK Yoo from South Korea this winter at the Korea International Exhibition to raise money for war-ravaged Ukraine.
Coincidentally, the month of his next ring bout marks 14 years since Manny Pacquiao won against Oscar Dela Hoya on December 6, 2008, a "Dream Match" that catapulted the Filipino boxer's legend.
Pacquaio recalls, "Ayaw nila kasi maliit ako kay Dela Hoya kaya ayaw nila ako masaktan. and then sabi ko kaya ko si Dela Hoya. Pero lumaban ako, nanalo."
(The Filipinos didn't want me to fight. They didn't want me to get hurt because I was shorter than him. I told them that I'm shorter than him but I could still win.)
"Madami nagsasabi sakin hindi ako manalo kay Dela Hoya but I prove it to them (Many people thought I couldn't win. However, I proved them wrong," Pacquiao added.
Pacquiao gamely shared that his favorite Korean celebrities were musician Psy and actor Ji Chang Wook with whom he had dinner and even sent a coffee truck to Wook's filming site.
Pacquiao and the Knowing Bros cast played a game set in a boxing ring called "Speed! Toy Hammer Game" where they bump each other backward to be the first to get the toy hammer and hit the opponent with it. Pacquiao lost to Lee Seo Goon in the first round, then to Sandara, but won the rest of the matches.
They also played a game where Pacquiao had to watch Kpop videos and copy the dance while the other players guessed the name of the singer and the title of the song. The last five players left got to experience a fight with Manny Pacquiao.
Aside from Knowing Bros, Manny Pacquiao also appeared on another popular Korean variety show, "Running Man".
WATCH a clip from Manny Pacquiao's guesting with Sandara Park on Knowing Bros here and TELL US in the comments below why you also love Pacquaio!
@MannyPacquiao as a surprise guest in Korean Variety Show @JTBCTVAU 's Knowing Brothers with @krungy21

STORY to follow on @GoodNewsPinas_ https://t.co/3z5JiR0CFK pic.twitter.com/RLBSrrcGrU

— Danica Guban (@danicamae_g) October 25, 2022
Good News Pilipinas is a Lasallian Scholarum Awardee. TELL US your good news story tips by messaging GoodNewsPilipinas.com on Facebook, Twitter, Instagram, or e-mail editor@goodnewspilipinas.com and WATCH Good News Pilipinas TV YouTube & Good News Pilipinas TikTok for more Filipino Pride stories!
Facebook Comments