Filipino-Dutch cinematographer Martha Atienza has received the 19th Baloise Art Prize at the Art Basel 2017 in Switzerland.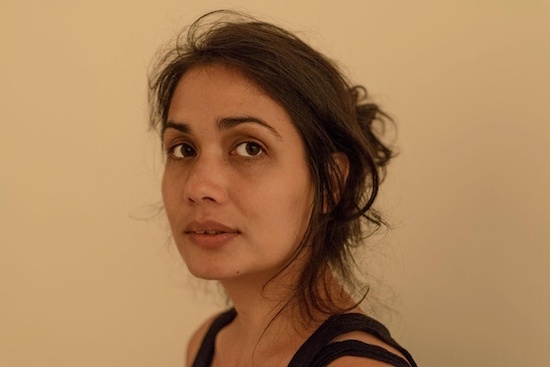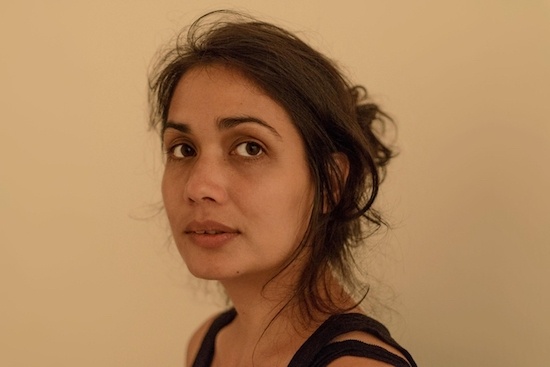 Atienza's winning video installation, "Our Islands 11°16'58.4"N 123°45'07.0"E, 2017", is a single channel HD video (00:01:12:00 min, loop) with no sound that shows a traditional Philippine procession done underwater.
The prize of CHF 30,000 is presented at the Statements sector of Art Basel by a jury of international experts. The prize includes the acquisition by Baloise of a group of works by the Atienza, which are donated to two important museums in Europe: the Nationalgalerie – Staatliche Museen zu Berlin and the MUDAM, Luxembourg.
The Art Basel show gallery captions Atienza's work as a six- screen life-sized projection of an underwater procession moving from one wall to the next that shows men wearing costumes depicting religious and iconic images in the Philippines such as the Santo Niňo, Ati-Atihan, Yolanda survivors, and even Manny Pacquiao's boxing gloves.
"We watch the procession passing by as if in an aquarium: Christ carrying the cross, men in women's clothes and demonstrators carrying tableaux with political slogans, threatened from behind by menacing, armed henchman.
Through her cast of characters and choice of setting, Atienza presents a both critical and humorous take not only on the state of society in the Philippines but also on the threat of climate change to which the country is increasingly exposed through the warming of the world's oceans," according to the 2017 Baloise Prize.
Atienza's works are said to be culled from both her Filipino and Dutch sides, being born of a Dutch mother and Filipino father and living alternately in Bantayan Island, Philippines and Rotterdam, Netherlands.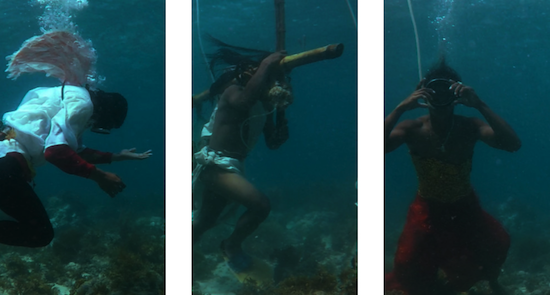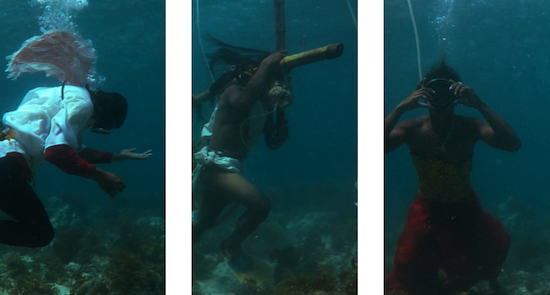 She studied art in the Netherlands and Finland. She also joined a residency program in Green Papaya Project space in the Philippines. Her recognition from the Ateneo Arts Award granted her studio Residency Grants in Liverpool, Melbourne, New York and Singapore. She has exhibited her works internationally in video festivals, art spaces, and galleries.
Her bio talks about how "Her work is a series mostly constructed in video, of almost sociological nature that studies her direct environment. Currently, she is investigating the usage of contemporary art as a tool for effecting social change and development." 
"Our Islands" is part of the "Statements" exhibition that presents exciting new solo projects by 17 emerging artists who are eligible to receive the prestigious Baloise Art Prize. The Baloise Group acquires artworks by the award-winning artists, which it then donates to important European art institutions.
Many of the previous prize winners are now leading lights in the international art scene and act as cultural ambassadors for their country at the Venice Biennale.
Atienza's installation art is presented by Silverlens Gallery from Manila during the week-long Art Basel which showcased over 4,000 artists from 291 galleries around the world.
Facebook Comments